Commentary
Allen Iverson speaks out about Pistons
[Editor's note: Page 2's Scoop Jackson spoke with Memphis Grizzlies guard Allen Iverson earlier this week while the team was in Alabama for training camp. Here's Part 2 of the interview, in which Iverson discusses retirement, a possible European payday, his relationship with the media and the Nuggets' reaching the Western Conference finals without him.]
BIRMINGHAM, Ala. -- Some subjects don't even need an intro. This is one of them. It speaks for itself.
Scoop Jackson: Explain to me what the last year of your life has been like.
Allen Iverson: Since when?
Jackson: Since last November.
Iverson: When I was told about the trade to Detroit [from Denver], I was happy. I talked to Mo [uncle/manager Gary Moore]. We both felt like it was going to be good situation. [But] what I was told about going to Detroit was basically not the truth. I was told I was brought there for a reason, and the reason they said they brought me there never happened. When I got there, we all got along. I was just trying to fit in, even though I knew all of those guys. And I think Rip [Richard Hamilton] got hurt and we won like seven games in a row. So everything was good. Then 'Sheed [Rasheed Wallace] I think got hurt, then I got hurt and we lost a few games, and then I started hearing some talk. Talk about me coming off the bench and not starting.
[+] Enlarge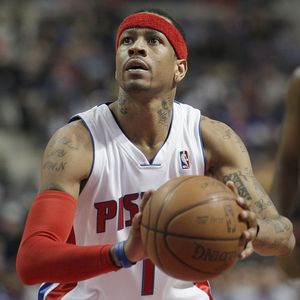 AP Photo/Paul SancyaAllen Iverson, a lock to ultimately reach the Hall
of Fame, says the Pistons lied to his face about whether he would be asked to come off the bench.
Jackson: From where, the organization?
Iverson: Not within the organization. I was hearing this in the streets. Now I'm not really paying it too much attention, but I kept hearing it, so I'm saying there must be some truth to it. So I went and talked to them. And they told me, straight up, "Allen, we would never disrespect you or your career like that," by making me come off the bench. That's what they told me to my face. And after that, I never thought about it again. I just went back to playing. Then [not long after that] they came to me saying that they felt it would be in the best interest of the team if I came off of the bench behind Rip.
Jackson: They told you this?
Iverson: Yeah. And this is what got me, after that, they told me that if I didn't come off the bench -- the team was going to lie down on [not play with] me. And Scoop, when he told me that, that's when I felt that this was the worst career move I'd ever made and it was the worst year of my career. Once they told me to come off the bench after they told me they would never disrespect me like that, that they would never do that … and then they told me, "They lying down on you, Chuck." ["Bubba Chuck" is Iverson's nickname, "Chuck" for short.] I swear to God. I put this on everybody that I love in my life. …
Jackson: Did you believe it?
Iverson: Did I believe they laid down? Um, I didn't want to believe it. I didn't want to believe that. But I knew something wasn't right. I wouldn't want to think that those guys would disrespect the game like that. But in actuality, when they did that to me, when they lied to me, that put the thought of me coming off the bench in everybody's mind.
You never heard of anybody before that in my whole career ever saying anything about Allen Iverson coming off the bench. You never heard anybody out of the blue say, "Allen Iverson should come off the bench." You never heard anybody mention it or anything, like … this is the first time … . Look, Scoop, you've been following my whole career. You never heard anybody say anything about me coming off the bench or anything like that until the situation happened in Detroit. Now it's in everybody's mind. Now people are thinking, "Oh yeah, he should come off the bench."
And before, no one would have ever been thinking like that. I mean, I'm starting on the All-Star team, but I'm coming off the bench for my regular team? (Laughs.) I mean, I've started on Olympic teams, All-Star teams, all of the teams I've ever been on in my career. So it wasn't that I was being selfish by not coming off the bench. It's just in my whole life it's something that I was never accustomed to doing and never been in that position and situation before. And …
Jackson: … it was something that you were told wasn't going to happen.
Iverson: … it was something I was told was not going to happen. That's the thing. When you are told something like that, when someone tells you that to your face, you put your arms down. You let your guard down. You are like, "OK, I ain't thinking about that anymore; I ain't gonna worry about that." And the explanation that was given to me by them, I mean, I told them: "Yes, I will come off the bench if you think that will make us a better team. But you and I both know that that's not going to make us a better team. But it will if it's the reason you all are giving me. If you all are saying that guys are going to lay down if I don't come off the bench, then yeah that's going to make us a better team because they [are] going to play better. Obviously."
Jackson: But then you have the problem of "What type of dudes am I playing with?" I mean, nothing against them, but …
Iverson: Right, nothing against them, but … if you are a head coach and you feel strongly about this, what would make you think that I want to be around these guys -- especially if you are telling me that they don't want to be around me like that? (Pauses.) Like when I got hurt, I was like, I'll come in and get my treatment every day when they are not around and I'll get outta there. I'd never been on a team where a coach told me the guys gave up on me. You know what I mean? And I kept this under wraps the whole time. I never said anything. Because I didn't want to bad-mouth any of those guys.
And I still don't have a bad word to say about anybody over there or about that organization. I don't have nothing bad to say about the organization, especially Joe [Dumars]. I never had a problem with Joe. He's a stand-up person that I have love for and respect. He was not part of any of the problems I had in Detroit. But for [the coach] to tell me these things and for him to go back on his word like that, it was the hardest and the roughest season I've ever had.
Jackson: Ever?
Iverson: Ever. Because I was told I was brought there to get them over the hump. That they weren't content with being conference champions every year. But I wasn't brought over there to get them over no hump. I used to run down the court six, seven times in a row and not even see [the ball]. You know, I wouldn't even touch the ball. And that was the frustrating part.
[+] Enlarge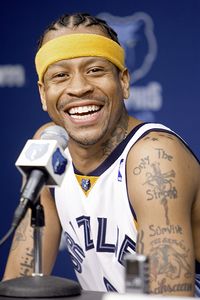 AP Photo/Mark HumphreyIverson says he believes in his new Memphis teammates and won't be content with a mere playoff berth.
And that's why it bothered me when all of the blame [of what happened in Detroit] was thrown on me. All I thought about was the people that know basketball, how they could look at the game and could easily see what was going on. They could see that this wasn't all Allen Iverson's fault. Like I really lost a step that drastic in one year. That dramatic. Really? I went to a team that already had the way they play established. I wasn't brought in there to score a bunch of points. Don't get me wrong, I understood how hard [the trade] was on them. Melo had to go through the same thing in Denver. But when a decision is made, you gotta play basketball. You gotta keep [trying to] win basketball games. And the people that know the game knew that that wasn't the case, but they still said nothing. Man, it was just a bad, bad time for me.
Jackson: And we -- the media -- had a field day with it.
Iverson: Man, people have been waiting for me to fall off my whole career. From the first time I stepped on the court. It probably made people sick to their stomachs watching my whole career, watching the things that I've done in my career. "And the first time that he goes backwards, that's the time we attack his a--." That's the way it is, and I understand fully what it is and how it is being Allen Iverson. I know when people get their chances to take their shots at me they're going to do it. And I don't expect them not to. I've accomplished too many things in the league that the people that criticize me in the league didn't think I could do. Especially at my size. Everybody thought that eventually I would break down. Well, I haven't broken down.
Jackson: Yeah, people have been saying for years that your style of play, not only is it not team-oriented, but it is going to wind up hurting you in the end. It seems like some people have waited 10 years to say that they were right. Waited 10 years to say, "See, I told you …"
Iverson: Longer than that! But that's the only way I know how to play. What, [you're] just going to take [away] something God gave to me? God gave me this ability to play this way. He taught me how to play this way. He showed me the way. Now coach [John] Thompson and Larry Brown, they made me the player that I am. They molded me. But how [are] you going to try to change something that God gave me?
Here's my point: I was doing an interview once and they said, "Allen, you only scored 17.5 last year, and that's great for somebody else, but for you, that's underachieving." And I'm like, "But are you even thinking about the team I'm on?" You got Rasheed. You got Tayshaun [Prince]. You got Rip. You got [Rodney] Stuckey. All these dudes are scorers. Where am I going to get 25 points a night? When I got to Detroit, Rip was like, "You'll be happy around here if you get 12 shots a game," and that's the way it was. That's all I'm trying to say, Scoop. Before you start criticizing, just look at the situation. Just look at it for what it really is.
When I was in Denver, and I was third in the league in scoring, that's because it was just me and Melo carrying the offensive burden. Nene was hurt. [There] wasn't no Nene. There was no Chris Anderson. And in all my years in Philadelphia, you know we didn't have [another] big-time scorer. So when you look at my stats, and you see the numbers are going down, recognize that I'm playing with better personnel. Just like this year, we have Rudy [Gay], and we have O.J. [Mayo]. And we have Zach [Randolph]. So knowing that, how in the [expletive] am I going to get 25 shots a night? But people don't look at it that way, Scoop. They don't look at it that way.
Jackson: So you are ready for more critics now?
Iverson: I'm definitely ready for them. It's always been like that with me. Always. I came into the league as someone they didn't know. [The media] thinks I'm someone else. They don't know the person that I really am. They only see Allen Iverson from the outside. They see me only when I do something that they don't agree with. They don't see me when I do something that they do agree with. And they don't see it because they don't want to see it.
But it's something I've grown to accept. It's something that I understand, and I know that's the way it's going to be. But I'm not going to let that keep killing me. Yeah, it bothered me at first. Sometimes it used to hurt so bad when people used to say stuff about me. It still does. But I'm at a level now that I'm like, "I'm ain't surprised that they said this or that about me."
So it still bothers me, but it doesn't hurt me the way that it used to. But now I don't put anything past what someone says about me or how they think about me; as long as you (pointing to Scoop) love me, I'm going to concentrate on that. I'm not going to concentrate about anybody saying, "Allen Iverson threw a monkey wrench in the Detroit Pistons organization." I'm not concerned about that anymore. Man, I'm 34 years old. When this thing is over I don't have to deal with this s--- (laughs), stuff, anymore.
Jackson: But isn't there a part of you that wants to prove a lot of people wrong -- especially after last year and what's being said?
Iverson: I want to stay away from that. Look, I want to be just as honest as I can about it. People and what they say don't bother me like they used to. When I was younger, I really couldn't take it because I couldn't understand where the criticism was coming from. And there's [still] a part of me that doesn't understand it. But I accept it now. I know that's just the way it's going to be for me. Just like this situation right here [in Memphis], it's a lose-lose situation for me. And to not allow that to happen, I gotta win games. Because if we lose games and I score a lot, they going to say I'm scorin' too much. If we lose games and I don't score a lot, they gonna say I'm not scoring enough. It's a lose-lose, unless we win. So all I can do is huddle up with these guys and try to win basketball games.
Jackson: But still, in my mind, especially since you said this year was "personal," I'm thinking you are out to prove something this year.
(Iverson starts shaking his head.)
Jackson: Am I wrong?
Iverson: When I said it was personal … look, when Allen Iverson makes any comment, the first thing you do if you are the media and when you are anti-Allen Iverson, you take whatever statement he makes and try to make it as negative as you can. You don't look at it as being something different than what you already think about me. Because, really, there's nothing that sells good about Allen Iverson if it's something positive about Allen Iverson. (Laughs.) You know, you don't want to hear about how much money I donate to the Boys and Girls Clubs of America or to AIDS awareness or to give out scholarships. You don't want to hear about that.
So when I said it's personal, I meant it's not personal to me as far as people saying what they've been saying about me, about me losing a step and this and that. … It's personal on a level to where I can have fun again playing basketball. Not worry about, "Oh, he should start or he shouldn't start," and all of that nonsense. I'm talking about going to practice -- yeah, I said practice (laughs) -- and have fun and come out of practice happy, go to games happy, leave the arena, win or lose, happy. Man, again, I'm 34 years old. I don't want to be going to do what I love to do, and it's hurting me. Like, every time I show up to games, I got an attitude all the time. I don't want that. So when I said it's personal, I mean as far as me wanting to have fun again and have that love for the game all over again.
Jackson: But is it personal for you now to show everyone that you have not lost a step, that you are still the AI that we once knew, or to simply prove that you can help a team win ballgames? That's what I'm trying to get at with you. Are you trying to prove that you are the same guy, but at the same time you can make this team win?
Iverson: I'm basically trying to prove that to myself. Myself, my teammates, my coaching staff and our fans first. And the world, they'll get it. It's just not something that I'm concentrating on. I'm just looking at this as a great position I'm in to be with an organization that hasn't won, and if I can come in and prove that, if I'm not a leader, I get the chance here to prove that I am.
Jackson: Is that your mission?
Iverson: With all of these young guys, yeah. To instill in them, just put it in their minds, in their heads, that we're winners. To hell with last year. I'm not coming in here trying to say, "If we go to the playoffs, everybody around [here] is happy, the whole city is happy and everything because we make the playoffs." I'm 14 years in -- this is my 14th year -- I'm not going to be content and happy with just that. And I want them to know that. Yeah, we [can] get into the playoffs -- God forbid somebody knocks us out -- then yeah, it'll be a successful season for them, but not for me. I'm going to let guys know that I'm not here to just go to the playoffs. I believe in these dudes here. All I want them to do is trust me and trust that I'll do everything the right way and lead them to where we need to be.
Scoop Jackson is a columnist for ESPN.com.
ESPN Senior Writer
Columnist for ESPN.com and ESPN The Magazine
Wrote for Slam, XXL, 6 years with NBA; 4 years with Nike