Commentary
Jordan Crawford is no one-dunk wonder
He was supposed to be the answer to a trivia question. Or pop up on "Jeopardy!"
[+] Enlarge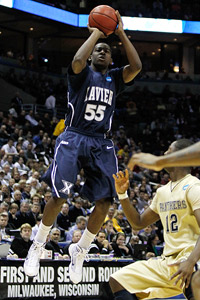 Jonathan Daniel/Getty ImagesCrawford poured in 55 points in Xavier's first two NCAA tourney games.
Contestant: "Alex, I'll take People Who've Had 16 Minutes Of Fame for $1,000."
Alex Trebek: "The answer -- in 2009, his dunk on LeBron James became famous, more for not being seen than for being seen."
Contestant: "Who is Jordan Crawford?"
That was supposed to be the end. But Jordan Crawford got greedy. He decided that being a YouTube/TMZ sensation wasn't good enough. That being famous for dunking on LeBron was only going to be his come-up, not his claim to fame. He'd seen one-dunk wonders before, and he refused to go out like Terence Stansbury.
So Crawford used his team's first two games in this year's NCAA tournament to distance himself from his earlier fame. Scored 28 points against Minnesota on Friday, 27 points against Pitt on Sunday. Both wins. All of a sudden, in just two days, he erased what hadn't disappeared for almost a year. He went from ex-man to X-Man. Xavier University is two wins away from the Final Four. And Crawford doesn't have to go through LeBron to take them there.
Contestant: "Alex, I'll take Players Who Are Turning The 2010 NCAA Tournament Into Their Personal Highlight Reel for $2,000."
Trebek: "The answer -- oh, it's the Daily Double!"
So how do you move beyond the Dunk Heard 'Round The Internet? If your name is Jordan Crawford, and the only thing people know you for is a relatively weak two-handed dunk that was more about who it was on than who actually performed it, you put on a show during the NCAA tournament by doing everything but dunking on people.
[+] Enlarge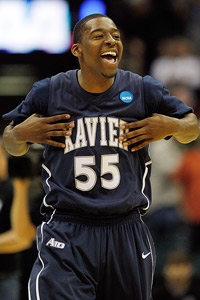 Jonathan Daniel/Getty ImagesNext up for Xavier? Kansas State, on Thursday night.
You make it seem like the other team is playing great defense on you the first 13 minutes of a game, and then you start dropping treys like Reggie Miller. And just when they think you are simply a two-dimensional player who can only dunk or shoot from long range, you show them a ground game. You show them reverse layups in crazy traffic, you show them scoop shots with astronomical degrees of difficulty, you show them a midrange game that would make Sam Cassell proud.
You put a team that no one expected to get past the first weekend of the Big Dance on your back. You practically single-handedly win games. You survive and advance.
You show the world that what happened last July was no fluke. That, with all due respect to the best player in the world, you could actually do that on anyone at any time -- including him again, if given a chance (and a paycheck). But until Jerry West's silhouette becomes a part of your life, you show the world that your original one shining moment wasn't the only one. You want to hear Jennifer Hudson singing about you.
How do you not let one dunk define your life? If your name is Jordan Crawford, and you were introduced to the world as the perpetrator of Dunkgate, you just continue to do what you've been doing during this NCAA tournament. And one day, during a Nike-sponsored summer skills camp, some unknown, unheard-of, soon-to-be-discovered kid will become famous for dunking on you.
Scoop Jackson is a columnist for ESPN.com.