PHOENIX -- Bill Simmons has been suggesting for years that All-Star weekend include a H-O-R-S-E competition. But a few months ago, I could have sworn something was written on ESPN.com by some guy named Scoop Jackson about how H-O-R-S-E should be an Olympic sport.
Next thing you know ... bam ... it's part of the NBA Saturday night All-Star activities. Go figure.
But as the anticipation and hype unfolded, it became clear the NBA hadn't consulted me for the ground rules. Me? I would have had Steve Nash in the inaugural event. Me? I would have allowed dunking. Me? I would have said no more than three jump shots of any kind in a row or you get a letter.
I would have made it ugly.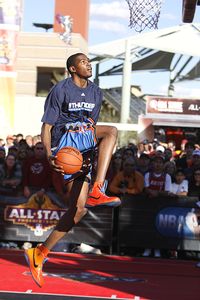 Nick Doan/Getty Images
Why isn't Kevin Durant playing on Sunday?
But the League doesn't do ugly. And that's a good thing. Because being there watching Kevin Durant, O.J. Mayo and Joe Johnson playing a game of five letters was much better and much more fun than if they'd let S-C-O-O-P call the shots.
On the stage Kenny Smith and Chris Webber were giving the players advice like they were on Durant, Mayo and Johnson's payroll. At one point, Smith told Johnson, "Shoot one from the chair at the computer desk while you're typing a memo." Two shots later, Joe's sitting in the chair.
But the real ideas came from the gallery. Especially the one that included Simmons, Sam Alipour, Chris Palmer and that Scoop Jackson fella. Our ideas and suggestions for what they should be doing were so "out there" anyone paying close attention might have thought we were the other dudes in the room when Michael Phelps had that picture taken.
"Someone needs to kick one in the basket. Steve Nash would have done that."
"O.J., come here! O.J., come here! Use the crane. Have them move the camera crane over here and you stand behind hit and shoot over it."
"That guy over in the crowd with the orange beard, someone needs to use him as a prop."
Shoot a 3 while holding his beard.
"Anyone got a wheelchair they can use as a prop?"
It got silly. It got sublime.
But then JJ got innovative. Through the legs, off glass with the left hand.
Good.
Next. Standing backwards in the lane.
Good.
Letters started piling up for Durant. To the point where he told O.J., who wasn't giving JJ any letters: "You need to make a shot."
So O.J. did ... from the stands!
All of a sudden, the rookie was the one everyone thought had it won. He had to be feelin' it now. JJ didn't seem to have run out of creativity, but KD was shooting so bad (and already sitting on his fourth letter) that Simmons sarcastically said, "This is the turning point of his career. It's like Nick Anderson missing those free throws in '95." He needs a sitcom.
But then it was as if LL's "Mama Said ..." erupted inside of Durant's head. Either that or a flashback from the 46 he dropped in the Rookie Challenge the night before. Because that whole "Don't call it a comeback ..." thing? Yeah, he went there.
"Three from this corner." Water. "Three from over here." Water. "Three from the top of the key." He was making it rain orange leather. KD was so warm that during a commercial break, from the right corner, he made two underhanded 3-point shots in a row!
Next thing we knew every pressure shot was on Johnson and Mayo. KD had gotten in their heads. They knew. And when he finally got within earshot of us and we "suggested" he do the over-the-crane shot, he just looked at us and said, "Naw, keepin' it simple." In other words, he was killin' them softly.
And in the end, that's what he did. No tricks up his sleeve, no And1/Globetrotter/Pete Maravich shots for the crown. Who needs to go there when your shot is hotter than Lil Wayne? Which is why the NBA is smarter for doing this their way than anything I would have dreamed up.
As someone said before we all left, "Now, how are we going to find a way for Durant to finish the weekend out and play in tomorrow's game?"
Scoop Jackson is a columnist for ESPN.com.

NBA All-Star Weekend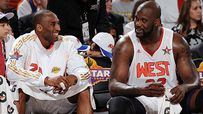 Sunday: All-Star Game
All-Star Saturday
ESPN Top Headlines