I believe sense of humor is the true lost art in sports.
I believe Pete Rose should be in the HOF. (It isn't like he was the only one gambling – he just was the one who got caught).
I believe the greatest rivalry in sports is not Red Sox/Yankees, UNC/Duke, Ali/Frazier or Borg/McEnroe; it's Pat Summitt/Geno Auriemma.
I believe Kobe got railroaded but he put himself in that position.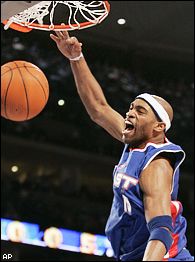 AP
It's an age-old NBA rule: Get out of Toronto, become a new man.
I believe Vince Carter and TMac had reason to "dog it" in Toronto and Orlando.
I believe if Cowboy Troy got a chance to perform during halftime of the NBA All-Star Game, Pastor Troy should get the same op next year in Houston.
I believe the New England Patriots stopped believing in themselves and won their last Super Bowl.
I believe what Rush Limbaugh said was true – stupid, but true.
I believe all baseball records pre-1950 should have asterisks by them because the Negro Leagues were not able to compete.
I believe Ali Moe should be in the League.
I believe every time you hear "first black" in sports, it's an affirmation that racism in sports still exists.
I believe Ron Artest ...
I believe Dave Chappelle should host the next ESPYs.
I believe golf is more addictive than crack or crystal meth.
I believe there is only one No. 36 in basketball, and it's not Rasheed Wallace. It's Meadowlark Lemon.
I believe there is crying in baseball.
I believe The National Sports Daily should come back.
I believe hitting major league pitching is the hardest thing to do in sports.
I believe Shaq is better than Wilt was.
I believe in Pedro Martinez.
I believe if Dan Gilbert were black, with his college-days criminal gambling arrest, he never would have been allowed to purchase the Cavaliers – or any other NBA team.
I believe I will never be on "The Sports Reporters."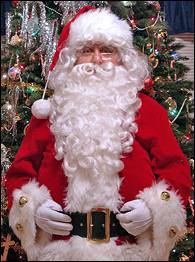 Punk got just what he deserved in Philly
I believe Air Force 1s are overrated. I believe I have more than 100 pairs.
I believe USC with Mike Williams would have beat all but five NFL teams.
I believe there will be another Michael Jordan, but there will never be another Larry Bird.
I believe until she has a child, Serena Williams is the sexiest female athlete alive.
I believe Chauncey Billups has the most beautiful wife in the NBA.
I believe "It's not sports, it's ESPN" sounds better than HBO's slogan.
I believe Donald Young Jr. is someone you need to know right now.
I believe basketball is the metaphor for life.
I believe, in the words of Ice Cube, I'll be the n----- you'll love to hate.
I believe this is only the beginning ...
Scoop Jackson is an award-winning journalist who has covered sports and culture for more than 15 years. He is a former editor of Slam, XXL, Hoop, and Inside Stuff magazines; and the author of "Sole Provider: 30 Years of NIKE Basketball," "Battlegrounds: America's Street Poets Called Ballers" and "LeBron James: the Chambers of Fear." He resides in Chicago with his wife and two kids.