Single page view
By Scoop Jackson & Eric Neel
Page 2
EDITOR'S NOTE: With the NBA Finals finally set, Page 2's Eric Neel and Scoop Jackson got together to let us know what we'll see from the Spurs and Pistons in the next couple weeks. Here's their conversation.
Eric Neel: Scoop, in the true spirit of playoff-frenzied hyperbole, let me say this: For years now the title of Most-Important-Late-Season-Added-Ingredient (in any sport) has belonged to Fred McGriff and his timely, homer-mad arrival in Hotlanta once upon a time. For years now, other late-season arrivals have been known in my world as "McGriffs." Steve Finley was a "McGriff." Nazr Mohammed is a "McGriff." But after Monday night, things are going to be different. After Monday night, McGriff ain't nothing but a "'Sheed."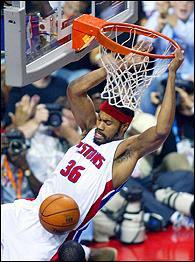 When Rasheed Wallace is on his game, the Pistons are an extremely tough out.
People say all the time that the Pistons lack a personality, lack an identity. They say maybe it's Larry's team, maybe it's Joe D's club. Forget that noise. This club belongs to Rasheed Wallace.
Scoop Jackson: Ain't nothin' but a 'Sheed thang, baby! But he got the "McGriff" award last year, didn't he? I mean, without him they don't even have Belt One. There's a difference between someone who makes the difference and someone who is the reason. The Pistons have too many ball players for one player to be the difference in whether or not they win games, but they do have someone that often is the reason they win games. And that player happens to be Roscoe.
Neel: Tell me more. Reason it out for me. Get Kantian about it if need be.
Jackson: 'Sheed gave that team an id (as in id, ego, superego). It's just that simple. So far, the Pistons have been able to benefit from it. And everyone in the locker room knows it. Even though he got a chip last season, I think it was this final game against the Heat that "absolved" him of that Game 7 against the Lakers in 2000 when he was with the Blazers. I think this game got 'Sheed off the hook.
Neel: Too bad the same can't be said for Steve Smith, eh? An id is right. And that may be Deeeeeeeeetroit Baaaaaaaaaaaasketball's biggest edge in the Finals: They have a molten center, the one thing the ice cool Spurs lack. I know Manu brings heat, and I know TP brings the Energizer, but that's not the same thing. In Rasheed (did you see him jawing at Bavetta last night, tightroping on the line between fired up and T'd up?) Detroit has strut, has some Sweet Sweetback's Baad Asssss Song. It's an id thing, TD will never understand.
Jackson: Now, you know how I feel about TD. I'm like the poor man's David Dupree when it comes to him. I've told you before: If I were to start a team ... he's that cat with me. That spit, I don't know how much strut is going to get by on the Spurs. They got rings too. And it's not like the Lakers last year didn't have rings, but they had drama. Pop has a drama-free team playing in a drama-free system. And as much as I love 'Sheed – and I do believe that he'll play well – the Pistons can't get away with winning this series against the Spurs playing the way they did at times against the Heat. There's no room for BS against Texas, baby!
Neel: I'm with you. I said "biggest edge," but I should have said something more like "only edge." I know they have heart, and I know they D up and all that, and I know I'm going to get beaten about the head with nasty e-mail after nasty e-mail when I say it, but San Antonio wins this series. Six at the outside.
Jackson: Wow! I can't argue though. Heck, if you go back and check, I had SA out in Round 1 to Denver. That's because I thought Tim was hurt for real, but still ... SA has proven me wrong one time too many. I've learned my lesson, son. Stop betting against 'em. So you sayin' in six? I don't know if I can commit to that yet, but I feel you.
Scoop
Jackson
&
Eric
Neel
FINAL EXAM