The matchups will be bananas!
Manu vs. Rip. Choose.
Pop vs. LB. Choose.
Tay vs. BB. Choose.
Neel: Manu, because like Wade, he will find the gaps in the defense and make the Pistons choose between him and the big fella.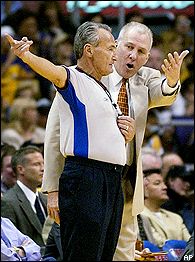 Larry Brown gets more hype, but Pop might have the edge.
Pop. This is tough, because they're both good, but for me it comes down to a certain flexibility in Pop, a certain willingness to experiment. I'm still thinking about the Ginobili-off-the-bench bit, I guess. And I'm still thinking about how, even when the circumstances were desperate, LB left LeBron and Melo on the bench in the Olympics.
Jackson: Don't forget Amare.
Neel: And Amare, thank you very much. And as for your last pair, I'll says this: Tayshaun should take off in this series. Assuming the Spurs are using Bowen on Rip, Tayshaun should abuse Horry, Barry, the ghost of Larry Kenon, whomever.
Jackson: True indeed, but like Ben Wallace, Tay seemed to be Swayze in games during the last series. So I don't know if he's going to snap off in this one.
Neel: You're right about this, and I'm not sure what the deal is. It's like he doesn't know what he has yet. He's like a young Clark Kent or something, unsure of his powers, worried about abusing them and maybe slaying some innocent mortal bystanders in the process. The kid is a McHalian freak. He's near unstoppable if he'd just make like Pan and believe.
But OK, here's the $64K Q: Why should anybody watch this series? No Funball. No Diesel and D-Wade. No TNT, no drama. What's the point?
Jackson: Because, bottom line, theses are the two best teams in basketball. This is the NBA's version of this year's NCAA. No excuses, no injuries, no frontin' allowed. Anyone who doesn't appreciate this ... shame on 'em.
Neel: But aren't you just talking paper talk? If we talk aesthetics, and if you don't live in Detroit or San Antone (where folks are rightfully geeked up about their clubs ... please note bone-throwing by writer about to incur the wrath of the yellow rose and the curse of Berry Gordy), isn't there a chance that this is going to be one ugly, Ernie Shavers-meets-Larry Holmes sort of fight?
Jackson: To me, for years, it's never been about the major cities or the stars. It's been about the squads. I think San Antonio is not the same stoic team we saw two years ago. Manu and Cuz (TP) have each come into their own. And if these people don't enjoy watching Manu-Ball, like my moms used to say: "Feed 'em beans."
Neel: All right, but make mine like Louis Jordan's, make it "beans and cornbread," if you please.
Jackson: And by now, I think the general public has finally gotten around to learning how to appreciate Duncan's game/style of ball. His situation, for real, is really like Pete Sampras in tennis. When Pete came into the game McEnroe and Connors were on the way out, and Agassi was the new cat. All flash. Pete got slept on because everyone said his game was "boring" and no one wanted to watch him play. After about 10 years, people started to get it. Once they got it, they never missed another Sampras match again. He became a ratings cash cow for a lot of the networks. That's TD now. I think the public "gets it" with him now. Finally.
And with the lovely shots of Eva in her Tony Parker jersey, the general televison audience should be happy regardless.
Neel: I was wondering how long it would take you to get to that. You were high-roading it for a while, giving me the human drama of athletic competition crap.
Jackson: Yeah, I'm back. Hey I just wanna see how bad she is. Think she's going to show up in Detroit? Man, if she does that ... she's gangsta for real.
Scoop
Jackson
&
Eric
Neel
FINAL EXAM