The big questions, and answers, regarding this year's NBA playoffs
Editor's note: Excited about the NBA playoffs? We're so excited, we fired off questions to two of our resident NBA experts -- questions that will define this edition of the NBA's second season.
Question: The Lakers won the West by 10 games. Andrew Bynum is back. The Trail Blazers (who went 2-2 against the Lakers) were the only Western Conference team to beat the Lakers more than once this season. Can anybody out West beat L.A.?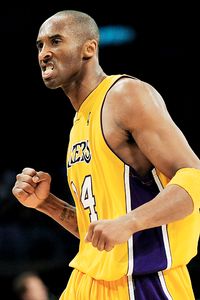 Kevork Djansezian/Getty Images
Is this the year Kobe gets a ring without Shaq's help? He's got a good shot.
Scoop Jackson: Nope. If the Lakers don't make the Finals, something's wrong. They've proved all season long, in a very quiet manner, that they're on a mission.
It's not about what it was about last year: Kobe's getting a ring without Shaq. It's about their knowing collectively that they are the best team in the league, and they just don't have a ring to show for it. Even without Bynum, they're better than they were last season. But with Ginobili out in San Antonio, T-Mac out in Houston, Tyson Chandler hobbled in New Orleans, Utah not being able to win on the road, and Denver being so new to the conversation, the road to the NBA Finals for the Lakers should be as easy as getting a reality show on Bravo.
Jemele Hill: This is Kobe's last real opportunity to win a championship without Shaq. Everything is aligning perfectly for the Lakers. Kobe is playing with an incredibly deep roster. He's got not one but two 7-footers as inside threats. The Spurs are aging, the Hornets just don't have enough, the Jazz can't win on the road, the Suns are irrelevant, and the Mavericks have fallen apart. In the East, KG's knee will doom Boston, Orlando isn't trustworthy and, despite how Cleveland has massacred most teams, the Cavs didn't handle the Lakers this season. If Kobe doesn't win it now, he won't get back to the top.
Question: Which first-round series will be the most exciting?
Scoop Jackson: Atlanta versus Miami. Dallas-San Antonio and Portland-Houston will be "must-see TiVo," but the battle between the MIA and the ATL will be the one series we wish could stretch to a best-of-nine instead of a best-of-seven.
Jemele, you know how every season there is that one team that no one wants to play in the first round? Well, Miami is that team this season. The Heat are as dangerous in the East as that Philly squad in 2001. D-Wade is on to something. He's the last player any team wants to see right now.
Atlanta is a good team -- the Hawks are the Trail Blazers of the East. They tasted being there last season. Actually, losing in a Game 7 a year ago is probably going to help them this season. It probably made them stronger. I can't call who's going to win this one. But if I'm Atlanta, I'm a little shook going in.
Jemele Hill: Three series immediately jumped out at me: Denver-New Orleans, Portland-Houston and Atlanta-Miami. All three series could go seven games, and each has upset potential. The Denver-New Orleans series will show people why the Pistons got rid of Chauncey Billups. It wasn't because of failures in the regular season, it was because Billups hasn't been the same player in the postseason since being named NBA Finals MVP in 2004. Now he's got to keep up with Chris Paul for an entire series? Good luck with that.
The Trail Blazers are the official Team You Don't Want To Play. And Dwyane Wade could average 40 against Atlanta.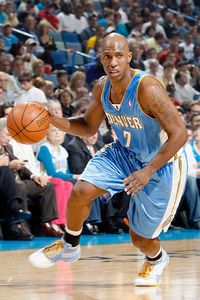 Layne Murdoch/Getty Images
Billups had a great regular season. Can he keep it going in the playoffs?
Question: Which player has the most to prove this postseason?
Scoop Jackson: Chauncey Billups. I say that only because there's been this great dialogue going on for most of the season about how Billups turned the Nuggets' season around and made them a better team. That's true. But if the Nuggets don't get out of the first round, how much better are they really?
I'm not just trying to protect Allen Iverson (well, maybe I am a little bit). Billups is actually one of my favorite people in the league. So this is not a shot at him, as much it is at those naysayers/haters who think A.I. was the reason the Nuggets underachieved. If the Nuggets' season ends the same way it has the past two seasons, without advancing to the second round of the playoffs, I'm just asking, how much better are they?
And if that puts extra pressure on my guy Chauncey, then I'll apologize to him later. He just happens to be the player at the center of a much bigger picture.
Jemele Hill: Take your pick -- LeBron, Dwight Howard, Yao Ming, or how 'bout George Karl? With LeBron likely the league MVP, he and the Cavaliers come into the playoffs as a heavy favorite to get to the NBA Finals. They have the best player in the NBA this season, and the best overall record. They've won the pole. If the Cavaliers get tripped up by either the Celtics or Magic, this season was a colossal failure.
People also are still wondering whether the Magic are fool's gold. Howard has had an incredible season, but he has yet to define himself in the playoffs. They took a step forward last season by getting out of the first round. But considering they were flirting with the best record in the East and at one time had the best record in the NBA, they need to take another step this postseason.
The Rockets have quietly jelled without Tracy McGrady. We'll finally get to see who really deserve the blame for the Rockets' past playoff failures, and whether Yao is capable of taking a team to another level. He's highly skilled, but does he have heart?
As for Karl, if Denver doesn't make it out of the first round again, his seat is going to turn up 30 or 40 degrees. At some point, he has to be held responsible.
Question: Which player is most likely to jump into the national spotlight and make fans think, "Damn, I didn't realize he was that good"?
Scoop Jackson: John Salmons of the Chicago Bulls. Being in Chi-town, I've been lucky enough to watch this dude light up teams ever since the trade that brought him here in February. While some players are straight slept on, this cat was hibernated on by everyone except his family members and probably some ex-girlfriends. He can flat-out ball! Now I know he's barely played in the playoffs before, and it's a whole other level of comp and intensity. But from what I've seen over the past 30 games or so, Salmons (along with Ben Gordon, because he's playing for a new contract) is going to make a lot of fantasy hoop dudes pissed because they've been hibernatin' on him.
Jemele Hill: I realize Tony Parker is a former Finals MVP, but I still think he's very underrated and consistently overlooked. Parker has quietly had a magnificent season, and with Manu Ginobli out for the season, some people are going to be surprised at what a prolific scorer Parker can be this postseason. People have handed Deron Williams the title as second-best point guard in the league behind Chris Paul, but it's actually Parker.
Also, these playoffs should be a coming-out party for Brandon Roy. Since he's on the West Coast and a prisoner of late game times, people don't understand that Roy has had a season worthy of putting him on the MVP ballot.
Scoop Jackson: No disrespect to CP3, but I've always said TP is the best point guard in the league. The fact that Parker has a Finals MVP, and CP3 hasn't gotten to a Finals yet, trumps almost all arguments to me.
Question: What do the Celtics have to do to repeat?
Scoop Jackson: I wanna say just believe, but it's probably not as simple as that. (Plus that's kinda corny, I know, Jemele.)
If the words that just came out of Doc Rivers' mouth are true -- that KG's "not going to be ready … there's no way he can play" -- then I don't think they have a chance. But if they are pulling a "Ty Lawson move" on us -- being somewhat disingenuous regarding the severity of Garnett's injury -- then I'll say they have a chance … a very, very small one. But without KG, they're not even close to the same. Honestly, without KG -- especially remembering how they struggled against the Hawks last year in the playoffs -- the Celtics might not even get past the Bulls.
Jemele Hill: The Celtics' repeat chances were officially extinguished with KG's knee. Paul Pierce, Rajon Rondo and Ray Allen will have to carry this team now. The good news is, those three were superb this season. The bad news is, the most competitive teams in the East have gotten a lot better. There are so many trap doors for the Celtics -- especially with Cleveland's dominance and Orlando's uprising. But you can't completely discount Boston's experience, or Pierce's ruthlessness, in the playoffs. And even without KG, I don't see the Celtics' forgetting that beatdown the Cavaliers gave them in their final meeting of the regular season, or LeBron and his crew's antics on the bench.
Question: OK, putting aside rooting interests for favorite teams, will we be disappointed if it's not a Kobe-LeBron NBA Finals?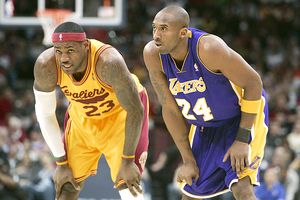 AP Photo/Mark Duncan
Basketball Gods, please give this to us, please!
Scoop Jackson: If you mean by "we" the general audience, then yes, we will be disappointed. Kinda like when Tiger and Phil fell off on Nos. 17 and 18 at the Masters last week. But as a true b-ball fan, if the two teams playing the best ball make it, I won't be mad. Like, say -- and this is totally hypothetical -- the Hawks and the Hornets outballed everyone else in the playoffs, shook up the world, and found themselves in the Finals against each other. If those two teams went through three rounds of the playoffs and legitimately beat teams like the Lakers, Cavs, Magic, Jazz and Nuggets, then -- especially knowing that these are two of the most exciting teams in the league -- I'd be happy. But that's just me. Still, there is a part of me that's dying to see that Lakers-Cavs matchup. Potentially seven games featuring the two best players of this generation going at it? OK, I guess I'd be sorta down if it doesn't happen.
Jemele Hill: I'm not a casual NBA fan, so I would be watching the Finals regardless. But even I must admit, a Kobe-LeBron showdown would be something special. Last year, we saw the resurrection of an old rivalry between Boston and L.A. If Kobe and LeBron were squared up in the Finals, it would be reminiscent of Bird versus Magic -- the two best players in the world fighting for their individual legacies.
Question: And your playoff MVP will be …
Scoop Jackson: Kobe. Here's my thing: If the Lakers get back to the Finals -- especially at full strength, with Bynum back and no one of significance going down -- I really don't see Kobe losing in the Finals two years in a row. Now, it's real hard for me to imagine LeBron getting to the Finals again and not winning it all, too. But I just think the Cavs will be overmatched. Not the same way they were against the Spurs a few years ago -- they'll lose in seven, as opposed to getting swept or losing in five.
But this will be the last time LeBron gets to a Finals and does not walk away with the MVP and the chip. Because after this, until Dwyane Wade gets a squad around him to battle in the East, 'Bron is gonna have this Finals MVP thing locked up for a while.
Jemele Hill: Kobe Bryant. I expect a Cavaliers-Lakers Finals, but this is the year that Kobe gets the albatross off his back and wins one without Shaq.
Scoop Jackson is a columnist for ESPN.com. Jemele Hill can be reached at jemeleespn@gmail.com.