What does it take to be a U.S. Open ball boy?
FLUSHING, N.Y. -- On a midsummer afternoon when rain clouds loomed ominously over the iconic blue courts at the USTA Billie Jean King National Tennis Center, job-seeking tennis fans from all over New York City converged, clad in mesh shorts and optimism, at the hallowed venue. Although it was overcast, Mother Nature's mood would do little to discourage the 300-plus teens and 20-somethings who had laced up their nonmarking sneakers and taken to the colored concrete to try to earn a spot as one of the 75 ball persons for the 2007 U.S. Open.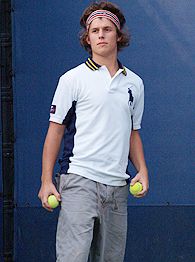 USTA
There's our man, Neil Janowitz, certainly looking the part.
As they waited to be corralled onto a nearby court for instruction, the hopefuls gathered outside Arthur Ashe Stadium to practice their throws and exchange advice gleaned from past auditions. Among them were a handful of local reporters participating in what has become an annual tradition for immersion journalists. And though most spent the waning downtime planning out an approach to the story, at least one -- ESPN's Neil Janowitz -- admitted skepticism.
"The whole idea of journalists trying out to be ball folk seems a bit exhausted, y'know?" said the ESPN The Magazine editor as he stretched in place. "Between the prominent guys like Kenny Mayne and Rick Reilly, and then all the local papers … I'm just kind of jaded. I don't know why I even came." It was an outlook in stark contrast to the perspectives of Janowitz's nonmedia competitors, many of whom were enchanted by the idea of standing on the same courts as past champions.
"I grew up playing tennis, and have so much respect for the players," said Steven Apostolo, a 19-year-old veteran of the ball boy corps. "Last year, I worked Agassi-Baghdatis, and it was incredible being on the court, seeing the crowd." Twenty-one-year-old Adam Subes echoed that sentiment, saying, "I love being around the greatest players in the world," before adding, "Plus, it's beautiful around here during this time of the year."
Fifteen-year-old Eric Hirschbein-Bodnar, a talkative two-year vet, had a slightly different reason for getting involved: "We've been coming here since I could walk, and each year I've bought the Polo U.S. Open gear. Finally, Mom said, 'I'm tired of buying this stuff. You want it, be a ball boy.'" And 15-year-old Pierre Johnson warmed the hearts of the people nearby when he gave his three-pronged reason for attending: "It's a great experience. It's my first job, so it'll teach me to be responsible. And I'll be able to help my mom with the bills."
But although the grounds were brimming with tennis affection, it did little to brighten the mood of Janowitz, who was busy using his youthful demeanor and childlike jowls to blend in seamlessly with his 16-year-old counterparts and solicit material. "Though I'm getting older, I've found I still relate well to teenagers," said the reporter as he adjusted his "trademark" adidas headband over a thicket of long, unkempt hair. "I'm not entirely sure why that is, but it helped me get solid quotes from the kids, so, hey, rad."
The energy permeating the event took a turn for the nervous when the group finally was ushered into the practice-court stands and given instructions, which detailed a strict, structured tryout process. Applicants had self-selected themselves into three sections -- those who would be stationed exclusively at the net, those applying for backcourt duty and those utility ball persons who were attempting to do both. The prospects were then dispersed to surrounding position-specific courts, whereupon they broke into small cliques in the stands to quell jitters and dispense advice.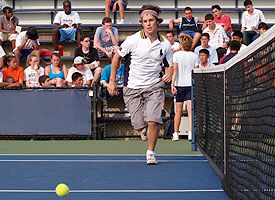 USTA
Neil's cat-like reflexes served him well at the net.
Some elected to home in on particular skills. "Never put the balls in your pocket," said a 17-year-old named Kayla, describing the proper technique for working the net. To that Kayla's similarly aged friend Aileen Lavin added, "Also, never backpedal -- turn and run." Complementary advice came from 18-year-old Michael Pertab, who noted about backcourt responsibilities, "Aim toward the center of the court when you throw -- a lot of people try to throw it down the line, and it goes into the crowd. Just get it down there. And stay relaxed."
Apostolo, meanwhile, preferred to keep the bigger picture in mind. "It's best if you appreciate the game," Apostolo said, "and if you understand it, and the players." Then there was Andrew Elmorshedy, who, at just 14 years of age, offered the most optimistic outlook: "Throw the ball accurately, and you'll make it."
The crowd quieted once the trials began, with hopefuls choosing to survey the performances of their competition. On the utility-ball-person court, every foursome called down received applause at the end of its screening, but while the auditions were under way, the gallery proved to be cutthroat: Feeble-armed contestants drew snickers from the crowd, and cannon-armed candidates were the subject of hushed, envious scorn. Janowitz ignored the murmurs and instead focused on strategy; then, despite his purported ambivalence, went on to shock those present by delivering an impressive performance on the court.
First charged with net duty, the reporter bobbled just one of the two-dozen balls he was sent to collect, all the while displaying a superhuman adeptness at running quickly and quietly in a crouched position. Later, when stationed at the rear of the court, he showcased his ability to catch gently thrown tennis balls on one bounce, and unleashed three-ball cross-court flurries that elicited a rare compliment from longtime ball person Christian Popescu, who otherwise was overseeing the auditions with succinct efficiency. Off the court after his performance, it was readily apparent that Janowitz's disposition had taken a decided upswing.
"Well, you saw it -- really, everyone saw it -- so there's no point in being modest," said the breathless 25-year-old as he peered over the shoulders of nearby evaluators to see their clipboards. "I killed it out there. I'm just being honest. I didn't come here, and go out there, intending to humiliate a bunch of teenaged amateurs. But sometimes you tap into a reservoir of talent you never knew existed and you find yourself powerless to stop the flow. That's what happened today, moments ago. To me."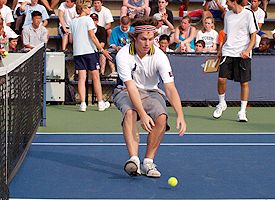 USTA
Just sit back and enjoy Neil's bended-knee technique!
When asked whether he had collected enough material for a sufficient story, Janowitz scoffed. "Yeah, I'll cobble something together … eventually. Some more pressing things have come up, and I have to address those first," he said, before excusing himself to ask a passing 12-year-old when they would hear about callbacks. His answer would come just moments later, when U.S. Open Director of Ballpersons Tina Taps expressed her approval of his performance, going so far as to offer the editor a position on the spot -- "For the whole tournament, if you can find the time, or otherwise just one day," she explained.
But despite his bravado, Janowitz curiously demurred, responding with a nonchalant promise to think it over. He then thanked the USTA members for the opportunity to exhibit his talent, gathered his belongings and joined the progressively thinning stream of adolescents trickling out of the tennis center. Some skipped alongside parents, retracing their steps and throws; the less enthusiastic ambled away, weighed down by disappointment and tennis bags half their size. Still others found private recesses -- such as Johnson and friend Earl Allen, by the ladies' room water fountain -- in which to sit and reflect on their performances while exchanging hope for the best.
Few ultimately would get called back. But nearly all, it was apparent, would be back.
Neil Janowitz is an editor for ESPN The Magazine. You can reach him at neil.janowitz@espn3.com.