By Bomani Jones
Special to Page 2
GREENSBORO, N.C. -- At a sports bar in Chapel Hill last week, a gentleman remarked that Cinderellas are what make March Madness the best time of the year.
He's crazy.
March Madness is the best event of the year because there's great basketball on television from lunch till midnight, taking just enough of a break for sports fans to catch up on issues of great social import like the Brad Childress/Daunte Culpepper tête-à-tête.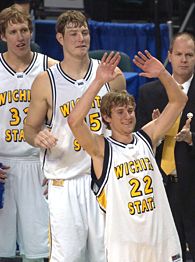 AP Photo/Sara D. Davis
Who would have thought? The Shockers sure do have a sweet smile.
Cinderella? I can do without her. I'll take her smokin' hot stepsister any day.
That's right. You can have her, the frumpy, bracket-killing debutante with the sweet personality, good grades and heartwarming backstory. Take Rudy and Norman Dale, too. Give me Halle Berry from the waist up, Beyonce's lower half and an infuriating sense of entitlement.
That's right. Personality is cool if you're looking for love. But love is forever. The tournament doesn't even last a month, leaving little time to really get to know anyone.
When I want my heart warmed, I'll watch the tapes of Gerry McNamara and his spectacular, heartwarming marksmanship in the Big East tourney. That fell somewhere between inspiration and love at first sight.
George Mason and Wichita State? Not even the same thing.
In the old days, the gap between Cinderella and big-conference stepsisters was much larger. But since widespread early entry into the NBA draft makes a junior in the Big East seem as seasoned as Julio Franco -- and those who stick around three years frequently weren't spectacular to begin with -- mid-majors aren't the underdogs they once were. The stepsisters have spent the last decade watching their star players depart early, staying long enough to lend their talents but not long enough to contribute the guile and leadership that separates very good teams from great ones.
Take this as evidence of the effect of early entry on tournament fields: Only six top seeds in the history of the women's tournament have not made the Sweet 16. This season, 14 of the 16 teams seeded 1-4 made the Sweet 16. The lowest seed remaining? Albuquerque region No. 8 seed Boston College, a school from a conference too large to get anybody warm and/or fuzzy.
Since the WNBA isn't cutting checks large enough to make it worth the stress for anyone to leave school early, the best players in the women's major conferences stay in school. Let the WNBA get a gigantic television deal -- I mean, I guess that might happen some day in my grandchildren's lifetime -- and the kids might skip out in search of riches. Instead, Candace Parker will be dunking on overmatched young women until 2009.
The men's game just doesn't work like that.
Cinderellas end each season with a definite idea of who's coming back for the next season. They are better able to build teams on experience. George Mason has six players who average 20 minutes per game, and three are seniors. So what's so surprising about the Patriots beating a North Carolina team that started two former walk-ons, two freshmen and another player who averaged 4.5 minutes last season? If the Patriots and Tar Heels played two games out of three, there would be no great reason to bet against George Mason. That day -- and maybe on another -- the Patriots were the better team (and the same can be said about Bradley and Kansas).
These schools are no longer hopelessly overmatched. They don't walk into the gym and stare at guys like Craig Smith with amazement, as if John Henry were in the layup line. They come to play ball, able to beat big-time schools without having to depend on a stepsister's bad day to run concurrently with their best days or having a David Robinson-like star.
Come to think of it, Cinderella isn't that charming. She's not even a belle at a ball. She's the semi-cute girl hanging around a minute or two before last call. When most of the dimes have gone home, the nickels start looking awfully shiny.
There's nothing inspiring about that, but that's how you wind up with a Wichita State-George Mason regional semifinal. At this point, schools like Wichita State and George Mason are only underdogs because most people have never heard of them. There's nothing moving about that. Give the Missouri Valley Conference and Colonial Athletic Association better television deals, and you can bet they'll get little to no love.
And chances are the general public doesn't love Cinderella as much as it claims to. Would anyone rather watch WSU-GMU over Villanova-Boston College, which runs at the same time? Does anyone want to watch a game while constantly wondering, "Who's that guy on the team in white that's making all the shots?" The only George Mason Patriot I know by name is Tony Skinn, and that's only because he flagrantly violated the G Code and hit someone with a swift one to his unborn … and this is my job.
Maybe the Cinderellas are cute for a game or two, but it's too much when they get deep into the tournament. On the last two weekends of the Big Dance, I want to see big names and swooshes. I want players I've heard of. I want teams with which I'm familiar, which are coincidentally the same ones I picked in the bracket I last saw swirling 'round the porcelain on Sunday night.
(Bitter? Never. Let's move on.)
But Friday night, the nameless, faceless Patriots will be enjoying something they never expected -- home-court advantage -- in their game against Wichita State at the MCI Center. GMU alums will cheer with great pride, even as they run their pointer fingers through their programs as they try to find out who No. 55 is (FYI, it's Jai Lewis). Shockers fans -- get your mind out of the gutter -- will find a way to compare every decent player on their team to Xavier McDaniel.
And I'll be praying to the gods of regional coverage that Nova-BC will be on at my house. It's too late in the Dance for fake fairy tales.
Bomani Jones is a frequent contributor to Page 2. Tell him how you feel at bomani@bomanijones.com.