By Bomani Jones
Special to Page 2
Nike has won.
In spite of so much that's central to my existence -- skepticism about hype, an aversion to overpriced sneakers, a passionate distaste for seeing the same damn commercial 15 times a night -- I must admit, I am a witness.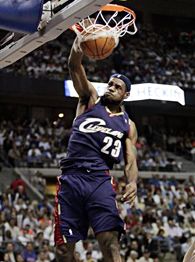 Paul Sancya/AP Photo
LeBron has lifted the Cavs to the brink of the Eastern Conference finals.
How much of a witness? If Nike gave me a ream of catalogs, I'd throw on a white shirt and go door-to-door passing them out to people upset that they got off the couch to answer the door for one of them damn witnesses. I've passed up multiple dates because LeBron and the Cavs were playing on a given night. I've even questioned the dedication of a gentleman who claims to be a fellow witness. A buddy of mine uses "We Are All Witnesses … " as his away message on AIM, but he has turned away from games in the Cavs/Pistons series to watch "24."
"Gotta watch my man Jack Bauer," he said before I ripped into a tirade that ended in a frowny-face.
Witnesses TiVo "24" and watch LeBron live, not vice versa.
Nike's "Witness" ad campaign seemed brilliant after the first game of the Wizards series. Even though the Cavs seemed as likely to lose that first-round matchup as to win, the boys in Beaverton made Cleveland seem like Kinshasa in '74 the day of the Rumble in the Jungle. The drum line in the commercials made me either want to rush to Cleveland and give a kidney to the scalpers, make reservations for the Bayou Classic, or take a tour of the Serengeti. The whole campaign has made the playoff run of one superstar and a band of supremely average players feel historic, and missing one game would feel like missing the chance to see history as it is made. At the very least, that's worth waiting a few minutes to see how Kiefer Sutherland saves the free world.
LeBron has made Nike's ad men seem like soothsayers. It wasn't until after George Foreman went in circles like a failing crop duster that it was certain that history was made. But nearly every step of Cleveland's trip through the playoffs has seemed like foreshadowing. After losing the second game to the Wiz, the stage was set for LeBron to prove he could win a crucial road game to get the Cavs to the next stage of the playoffs.
And he did.
With Gilbert Arenas at the line with the chance to ice Game 6 and send the series back to Cleveland, minutes after Arenas hit a 3-point dagger that could have taken the Cavs' heart, it was time for Bron Bron to do something miraculous to win the game. A couple of sour nothings in Arenas' ear later, Bron swung the ball around the perimeter, starting the sequence of events that led to the forgotten Damon Jones jumper that won the series.
Two months ago, passes like that got James lambasted by the press for lacking "killer instinct." That night, people remembered that his court vision and ability to work in the flow of a game make him what he is, and make the cast of vagabonds surrounding him believe they're capable of making big shots. So, in turn, they make big shots.
And LeBron got them to the second round.
The Cavs seemed hopelessly overmatched against the Pistons. Our own Scoop Jackson predicted that the pummeling Cleveland would take would serve later as motivation for LeBron's eventual march to a championship. Scoop sounded dead-on at the time, and the whoopin' the Pistons put on the Cavs in the first six quarters of the series made Scoop seem prophetic.
Then came the second half of Game 2, when the Cavs somehow managed to get themselves back in the game by the final minute. They still lost, but suddenly, the outlook wasn't so bleak. In fact, it looked bright as they headed back to the Q. They would be without Larry Hughes, but he wasn't doing very much when he was on the floor anyway.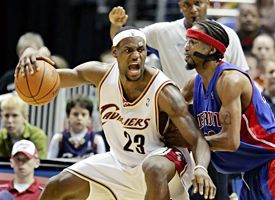 Mark Duncan/AP Photo
Years from now we'll remember LeBron's brilliant first playoff run.
Cleveland didn't need Hughes to win Game 3. It needed a big fourth quarter and a triple-double from LeBron James.
And that's what he gave them.
To win Game 4, the Cavs didn't need Rasheed Wallace's guarantee that Detroit would "bust they a--" to motivate them. They needed James to lead them, to inspire them just by being on the floor. He wound up just one rebound and two assists shy of his third postseason triple-double, but his play and shooting were uneven (probably because of the wear of playing consecutive games without a second of rest).
But they won.
Before Game 5, I called my brother and mentioned a great point Chris Broussard made on his Insider blog -- winning two games in the series as opposed to one would change the outlook the Cavs would have going into next season.
"Next season?" he said. "These boys are still talking about this season."
Yeah, my brother's a witness, too. And Cleveland won Game 5.
Every moment -- and I've watched nearly every moment -- has felt like the start of something big. After the series got to Cleveland, the Cavs' deficits seemed like necessary elements to the story instead of exhibits of their obvious weaknesses. Even though this team has Eric Snow (!) running the point and Flunk Murray -- because he doesn't pass -- taking abysmal shots because there's no one to move him out of the lineup, the Cavs are skipping every hurdle.
Of course, most of that can be attributed to LeBron (with some help from the underachieving Pistons, admittedly). That is, unless Cleveland's run is fueled by the Sampsonian power of Zydrunas Ilgauskas' beard or the hatred of Bart Simpson that fuels Anderson Varejao's hustle.
And with every moment it becomes clearer that LeBron's really onto something, that commercial follows. Its rhythm, the images that capture the excitement of almost every demographic, and its wonderful sequence of the moments that have made these LeBron's playoffs.
Aided by his own corporately provided soundtrack, he's become the face of the two months that could bring the NBA back to its glory days.
And if you love this game, you're watching every minute of it.
Not just because Nike told you to. But because Nike is right.
We are witnesses. We're watching history. And in a rare stroke of luck, we know it while it's going on.
Tell Jack Bauer to top that.
Bomani Jones is a frequent contributor to Page 2. Tell him how you feel at bomani@bomanijones.com.