By Bomani Jones
Page 2
Remember when people thought Michael Vick was the future of the quarterback position?
Four Decembers before Vince Young exacted revenge against the Texans with a 39-yard overtime scamper for a touchdown on Sunday, Vick electrified the league with a more spectacular 46-yard touchdown run in sudden death against Minnesota. On his way through the Vikings defense, he shifted into a gear no other quarterback has ever possessed.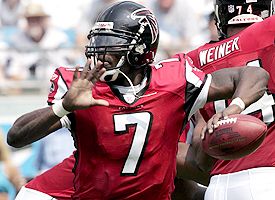 AP Photo/Chuck Burton
The pocket and Michael Vick have made for strange bedfellows so far in his career.
More than just amazing, he seemed revolutionary. After the game, Vikings linebacker Henri Crockett said Vick "changed the game. There are going to be no more pocket passers anymore."
Yeah, sure. And one day, we thought we'd be living like "The Jetsons." That day still hasn't come. We aren't commuting to work in flying saucers, and pocket passers haven't become extinct. Pocket passers are still the prototype for winning quarterbacks. And Vick is not effective from the pocket. There's no question about that. Vick is incredibly talented, undeniably like no one before him. But playing the game is a lot more important than changing it. The revolution will have to wait. The question that matters today is whether Vick will ever win a Super Bowl. The answer? No time soon, if at all. That isn't because he's ahead of the game. The truth is, he's as much like Fred Flintstone as he is like George Jetson. And to take a team to the mountaintop, he needs a Mr. Slate as much as a Mr. Spacely to be in charge on the sideline. Sure, he's a runner like we've never seen at quarterback. Vick has recorded three of the four best rushing games ever by a quarterback. Including 2006, his four full years under center have produced three of the top five rushing seasons for a quarterback. By the time 2006 is over, he will have run for more yards in a year than anyone thought possible outside of the wishbone.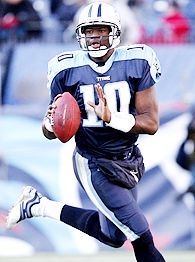 AP Photo/John Russell
All Vince Young did in 2006 was win football games -- and silence critics.
But while that might still seem futuristic to Crockett and the others who have to chase him down, Vick in one way is actually quite retro. Think Terry Bradshaw. He's capable of stretching defenses vertically, but this particular NFL era places just as much value on spreading the field.
The 21st century quarterback must be able to throw 10-yard slants so his receivers can turn them into 20-yard gains. That's far more important in this day and age than being able to throw pretty 50-yarders, something Al Davis has been unable to grasp. It often seems like Vick's arm is too big for short passes, just as Vladimir Guerrero's throws wouldn't work so well from second base. The numbers spell out Vick's difficulty throwing short-to-intermediate passes. This season, on passes between 1 yard and 10 yards, Vick averages 5.8 yards per attempt. Between 11 and 20 yards, he's good for 7.8 yards a clip and only completes 43.2 percent of his passes. Part of the blame there probably goes to his subpar receivers. (Ask Tom Brady, whose numbers are roughly the same on intermediate passes.) Vick's top three wideouts have hands like feet; they might have cost him 100 yards passing with their drops against New Orleans in Week 12. But in a West Coast-ish offense designed to rack up yards after the catch, Vick often doesn't do much to help them. Roddy White, Michael Jenkins and Ashley Lelie are all gaining on average less than three yards after they catch the ball. Lelie averaged 5.0 yards after the catch last season in Denver when the now-deposed Jake Plummer was throwing him the ball. But with Plummer, Lelie didn't have to reach behind him nearly so often to make a reception. Here's an example of the blame Vick and his receivers share for the Falcons' passing woes. Midway through the second quarter against Tampa last week, Lelie ran a fade route to the end zone from the Bucs' 6-yard line, and without much loft or touch, Vick threw a low line drive that turned into the easiest interception of Phillip Buchanon's career. Lelie did a terrible job of fighting for the ball, and Vick failed to put the pass in a place where only his receiver had a chance for it -- a must on a fade route. That toss should have been incomplete or a touchdown. Instead, it was fair game for all.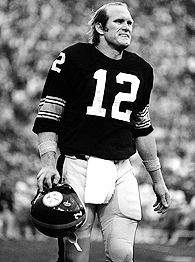 AP Photo
What do Terry Bradshaw and Vick have in common? Statistics.
There's nothing futuristic about being inaccurate short, and the gorgeous deep rainbows at which Vick is best are positively old-school. So are his stats. His prorated numbers for the rest of the season -- a 51.8 percent completion rate, 2,519 yards, 18 touchdowns -- are almost identical to Terry Bradshaw's numbers from the 1977 season (51.6, 2,523, 17). And nobody is mixing Terry Bradshaw up with anybody in "The Jetsons."
So what was that about Vick being the future? He's only 26, so there's still the tantalizing possibility that he can put it all together -- his incredible arm strength with his unbelievable speed and sturdy confidence -- and change the game. There's still the chance that someone will be able to devise a system that can harness Vick's gifts. Too bad no such system exists presently. Falcons head coach Jim Mora and offensive coordinator Greg Knapp haven't figured out how to use Vick. Dan Reeves couldn't either; Vick's numbers under Reeves were negligibly better than they've been under Mora and Knapp. It isn't because it's too hard to use Vick's talents; it
is
because it's impossible to mask his flaws. Consistent success is a lot to ask of an offense when the quarterback doesn't complete more than 55 percent of his passes. Not in 2006, when defenders are cop-car fast and the best players study film until they've memorized the closing credits. Probably not in 2016, either, when the players will be even faster and just as diligent in their preparation. Precision will continue to be as important as prodigious talent. So what Vick needs is an offensive mind capable of maximizing his next-generation speed while protecting his last-generation arm. To make a Super Bowl, Vick needs an avant-garde offense, even though his passing -- which will always be a pro quarterback's most important duty -- is out of style. Like most Vick defenders, Mora is quick to point to his quarterback's .653 winning percentage as a starter as a sign of his effectiveness. That proves Vick can win games, and doing so with the Falcons often means carrying the entire team on his back. But that statistic doesn't speak to whether Vick can win
the
game, the last game of the season, the one that puts an indelible stamp on a player's career.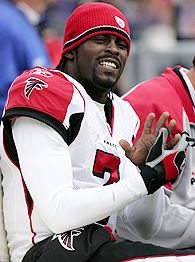 AP Photo/Chris Gardner
Until someone can figure out how best to use Vick's talents, the grimacing will continue in Atlanta.
A team can't be expected to win a Super Bowl if its quarterback can't be trusted to put the ball on the money on third-and-9 against Cover 2, when the defense is only rushing four and has three linebackers in the short zones who are fast enough to stop him from running to the first-down marker.
Vick can't be trusted to do that in today's NFL. Based on his career progression, there is no reason to think he'll be able to do it in tomorrow's league, either. That is the most frustrating part. He's done what has been all but impossible for the last 40 years: He's made Atlanta, one of the five most pathetic franchises in NFL history, exciting. Since 2003, the Falcons have sold every seat for the season weeks before opening day, and that's entirely about Vick. But like every other quarterback in the history of the franchise, he hasn't taken the team to the playoffs in consecutive seasons. And after a while, excitement isn't enough. The fate of the franchise rides on Vick's ability to get it right. In yesterday's league, he probably could have. But that and a token will get him on the A train. Too bad the A train doesn't stop at the Super Bowl.
Bomani Jones is a columnist for Page 2. Tell him how you feel at readers@bomanijones.com.