TAMPA, Fla. -- As soon as Christian Laettner placed one heel on the court of the St. Petersburg Times Forum on Saturday, the boos cascaded from every corner of the arena. They were loud, lusty and throaty, representing a remarkable level of anger considering that it's been 15 years since he played his last college game. It was the perfect way to honor the greatest villain college basketball has ever known.
Of course, Laettner seemed to love every minute of it.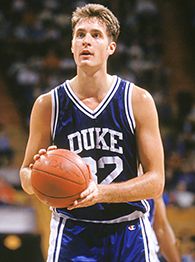 Rick Stewart/Getty Images
Even 15 years after his days at Duke, Christian Laettner still seems to delight in playing the villain.
At halftime of North Carolina's ACC tournament semifinal win over Boston College, the 2007 class of ACC Basketball Legends was introduced. It's annually one of the best moments of the tournament, one that reminds fans of the players that helped create the history and legacy of the flagship basketball conference in America and provides one more moment for the stars of yesteryear to bask in the glory of their college years.
Laettner, honored 15 years after leading Duke to its second consecutive national title, soaked up the experience. The booing was so loud probably no one in the arena could hear a single word of his introduction. Kids too young to remember Laettner's college career better look him up on the Web.
If they wanted to understand why Laettner is unforgettable, they need only remember this ceremony.
He sauntered from the corner of the floor to midcourt more deliberately than a Terrapin doing the moonwalk. Presumably, the public address announcer read the highlights from Laettner's spectacular collegiate resume, but there's no way to tell for sure.
What's undeniable is that Laettner provided the highlight of the tournament so far, a moment that seemed scripted but was too perfect to have been contrived. After his introduction, when it sounded like his name was given after his intro, the booing reached a feverish pitch. Fans all over the arena -- particularly, but not only, the Carolina contingent -- jeered Laettner at the top of their lungs.
So Laettner brought two fingers to his lips, kissed them, turned around and and extended his long arms to share the "love" with the crowd. Priceless.
Even a decade and a half removed from school, everything there was to hate about Laettner was on display. He's 37, his hair is way lighter than the dark brown it was in '92, so he doesn't look like a smug kid. Instead, he looked a smug grown man, as privileged as ever in his pristine, perfectly cut navy blue suit. The trademark sneer was gone, but it was replaced with a look of indifference. The fiery "I don't give a damn" look from the '90s wasn't there, but it was clear that he still doesn't give a damn.
Then again, why should he? Without question, Laettner is the most accomplished player of the expanded NCAA Tournament era. He played in four Final Fours, three National Championship games, and won two titles. He hit every shot he took -- 10 field goals, 10 free throws -- in the greatest game ever played, Duke's 1992 regional final win over Kentucky in Philadelphia, including the unforgettable game winner.
But he was also the most insufferable player ever, the one that captures what so many people hate about Duke. Pull a random Duke hater off the street and ask him why he hates Duke so much. Chances are, you'll hear some of the following -- privileged, arrogant, whiny, gets all the calls.
All of which could be used to describe Christian Laettner.
Consider this -- the other two big names from that team, Bobby Hurley and Grant Hill, don't fit that profile. Hurley was a working-class kid from Jersey City, the son of a legendary high school coach and tough-as-nails probation officer. Hill is considered the consummate nice guy.
But when we think of the image of Duke, we don't think of their qualities. We think of Laettner's. Coach K is Duke basketball. But in the eyes of many, Laettner is its embodiment.
The Kentucky game spelled out so much about what made Laettner so annoying. In the second half, Laettner stepped on Aminu Timberlake's chest. It's unclear how malicious Laettner's action was, but it's undeniable he put his foot on someone like nothing was wrong with it. Whether he intended to break the dude's ribs, kill a fly on his chest, or just knock some dust off his sneakers, it was one of the most vile things ever done on a basketball court. That unforgivable moment cemented his status as the greatest villain in the game.
Which would probably matter a lot more to Laettner if he was looking for forgiveness.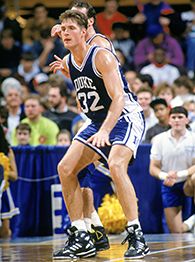 Rick Stewart/Getty Images
Who cares about forgiveness after hitting the greatest clutch shot in
the history of college basketball?
Saturday proved what makes Laettner so compelling -- he offered no apologies. He thrived on being hated. Who needs forgiveness when you go all game without missing a shot? Who cares about forgiveness after hitting the greatest clutch shot in the history of college basketball?
"When you think about it, he won two titles," fellow ACC legends honoree Rodney Rogers said, the former Wake Forest star and 12-year NBA veteran. "He went to four Final Fours. He had to be the most hated guy in the ACC."
It wasn't just that he won. It was what winning meant -- that Laettner would never give the world an opportunity to wipe that trademark smirk off his face, to give him any dose of humility. The closest anyone came was when UNLV obliterated Duke 103-73 in the 1990 NCAA Tournament final. That didn't last long, because Laettner and the Blue Devils came back the next year to beat the Runnin' Rebels in a national semifinal on the way to Coach K's first national title.
He didn't give the crowd the chance on Saturday, either.
After the ceremony was over, Laettner disappeared into the crowd. It seemed like he got the rush of wearing the black hat one last time, and then he was gone.
But it's a good thing he came back, if only briefly. There was a twisted beauty in his interplay with the crowd. They hated him, and he loved it. Everybody won.
Like it or not, that's what Laettner did on college courts -- win. That's why Saturday couldn't have been more perfect.
Bomani Jones is a columnist for Page 2. Tell him how you feel at readers@bomanijones.com.