When Eddie Robinson died late Tuesday night, college football lost one of its geniuses, one of the greatest coaches to set foot on campus.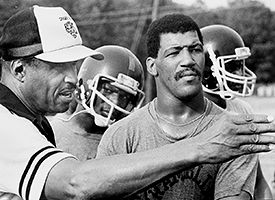 AP Photo/The News-Star, Eddie Cox
Take a moment to digest these numbers: Eddie Robinson won 408 games and coached more than 200 future NFL players.
For those who grew up around historically black colleges and universities, the loss was greater. He's the most famous name in black college athletics, and he's the embodiment of much of the great work HBCUs have done. The stories about his personal touch are reminders of what's wonderful about those schools and the fantastic jobs they've done to produce fantastic people.
Robinson's story was one typical of HBCUs. His success was the product of his nurturing spirit, one with an eye toward preparing students to thrive in a world that often preferred to ignore them. When the majority wasn't concerned with educating and molding black students, the black college prepared them for success.
The same could be said for Robinson. Segregation left black colleges in the South with almost exclusive access to great black Southern athletes. If players wanted to play ball and stay close to home, they went to black schools. That gave coaches like Robinson, Florida A&M's Jake Gaither and Prairie View's Billy Nicks the common denominator of great coaches: talent.
Robinson took those great talents and created great players, great men and great football teams. He won a staggering 408 games over 55 seasons. More than 200 of his players reached the NFL, including four Hall of Famers, the first black quarterback to play regularly in the NFL and the first black quarterback to start in a Super Bowl.
Understanding the greatness of Coach Rob requires understanding the talent level he worked with. Black schools may not have been Division I back then, but they weren't some minor league. Their teams were on par with the competition legends such as Bear Bryant and Joe Paterno put on the field.
Robinson didn't just win a bunch of games. He won a lot of games with great rosters. For decades, Grambling was one of the best teams in America.
"Eddie's early teams could have competed with anybody at any level," said Bill Hayes, the former coach at Winston-Salem State and North Carolina A&T. "He had the best players in the Southland."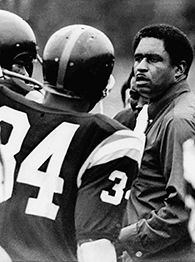 AP Photo
Robinson was a true educator -- not merely a CEO-type like many of today's college coaches.
How loaded were black schools during segregation and as integration started a trickle of black players into Divison I football? Consider that the NFL's All-1970s team, primarily composed of players who played college ball as segregation ended, had more players from the SWAC (six) than it did from the Pac-10 (five). Jackson State had as many players on that list as Notre Dame.
Robinson started coaching before coaches were CEOs, when they were still educators. Like many coaches of his day, he coached multiple sports (even the women's drill team) and saw himself as a teacher. His biography at the College Football Hall of Fame's Web site has a quote that says it all about Robinson.
"The most important thing in football is the boy who plays the game," he once said. "You can't coach 'em unless you love 'em."
He wasn't the public representative of a money-making machine. He was the football coach and, more importantly, a leader of men.
Hayes coached against Robinson five times, giving him a unique insight into the dominance of Robinson's teams. To Hayes, Robinson's teams weren't successful because of his trademark wing-T offense, one Coach Rob helped to perfect. Hayes believes Robinson's teams stood above the rest because they were an extension of their coach. From each X to each O to each player, he was the guiding force.
"He had a hands-on approach. Eddie actually coached his own team. He interacted with all players at every position," said Hayes, now the athletic director at Division II North Carolina Central. "The father figure he displayed to his players and the Grambling family is what made him unique."
In a Sporting News article in 1999, ESPN.com contributor Richard Lapchick wrote, "[Robinson] assumed the role of mentor, role model, father and counselor to his student-athletes. For Robinson, it was never only about fame, pro scouts or money. He wanted to develop players who would be leaders."
Those descriptions immediately made me think of the world I grew up in. My parents have worked at HBCUs all of their professional lives. As a result, I grew up in black colleges -- playing basketball at their gyms, video games at their arcades, studying in their libraries.
I also grew up with my parents' students soaking up advice on anything and everything at our dinner table. As these students got older, they began landing jobs and starting families. They always called the house on holidays to fill in my folks on what they'd been doing, whether they were making lots of money working for The Man or working their way up the political ladder or still trying to figure it all out. But no matter what, they were as prepared to conquer the world as anyone.
I'll always remember them talking about their successes and the loving tone they used to describe how important my parents were in helping get to where they are. They were prepared by their schools to be competitive, regardless of where the competition came from or what it looked like. They were expected to be good, and they delivered.
For nearly two centuries, this has been the tradition of the black college in America -- a personal touch helping turn talented people into successful ones.
No one represented that spirit better than Eddie Robinson.
Bomani Jones is a columnist for Page 2. Tell him how you feel at readers@bomanijones.com.