Brian Urlacher must've known this was coming. That said, he has become an example of pro sports' most ironclad rule.
Nobody messes with the NFL's money. Not a player with a nose for trouble. Not a coach who wants to wear a suit on the sideline. Not even a Pro Bowl linebacker. No one.
That kind of gangsta is to be respected.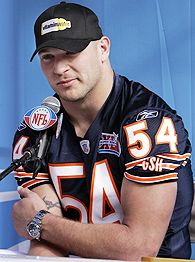 AP Photo/Jeff Roberson
There's no way the NFL was going to let Brian Urlacher's cap transgression on Media Day go unpunished.
Urlacher was fined a whopping $100,000 for wearing a hat promoting vitaminwater at Super Bowl media day. That's more than the total fines against Bill Romanowski for kicking Larry Centers, spitting on J.J. Stokes, breaking Kerry Collins' jaw with an illegal hit and three separate illegal hits and a punch on Tony Gonzalez.
The problem is that Gatorade reportedly pays $45 million per year to be "the official sports beverage of the NFL." There's no way in Hades vitaminwater was going to get shine that it didn't pay for, no matter how many kids buy No. 54 Bears jerseys.
The league has little room for individuality. A stiff fine for a uniform violation is business as usual, but Urlacher was the first player to test the NFL on its largest stage.
He lost in a bad way. And for the NFL to be the juggernaut it is, he had to lose.
Know why the NFL is so successful? Because, unlike any other sports league, the NFL is its own product. The NBA markets individual stars and great teams. Baseball tries to sell history and nostalgia, even though the game lost its mythical hold on the public a long time ago. NASCAR markets drivers. Hockey does something, but I don't have enough cable to know what that is.
The NFL's hustle is much tighter. The NFL sells the NFL, and it has no other choice. The league has to be its own centerpiece because players fade away so rapidly that you must wonder if they're radioactive. They pass from team to team faster than dollar bills pass through gentleman's clubs. The game isn't about to build its viability around the skills or personalities of guys who might not be able to walk after training camp.
So the league does its best to make players as anonymous as possible. It restricts celebrations because players aren't supposed to divert attention from the larger product. It monitors uniforms like a squad of Mr. Blackwells because no one is going to promote himself over the game. It's playing the heavy with guys who make headlines with nighttime transgressions, not to protect them from themselves, but because they become a bigger story than the NFL in the worst way.
The NFL is the biggest thing out there because it lets nothing in its control get bigger than the NFL. Baseball needs a compelling, historic story line to catch the public's eye, and the NBA continues to look for another Jordan. There hasn't been a Jim Brown in 40 years, but nobody's complaining. They're too busy waiting on Sunday.
Look at it that way, and it's easy to see why the league brought the hammer down on Urlacher. There's a reason vitaminwater gave that hat to him and not Muhsin Muhammad or even Lance Briggs. Urlacher is a star. His profile meant that he was likely to wind up on a few shows with that brim on, with vitaminwater's heretofore unknown logo beamed onto TVs across the globe.
Urlacher was using personal celebrity to sell a product in competition with a company that pays millions to capitalize on the strength of the league. But folks would have been at media day whether Urlacher was there or not. 'Twas the league's show, not his. No gangsta would allow someone to show out like Urlacher did. And the league didn't.
Nor should it. Think the hefty tax on Urlacher was an overreaction? Tell that to the Gatorade execs who give a large percentage of their marketing budget to be down with the NFL, to use that shield on their bottles and get that lightning bolt in those sideline shots of human Winnebagos filling up on the sidelines.
Or tell it to the folks at vitaminwater, who got Christmas in April when Urlacher got fined. The news stories and talk show banter about Urlacher's fine and its colossal sum are worth way more to them than 100 stacks. Vitaminwater should pay Urlacher's fine with a smile and a profit. 50 Cent had to get shot fiddy-leven to get this kind of publicity.
We should respect the NFL's gangsta. We sure do love it. We religiously tune in on the Lord's day to watch football, and we find out which teams are playing later. If we don't like who's on the tube, we go to bars to watch another game. We do so even though few fans outside Massachusetts can reasonably presume their favorite team will be good two years in a row. We do so even though helmets, visors and masses of body armor create a greater disconnect between player and fan than in any other sport.
We do so because we care more about the NFL than anyone or anything in it. There's a reason you don't read about TV executives worried about low Super Bowl ratings because the matchup isn't sexy enough, but David Stern probably has nightmares about a Spurs-Raptors NBA Finals.
If you respect the game, you understand why the NFL looks out for a sponsor like Gatorade.
Gatorade pays to be down with the program, to be part of the league's unwavering consistency. It's part of the league's fabric, which keeps it in the public eye at all times. Gatorade knows we're going to tune in every week and, just like us, it wants to be down.
So does Reebok, whose apparel contract with the NFL prevented coaches from wearing suits on the sidelines. Coaches weren't allowed to wear suits until 2006, once Reebok developed a line of suits. Reebok didn't sign its 10-year sponsorship deal with the NFL so Jack Del Rio could look sharp in someone else's duds. It signed on to be part of the money-making machine.
Vitaminwater didn't give the NFL a damn thing. Gotta pay to play, baby.
Brian Urlacher, about as large a star as the league allows for, isn't going to interfere with the machine with any personal agenda. Don't be surprised if the next guy who tries something like this faces a much stiffer penalty, perhaps even a suspension. When money is on the line, the NFL will do what is has to do to get what it wants.
Now that's gangsta.
Bomani Jones is a columnist for Page 2. Tell him how you feel at readers@bomanijones.com.