When Scotty Thurman made himself eligible for the NBA draft after his junior season at Arkansas, he expected to go in the first round.
Instead, he went in the fourth round … of the 1995 CBA draft. He went undrafted in the NBA, instantly becoming the poster boy for players leaving school too early.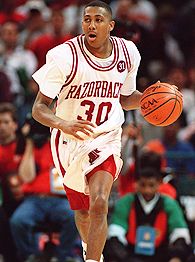 Doug Pensinger/Getty Images
Scotty Thurman hit a pivotal 3-pointer in the 1994 national title game, but he didn't receive accurate advice prior to committing to the 1995 NBA draft.
Thurman's story won't mean much to Greg Oden and Kevin Durant. But 58 underclassmen have declared for this year's draft, even though there are only 30 first-round spots (and guaranteed contracts). Bubblicious prospects like Virginia's Sean Singletary and Ohio State's Daequan Cook might need to take heed.
After a college career full of team and individual accolades, Thurman never saw the big time. His 43.2 percent career 3-point shooting, pair of first team All-SEC selections and national championship-winning 3-pointer in 1994 didn't count for enough to scouts. He was 6-foot-6 with a silky-smooth jumper and a history of performing in the clutch. But while his teammate and friend Corliss Williamson was taken in the lottery, Thurman became one of the biggest names to not have his name called by the commissioner.
Thurman, in an e-mail interview, said he never saw it coming.
He said his college coach, Nolan Richardson, spoke with NBA contacts and was told Thurman would be a first-round pick. Thurman's mother, whom Scotty described as a "stickler for school," would only agree with her son's decision if he would be a first-round pick. She said she spoke to NBA executives, and the suits said her son would go in the first round.
Longtime NBA scout Marty Blake didn't love Thurman's game as much as the people Scotty spoke with, though.
TOO LITTLE, TOO SOON
Which players received the worst advice on their decision to stay in school or turn pro? Some of this year's should learn from the tales of first-round knockouts Khalid El-Amin, Anderson Hunt and Schea Cotton.
"When he came out, we were shocked," he says. "We didn't have him ranked that high in the first place."
Thurman is adamant that he heard no such thing.
"Every scout that we spoke with echoed the same thing," he says. "It wasn't until after my decision was made and other guys started to announce their intent to enter the draft that a few said late first round or early second."
But Thurman also now acknowledges that his representative, Robert Fayne, didn't have enough contacts in the league to properly advise him.
Without a guaranteed NBA contract, Thurman embarked on an all-too-common nomadic trek though the basketball world.
After the draft, Thurman was left with a difficult decision: sign a lucrative contract with a European team or stay close to home and try to fulfill his NBA dream. He passed up an offer from a team in Italy, instead choosing to stay in the States and be closer to his family.
Thurman says "a certain all-time great" and general manager invited him to try out for the New Jersey Nets (Willis Reed was the Nets' GM at the time). Thurman says the exec told his father that Scotty's dependable jump shot would "definitely" land him a spot on the Nets' roster.
Thurman didn't make the team.
"I was the last cut in training camp and that certain GM acted as though he didn't know who authorized it," Thurman said.
Thurman's rookie season was spent playing for the Shreveport Storm and Sioux City Skyforce of the CBA. Thurman said he played well late in the year for Sioux City, but he battled depression all season.
Waiting for the NBA to call and playing for peanuts was too much for him to take, so he took his game overseas. Thurman played in Greece, Italy, Lebanon, Cyprus, Yugoslavia and Jordan. He also suited up for the ABA's Arkansas Rimrockers in their inaugural season in 2004-05.
Thurman now lives in Little Rock. His career is in real estate. Thurman has a construction license, and rebuilds homes and works for a company that owns and manages commercial real estate.
He also is the head coach of the Arkansas All-Stars, a 13-and-under AAU team. When asked what advice he has to offer his players, he said very little about basketball.
"My advice to them is making sure that they major in what they are interested in and not be influenced by the powers that be," he said. "I advise them to take their studies seriously and surround themselves with regular people and not just athletes."
Despite the surprises and misinformation he says he received, Thurman is comfortable with not making it in the NBA.
"It was tough when I didn't get drafted, but after playing overseas and seeing so many things, I am content with my life in general," he said.
If nothing else, he'll always be a star in the state of Arkansas, where people are familiar with his greatest triumphs.
"The main reason I live [in Little Rock] is because of the way people treat me," he says. "Even though I never played a regular-season NBA game, I get treated like I played 12 years [in the NBA]."
Bomani Jones is a columnist for Page 2. You can reach him here.

Also See
ESPN Top Headlines