At this point, it's safe to say the American League owns the National League. The NL hasn't beaten the Junior Circuit in the All-Star Game since 1996, back when Charles Nagy (remember him?) was the American League's starting pitcher.
It's hard for any team, even one that plays only once a year, to consistently trounce another like that. It's even harder for a player to consistently trounce another team. And that's especially true in baseball, where players compete in more games each season than most football players do in their whole careers. Regression to the mean is almost inevitable.
But that's not always the case. There are a select few players who repeatedly lay the smack down on the same victims over and over again. Here's a look at a few of those guys:
(All statistics are from baseball-reference.com.)
GUYS WHO LOVE UNBALANCED SCHEDULING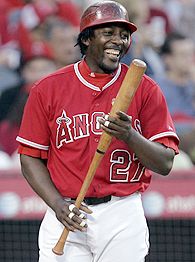 AP Photo/Chris Carlson
Vlad is all smiles whenever he sees Texas on the schedule.
Vladimir Guerrero
Opponent:
Texas
Damage:
64 games, 246 AB, 21 HRs, 53 RBIs, .423/.491/.764 (batting average/on-base percentage/slugging percentage)
In 64 career games against the Rangers, Guerrero has hit safely in 60, including the first 44. In the game that broke the streak, Texas pitchers walked him four times -- thrice intentionally -- and he flew out in his final at-bat. Sheesh, what do you do against a man who owns you and can lay his bat on any pitch, making him impossible to pitch around? You get rocked, that's what.
Ryan Howard
Opponent: Florida
Damage: 36 games, 112 AB, 11 HRs, 29 RBIs, .366/.533/.750
It's too early to say whether Howard owns the Marlins, or whether he's simply in the midst of a really nice run. Either way, it's one helluva start. Howard put the hurt on all of baseball last season, but the Marlins got the worst of it. In 18 games against them, Howard hit .481, clocked nine home runs, drove in 21 runs, had an incredible 1.741 OPS, and was walked intentionally more times (11) than he struck out (10).
Roy Oswalt
Opponent: Cincinnati
Damage: 22 starts, 19-1, 2.46 ERA
Oswalt's hold on the Reds began his rookie season, when he beat Cincinnati three times. In seven seasons, the Reds have mustered a mere .228 batting average against Oswalt. But to their credit, the Reds did rough Oswalt up a bit in 2004, to the tune of a 4.39 ERA. That was all for naught, though; Oswalt went 3-0 in his four starts against them that season.
Albert Pujols
Opponent: Pittsburgh
Damage: 100 games, 32 HRs, 91 RBIs, .356/.439/.706
Choosing which team Pujols has performed the best against is kinda like picking which Mike Tyson knockout looked the most painful. In that case, you can call the Pirates Michael Spinks. And if Pujols is Tyson and the Pirates are Leon Spinks, then 2006 was the first knockdown, the one that made Spinks put his hand up. Last season against Pittsburgh, Pujols hit seven homers, batted .474, and posted an incredible 1.758 OPS.
Jim Thome
Opponent: Detroit
Damage: 149 games, 486 AB, 49 HRs, 107 RBIs, .305/.451/.671
No team was happier to see Thome spend three seasons in the National League than the Tigers. And no team was more upset to see him return to the Junior Circuit. After owning Detroit during his time in Cleveland, Thome returned to the AL Central last season and launched seven homers in 18 games against the Tigers.
Dontrelle Willis
Opponent: Mets
Damage: 17 starts, 11-3, 2.39 ERA
A pitcher dominates you on the mound … that's bad enough. But when that pitcher also has a higher batting average against you (.283) than your team has against him (.245), you can call him your daddy. Willis has also taken the Mets deep three times in 46 at-bats.
GOOD THING HE'S IN THE OTHER LEAGUE NOW
Ken Griffey Jr.
Opponent: Minnesota
Damage: 125 games, 38 HRs, 108 RBIs, .292/.359/.581
Junior left the AL a long time ago, but the Twins probably still sting from the hurt Griffey put on them. Those 38 homers are more than Griffey has put up against any other franchise. In three different seasons, Griffey took the Twins deep at least six times. His 22 homers at the Metrodome are more than he's hit at any stadium he didn't call home. Lucky for the Twins, though, Griffey hasn't faced them since 2001.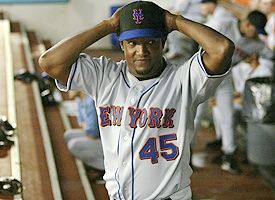 AP Photo/Wilfredo Lee
Too bad for Pedro he won't see Seattle or Cleveland when he comes back this year -- unless it's in the World Series.
Pedro Martinez
Opponent:
Seattle
Damage:
14 starts, 13-1, 1.57 ERA, 103 IP, 137 K's
Pedro's 11-1 mark against Cleveland -- not including his amazing relief performance in the '99 LDS -- could have earned a place on this list, but his mastery of the Mariners won out. If Martinez mowed down the American League during 1998-2002, he scorched Seattle's earth. He won each of his nine starts against the M's in those five years, and posted a 0.94 ERA. Even Ichiro has mustered only a .217 average in his career against Pedro.
TOO BAD HE'S BACK IN OUR LEAGUE NOW
Randy Johnson
Opponent: Cubs
Damage: 13 starts, 12-0, 1.98 ERA, 95.2 IP, 138 K's
The Big Unit has a lower career ERA against the Marlins, and more wins against a handful of franchises, but he has thoroughly dominated the Cubs as he has no other team. The scary part? In the ideal hitting conditions of Wrigley Field, the Cubs have had their toughest times against Johnson. At the Friendly Confines, Johnson has a 1.00 ERA in five starts and strikes out more than 12 batters per nine innings.
AND TOO BAD WE DIDN'T KEEP HIM IN '92
Greg Maddux
Opponent: Cubs
Damage: 22 starts, 12-3, 2.56 ERA
Back when the Braves were a big-market team, they bolstered the best pitching staff in baseball by signing Maddux -- the reigning Cy Young Award winner -- away from the Cubs after the '92 season. From then on, Maddux has owned his original team. He won his first seven starts against the Northsiders, has walked barely more than one batter per nine innings against them, and won the deciding game in the Braves' sweep of the Cubs in the '98 NLDS.
BUT HEY, THINGS COULD BE WORSE
Dwight Gooden
Opponent: Cubs
Damage: 39 starts, 28-4, 3.32 ERA, 11 complete games
It's hard not to think of Dr. K as a disappointment. After all, he had his best seasons before he turned 21. Just don't say that around Cubs fans, to whom Doc must have seemed like Walter Johnson with a Jheri curl. The way Gooden owned the Cubbies, it's a wonder Jim Frey never came to the mound to check the ball for activator.
NOBODY LIKES A BULLY
Manny Ramirez
Opponent: Kansas City
Damage: 108 games, 403 AB, 35 HRs, 110 RBIs, .333/.416/.655
Roughing up the Royals is only so impressive, but Ramirez seems to have a lien on the Royals' lunch money. Ramirez was especially hard on the Royals in '98 -- in 12 games, he had 25 RBIs.
Craig Biggio
Opponent: Colorado
Damage: 125 games, 489 AB, 20 HRs, 78 RBIs, .352/.448/.577
Biggio's a first-ballot Hall of Famer, but many thanks for that should go to Rockies pitching. In his career, Biggio has averaged 17 home runs per 162 games. Against the Rockies? Twenty in 125. He's also collected 175 hits against the Rockies, which projects to about 227 in 162 games.
HE USED TO BULLY THEM, NOW HE JUST BEATS THEM UP
Roy Halladay
Opponent: Detroit
Damage: 13 starts, 11-2, 1.83 ERA
When Halladay won the 2003 Cy Young, the Tigers were even worse than their 43-119 record indicated. And three of those losses came against Halladay, two by way of shutout. Now that the Tigers are good? Well, Halladay didn't face them last season, but he's 1-0 with a 1.69 ERA and one complete game in two starts against Detroit in 2007.
NUMBERS BILL STONEMAN AND ARTE MORENO ARE WELL AWARE OF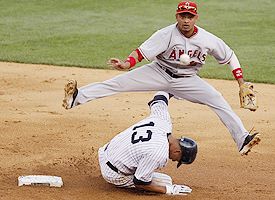 AP Photo/Julie Jacobson
Perhaps A-Rod will be trying to break up double plays FOR the Angels next season.
Alex Rodriguez
Opponent:
Angels
Damage:
152 games, 595 AB, 55 HRs, 127 RBIs, .328/.403/.669
As badly as the Yankees don't want A-Rod to leave, the Angels should want to obtain him even more. Not only is Rodriguez the best player on the planet -- and a perfect fit for Moreno's quest to make the Angels as big as the Dodgers in L.A. -- but having him could spare the Angels from a couple of losses to the Yankees per season.
THE SCHEDULE SPARES THEM FROM HISTORY
Barry Bonds
Opponent: San Diego
Damage: 265 games, 86 HRs, 213 RBIs, .318/.473/.682
The Padres' pitching staffs have been consistently mediocre since Bonds joined the Giants. Since 1993, San Diego's finished in the lower half of the league in ERA eight times. And Bonds has feasted upon them to the tune of 53 homers per 162 games. In Bonds' record-setting 2001 season, he spanked 11 homers in 17 games against the Pads.
The Padres would be the odds-on favorite to be on the wrong side of No. 756, except the scheduling gods looked out for them. Bonds seems to only hit milestone homers at home, and San Diego doesn't return to AT&T Park until Sept. 24.
Bomani Jones is a columnist for Page 2. You can reach him here.