As bad as last Saturday afternoon was for Michigan fans, they knew something worse was coming.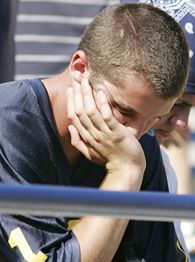 AP Photo/Duane Burleson
Michigan fans have all felt like this the past few days.
The week after.
That's typically how it goes when something so bad happens so unexpectedly, when an event's aftermath can be viewed as nothing but a grieving process. The numbness subsides, and those affected grasp for straws, peering into the clouds for a silver lining shiny enough to transcend the storm.
Michigan's loss to Appalachian State -- already deemed by many as the greatest upset in college football history -- surprised the nation. But it stunned Wolverines fans. The odds were heavily stacked against a Division I-AA team beating a national power. But it felt absolutely impossible such a fate would befall their national power, the winningest program in college football history.
"It was sort of a state of shock," says UM junior Steve Wolters, a member of the student spirit organization Maize Rage. "I wasn't upset or angry. I was laughing on Saturday night. What kind of joke was this?"
Now that the shock has worn off, many Michigan fans can find little solace, not even with almost a week's worth of distance and perspective.
"School opened Tuesday, and the place is still standing," says Jim Papazian, president of the University of Michigan Club of Lansing. Perhaps, but it doesn't look much like it did before. "Up until [Thursday], it was kind of like no one wanted to talk about Michigan football," says Wolters. "It was pretty weird. I didn't see a lot of maize and blue this week."
Disappointment is nothing new to Michigan fans. From the Kordell Stewart-to-Michael Westbrook Hail Mary in 1994, to the Big Ten's decision to skip the Wolverines in the Rose Bowl rotation after the 1972 season, to having half of the 1997 national title taken away from them and given to Nebraska coach Tom Osborne as a de facto gold watch, Michigan fans have been on the short end of fate's stick more times than they can count.
However, nothing has been as debilitating as this. Papazian is 60 years old, and he's been a fan of Michigan football for as long as he can remember. "I've been through a lot," he says, "but this game was like, 'How do you lose to a team like that?'"
A game "like that" is what makes this situation so unique. Every school has suffered an embarrassing loss on a large stage. Alabama lost to Central Florida on homecoming weekend in 2000. Texas fans still remember being ranked No. 10 in the country and losing at home to UCLA 66-3. And don't get Florida fans started about losing to Mississippi State in 2004, the loss that sealed coach Ron Zook's fate in Gainesville.
But none of those games were "like that."
And, few of those powers entered those seasons with expectations as lofty as this year's Wolverines. This season was supposed to erase the memories of the mediocre 7-5 season Michigan fans suffered through in 2005, and the disappointing end to last season that turned what could have been the best season in the history of the program into any ol' year that features a loss to Ohio State and a loss in a bowl game. If ever the Wolverines figured to be invincible against such a fate, it would be now, when the team boasts the most explosive array of offensive weaponry in the country. "Everyone was holding out hope for this year, with senior [quarterback Chad] Henne and senior [running back Mike] Hart," says Brian Cook, who runs MGoBlog.
Now? "Everyone's holding out hope for a new coach."
When many Michigan fans asked themselves where they would go from this loss, the default answer was "to get a new coach." Nothing cures a sports hangover like wishing unemployment upon a coach.
But many Michigan fans were ready to send head coach Lloyd Carr packing well before this game. Facebook has a handful of groups championing Carr's dismissal, most of which are named permutations of "Fire Lloyd Carr" with varying numbers of exclamation points. Most of them existed before the Appalachian State game; some were started after last year's Ohio State game -- a game the Wolverines lost on the road to the No. 1 team in the country.
Not everyone sees things the same way, though. "I can tell you the people that I know appreciate Lloyd for what he's done for the university, and things would have to get a hell of a lot worse for that to change," says Brien Wassman, president of the U of M Club of Detroit.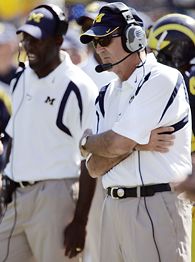 AP Photo/Duane Burleson
Lloyd Carr will probably never live the Appalachian State loss down.
Assuming such a thing is possible.
Either way, this game was never going to be what sent Carr toward the door. As Cook points out, Carr's contract was tweaked in January to allow him to collect $300,000 in deferred compensation if he's employed by the university on July 1, 2008. Before that tweak, he had to be the head coach on that date to receive the money.
In other words, 2007 probably was going to be Carr's last season at the helm no matter what happened this season.
This week, no one could offer a micro-level solution for how things could get better for Michigan or its fans. Beating Oregon on Saturday won't erase last week, nor will beating Notre Dame the following week -- a team that looked so bad against Georgia Tech that it might be a double-digit underdog if it played Appalachian State (just kidding). "[Even] if Michigan beats Ohio State, everyone will be happy, but there will be this big 'But,'" says Cook.
In Ann Arbor, it seems folks are finally starting to move forward. Thursday saw the return of team paraphernalia on campus and spirits seem to be revived, according to Wolters. "They're pissed off at the coaches, so I expect the atmosphere [on Saturday] to be as good as it's ever been."
Cook, a 2001 Michigan grad who still lives in Ann Arbor, is more concerned. He remembers how the excitement surrounding Michigan football disappeared in 2005, and sees a similar indifference on the horizon. "I'd get to the tailgate spots when we were 3-3 [in 2005], and no one was there. There was no enthusiasm whatsoever. I think that'll be the case for the Oregon game," he says. "There's malaise."
That seems like a natural part of the grieving process. It's hard to imagine anyone's got the energy to be angered by or excited about Michigan football at this point. Even Cook, speaking on behalf of Michigan fans, "surrendered" on his blog. "We shall no longer fight you on grounds of program prestige or general awesomeness or tribal affinities. Your team is better. Even if it's Duke," he wrote on Tuesday. "Because your team, even if it's Duke, does not specifically aim to harm you."
But, like in other times of need, good things can come from unexpected sources.
Mike Kalt and the Michigan Triangle Alumni Club in Cary, N.C., watched last Saturday's game at a restaurant they shared with a Penn State alumni club. "I won't say they really got in our faces, but they were blatantly running around screaming and saying this is better than [Penn State] winning the game.
"If we had consumed as much beer as a lot of the Penn State people, it could have potentially gotten into a nastier situation."
Tuesday was much better, though. Kalt, the MTAC's vice-president, has worked at the same company for 25 years, so it's well-known in his office where his sporting allegiances lie. Kalt was pleasantly surprised, though, with how his co-workers treated the loss. Instead of being taunted, he was supported. Because of the crushing nature of the loss, people that Kalt hadn't spoken to in more than 10 years offered him their condolences.
"Obviously, it was a lot better when we won the national championship, but I got a lot of sympathy," says Kalt. "In a perverse way, it was nice getting the attention. I guess, if we can't win the national championship, this is better than losing to Purdue and getting it that way."
Plus, he's been able to remind the NC State fans he works with that they lost to Central Florida this week, a team that's probably not as good as Appalachian State (nor is NC State, come to think of it).
Now Michigan fans must prepare for the next game, one against a team that runs the sort of spread offense that Appalachian State, Ohio State, Texas and countless others have given Michigan fits with over the years. And they must do so with the realization that it'll take a lot more than one win to atone for last weekend's disaster.
"I don't know if this is something you can get over," Cook says. "I think it's going to be brought up for 20 years, whenever someone wants to make fun of a Michigan fan. In terms of living that down, I don't think that's ever going to happen."
Bomani Jones is a columnist for Page 2. You can reach him here.