So maybe Don Nelson is a genius.
Nelson's nonconformist strategies have earned him the reputation of a mad scientist. Kind of like a dude who wears ensembles that must have been chosen in the dark and then passes that off as "style."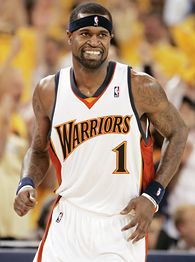 AP Photo/Jeff Chiu
If Stephen Jackson's your captain, you're a lucky man.
But Nellie's really onto something by
naming Stephen Jackson as a team captain
.
That's right. Pass the Guinness 'pon the left-hand side, because this is brilliant. Yes, Jackson's run afoul of the law. Yes, he didn't become a household name until he laid out a row of Pistons fans three years ago. But when you get right down to the nitty-gritty, you'll see that there is no better candidate to be a captain of the Golden State Warriors.
Plus, Captain Jackson's got a ring to boot.
Here are six reasons why Stephen Jackson should be a captain.
1. Stephen Jackson is dedicated to his teammates.
Forget the black eye the brawl at The Palace three years ago gave the NBA. Just remember there was at least one man who must have been thrilled Jackson joined the fray -- peacemaker turned punching bag Fred Jones.
If Jones had taken one more blow, candy would have popped out of his side. But who came to his rescue? Jackson. To Jones, it must have seemed like Batman stepped in to save him.
The resulting suspension cost Jackson millions of dollars. So why'd he do it? 'Cause Jack has got your back.
A captain should be someone you want to fight alongside. If I've got to pick someone to follow into battle, I'm picking the man I know would follow me.
2. Stephen Jackson is a man of action.
The irony of Jackson's captaincy is that it will begin while he's serving a seven-game suspension for his role in a fracas outside a strip club, when Jackson fired shots into the air after a gentleman hit him with his car.
What would you do if a car hit you in a strip club parking lot? I have no idea what I would do, and I doubt you've got any idea, either.
That's what separates Jackson from civilians like us. He was ready for that. And if he's got a plan for what to do after being hit with a car outside of a strip joint, he can keep things level when the Warriors are on the wrong side of a 10-2 run.
3. Stephen Jackson is a winner.
You've got to respect the grind of a man who didn't qualify academically to play college ball in 1996, got drafted but was cut the following year, then played in the CBA and three different countries before reaching the NBA in 2000.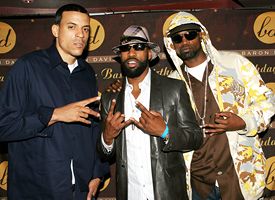 Arnold Turner/WireImage.com
There they are, the three captains of the Golden State Warriors.
And no Warrior -- not even Baron Davis -- has accomplished as much as Jackson as far as winning is concerned. Jack's got a ring, and he earned his keep with the '02-03 Spurs by averaging 11.8 points in 28.2 minutes per game. And during Golden State's magical playoff run last season, Jackson led the Warriors in minutes and was second to Davis in scoring. A man who averages 41 minutes and 20 points per night during a playoff run that included the greatest upset in NBA history is a man a team can lean on.
4. Stephen Jackson is the Golden State Warriors.
No, he's not bigger than the franchise. He is, however, the face of the Warriors, no matter what the marketing guys say.
The best description I've read of the Warriors came from Rodimusprime, a commenter on the message boards at SOHH.com. Rodimus says the Warriors "play like they came in the gym late and STOLE someone's next and then was like, 'We already got our five.'"
Tell me you can't see Jack stretching at the free-throw line, claiming he called next when he got out of his car, saying Monta Ellis can verify that he did -- in fact, calling next and daring someone to say he's lying. And tell me you can't see Baron Davis with them, holding the ball above the top of the key, waiting for someone to realize that his squad ain't going nowhere.
That's a team that means business, and Jack fits perfectly at the front of the pack.
5. Stephen Jackson already acts like a captain.
Check what the Contra Costa Times' Marcus Thompson II wrote about Jackson in April: "He's made himself available for several community events since the Warriors acquired him from Indiana in a Jan. 17 trade. On his first Warriors road trip, he invited all of his teammates out to dinner, and group food runs have since become a regular occurrence," he wrote. "When he first toured the team's facility in Oakland, he made a point to introduce himself to the staff. He takes the younger players under his wing, taking them shopping, dispensing advice, lending an ear."
When hockey was a major sport, Mark Messier was considered the quintessential captain for doing those sorts of things.
And finally...
6. If Matt Barnes is a captain, Stephen Jackson must be a captain.
Barnes was also named a tri-captain by Nelson, along with Jackson and Davis. Remember how I said I'd follow Jackson into battle? Well, I wouldn't follow a grown man with a Mohawk into a Halloween party, let alone a battle. If Jackson wasn't chosen for a leadership position that wound up going to someone who voluntarily sported a Mohawk last season, he'd have grounds to file a lawsuit. That just wouldn't be right.
Bomani Jones is a columnist for Page 2. You can reach him here.