Can we give the state of Oklahoma a round of applause? Kansas' improbable comeback in the NCAA title game would have been enough to make the past few days exciting, but the Sooner State made them 10 times more fascinating.
WHAT'S YOUR PRICE?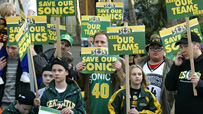 •
Jackson: Sonicless in Seattle?
•
Page 2 writers name their prices
•
Jones: It's Bennett's right
•
Vote: What's your price?
Two of Oklahoma's native sons, tycoons Clay Bennett and T. Boone Pickens, have given us so much excitement recently. Bennett continues to try to steer the Seattle SuperSonics to Oklahoma City, while Pickens is trying to resuscitate the Oklahoma State athletic program with an enormous handout. Never before have we been treated to such fantastic embodiments of the American Dream -- that, no matter where you come from, if you get filthy stinkin' rich, you can spend your money any ludicrous way you see fit.
Their behavior is foolish, wasteful ... and absolutely captivating.
Thanks to these two, we've seen Southwestern opulence in its purest form. Forget the stereotypical images of shiny belt buckles and big hats. This is big money and big onions, having the audacity to flip sky-high stacks of dough for totally inconsequential things, just because ... why not? Somewhere, Larry Hagman is watching these guys spend money in ways that make Jerry Jones look like Dan Rooney, and he's wishing he'd stuck around long enough to play one of these gentlemen in a TV movie.
How good is it to be loaded beyond belief? On Thursday the Seattle Times published a series of e-mails that blow to smithereens Bennett's claim that he didn't intend to move the Sonics to Oklahoma City when he bought the team back in 2006. In fact, it seems pretty clear this was the only reason he bought the team. Bennett shamelessly lied about his intentions to everyone from David Stern to Sir Mix-A-Lot.
Think about it. Clay Bennett and his buddies bought the Sonics because they want to have a basketball team in their hometown. That's all it was. Oklahoma City is definitely growing -- it's certainly not the city it was when I visited my grandparents there as a kid -- but I can't imagine what kind of book-cooking would have to take place to make me believe the Sonics would be more profitable in a metropolitan area about the size of Birmingham as opposed to one more comparable to Phoenix.
Basically, a few rich guys want to be able to watch NBA basketball courtside without catching a flight, so they went and got a squad. Think someone's special for having a house in the Hamptons? These cats bought the Hamptons, and put it down the street from their houses. They win.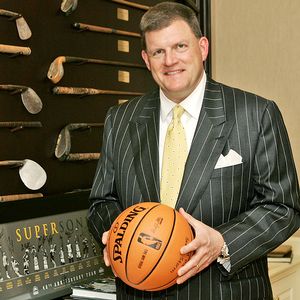 AP Photo
Clay Bennett's not a popular man in Seattle. But do you blame him for wanting an NBA team in his hometown?
If ever there was an example where a town owed its tax dollars to a professional owner, this is it. Bennett and company put up $350 million so Oklahoma City could have an NBA team. The least Oklahomans could do is put something in the hat.
Yet, as reptilian as this whole ordeal has been, there's something admirable about what Bennett's doing, too. Oklahoma City never would have gotten an expansion franchise, no matter how fantastic the crowds were while OKC served as the Hornets' foster city. Bennett's audacity, all the way down to the bald-faced whoppers he's told since he bought the team, have a quality that isn't entirely repulsive. This probably isn't Bennett's dream, but it's certainly his wish, and it's amazing that he has come so close to making it come true.
Pickens, meanwhile, is worth $3 billion. He could buy Clay Bennett if he wanted to. Instead, he has dumped a prominent chunk of his disposable income on Oklahoma State athletics. To feed his hobby, he and OSU seemed prepared to offer Bill Self more money than any college basketball coach has even considered asking for. Self re-upped with Kansas, but that probably prompted coaches from all over the country to pore over their personal histories, trying to find any kind of a relationship with Oklahoma State.
Pickens hasn't quite acquired the OSU program, but it's safe to say his generosity will give him a great deal of control. And it should. The man gave a largely irrelevant program $165 million, then took the money right back and invested it in a hedge fund which he manages. He's waived his fee for overseeing the account, and he's going to flip a ridiculous donation into a staggering one. It's a colossal windfall for Oklahoma State.
Everything about his ginormous contributions to the OSU athletic program -- from bankrolling a new football stadium to his willingness to pay Self -- indicates that Pickens would give up a kidney if he knew it would get his alma mater next season's football and men's basketball championships.
Why not? He's got so much money, he could just buy a nicer, younger kidney. Yours, specifically.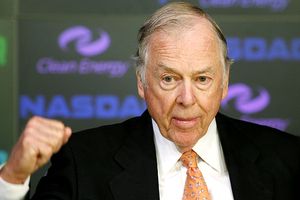 AP Photo/Shiho Fukada
Pickens' wants some national championships -- and he's willing to pay big bucks to reach that goal.
Feel free to chastise Bennett for being the liar most people knew he was from the get-go. Dismiss Pickens' attempt to sign a top-notch basketball coach in a second- to third-tier location as quixotic. But take a moment to appreciate the absurdity of it all. Bennett and Pickens are actually doing the sorts of things people dream about doing, if they ever had boatloads of money. It's probably no fun to watch in Seattle, but it's entrancing from a comfortable distance.
It's capitalism run amok, but it's can't-miss theater. And, deep down, I get it. In Pickens' case, I know how good it feels to see my favorite college football team win a national championship after convincing myself it would never happen again. If I had enough money, I'd pay to get that emotion back. If I were from a city that didn't have an NBA team, I'd do what I could to bring a team to town.
Unfortunately, the cost of the feeling Pickens is after, and what Bennett wants for himself, appears to be a few hundred million bucks. And I just can't get that much scratch together until next Friday, at the earliest.
In the meantime I'll watch, and live, through these two.
Oklahoma's state motto is a Latin phrase meaning "labor conquers all things." But two Oklahomans have scoffed at that notion on a national stage. They know money can make the impossible happen. And even if it can't, waving around a few hundred million bucks isn't the worst way to spend a day.
Bomani Jones is the host of "Sports Saturday" on WRBZ-AM in Raleigh, N.C. You can e-mail him here.