Commentary
Dana Altman ends bad Oregon search
Originally Published:
April 26, 2010
By
Bomani Jones
| Special to Page 2
After Oregon was seemingly turned down in its basketball coaching search by everyone except Ernie Kent, the Ducks reportedly have found their man in Creighton coach Dana Altman.
Initial reports indicated Oregon was prepared to offer Michigan State's Tom Izzo the richest contract in college basketball to coach the Ducks. While Altman won't cost Oregon as much as Izzo would have, few things are as shameful as being unable to give away a fortune.
Oregon also reportedly failed to pique the interest of Gonzaga's Mark Few, Pitt's Jamie Dixon and Missouri's Mike Anderson.
But if the Ducks can wear those garish football costumes, they can't be too embarrassed now. Plus, they're not alone. Here's a look at some other infamous sports coaching searches:
[+] Enlarge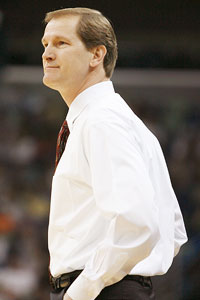 Chris Graythen/Getty ImagesDana Altman has been a party to two of the worst coaching searches in the annals of sports history.
NC State basketball, 2006: Athletic director Lee Fowler had a boatload of cash to spend on a man who could make the Wolfpack competitive with neighbors North Carolina and Duke. Instead, he got played for raises by Texas' Rick Barnes, Memphis' John Calipari and LSU's John Brady before settling on former Wolfpack point guard Sidney Lowe.
Low point: After having an offer from NCSU for days, former UCLA coach Steve Lavin supposedly said no because his then-girlfriend didn't want to move to Raleigh.
Arkansas basketball, 2007: After firing Stan Heath following two NCAA tournament appearances, Arkansas AD Frank Broyles thought he had his man in Texas A&M's Billy Gillispie, who instead went on to mess everything up at Kentucky. After missing on Calipari and others, Broyles hired Altman. The next day, Altman changed his mind and decided to stay in Omaha. The Razorbacks eventually landed South Alabama's John Pelphrey.
Low point: Even worse than Altman's cold feet? According to reports, after months of talks, Gillispie's camp suddenly stopped taking Arkansas' calls. Ouch.
North Carolina basketball, 2000: Three years after Dean Smith retired, his hand-picked successor, Bill Guthridge, did the same. First, Roy Williams shocked many by staying at Kansas. Then AD Dick Baddour nixed Larry Brown. They settled on Notre Dame's Matt Doherty, a former Tar Heels player, who managed to destroy almost everything except Carmichael Auditorium and the home winning streak against Clemson.
Low point: The moment in 2003 when it became clear players weren't joking -- it was Doherty or them.
Oakland Raiders, 2006: Al Davis has a great eye for young coaches, having fired men who went on to win three Super Bowls, so it's no surprise Davis was rejected by Ken Whisenhunt. Bobby Petrino passed, also. But when you wind up with the same guy you fired 12 years earlier, the kids call it a "fail," just as they would when Davis introduced "Lance Kiffin" as head coach in 2007.
Low point: When Petrino told Davis he wasn't taking the job for family reasons, and Al actually believed it.
Alabama football, 2006: On November 28, 2006, Bama fired Mike Shula. When the public learned that Rich Rodriguez preferred to stay at West Virginia than come to Tuscaloosa, the search became an embarrassment. After a month passed -- and with the dead period in recruiting coming to an end -- it became a catastrophe, prompting AD Mal Moore to write a blank check to Nick Saban in hopes he would change his mind about staying with the Dolphins.
Maybe that turned out OK after all.
Low point: Some pundits and fans believe Alabama-Birmingham's plan to hire Jimbo Fisher, then an up-and-coming LSU assistant, was blocked by the University of Alabama system's board of trustees out of fear that Bama couldn't land a better coach.
Bomani Jones contributes to Page 2 and hosts "The Morning Jones" from 7-10 a.m. on Sirius channel 98, Hardcore Sports Radio.