David Carle had booked his ticket to the National Hockey League draft weeks in advance. His bags were packed, but he never made it.
Carle had been a certain third-round pick as a defenseman, maybe a second-rounder. But just hours before the draft, he sent out a letter to all 30 teams, advising them not to pick him.
Two months before, at the end of his senior season at Shattuck-St. Mary's prep school in Minnesota, Carle led his team to a national championship, scoring a goal in a victory over Team Illinois in the USA Hockey 18-and-under Tier I final. He never suspected it would be the last game he would ever play.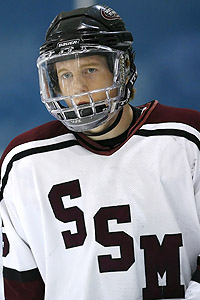 Scott A. Schneider/Getty Images
David Carle helped lead Shattuck-St. Mary's to a national title, but a medical condition has forced him to stop playing hockey.
"It could have turned out worse," Carle said. "The way I was brought up by my parents and the values I took from Shattuck, it's just understood that one day hockey was going to come to an end."
The news came just a day before the draft in a diagnosis from doctors at the Mayo Clinic in Rochester, Minn. Following up on some irregularities first detected at the NHL combine, doctors discovered Carle has hypertrophic cardiomyopathy, a thickening of the heart that puts him at risk of sudden death in the heat of physical activity. Hockey had been his life. Now it threatened his life. He was out of the game for good.
Stick around for the happy ending. No miracle. No reprieve. No unforeseen plot twist. Just hockey people stepping up to let Carle know that they weren't going to forget him. That he had to abandon the game, but the game wasn't going to abandon him.
---
Back in January, on the coldest weekend of a long, cold winter, I made a trip out to Faribault, Minn., an hour from Minneapolis. ESPN The Magazine had assigned me a story on Shattuck-St. Mary's, a school that over the past decade has churned out a dozen NHL players. Sidney Crosby played one season there before heading off to play junior. Others, like Kings defenseman Jack Johnson, went on to play for the national team development program in Ann Arbor, Mich. But many, like Blackhawks center Jonathan Toews, stayed through their senior years before heading off to play NCAA hockey and then turning pro.
Funny thing: I talked to a few of the top pro prospects on this year's Shattuck team, but Carle wasn't one of them. I knew his name because his brother is Matt Carle, the former Hobey Baker Award winner with Denver University who was in his second season as a defenseman with the San Jose Sharks. Still, I didn't chase down David Carle. The usual drill is that you ask someone around the team about the most outgoing kids, the best stories, the liveliest quotes. That wasn't David Carle.
"A soft-spoken, confident guy, maybe our hardest-working player, a leader more by example than someone who'll stand up in the room and say something," Shattuck assistant coach Ben Johnson told me.
It sounded like getting a quote out of him would be about as tough as getting around him on the ice, so I didn't go down that road. Mea culpa for not trying.
Other players told me how their years at Shattuck made them better players and better people. How all that time together on the ice made them a better team. How all that time together off the ice made them better friends for life.
"I loved the atmosphere," Sidney Crosby said. "You can have friendships wherever you play, but at Shattuck, you lived together, went to class together, traveled and played together. You get to know each other like you didn't anywhere else."
I heard the same thing every time. No one, though, can talk about those friendships today with more authority than David Carle, an Anchorage, Alaska, native who spent the past three years at Shattuck. "I've heard from everybody since I got the news," he said.
"Crazier things have happened, but expecting things to change now is a false hope," Carle said.
Before he sent out that letter advising teams of his condition, Carle posted a message to his friends on Facebook. Almost half of them are Shattuck students. So about a quarter of the student body knew about Carle's condition before the NHL did.
"I wanted to be the one to tell my friends and the coaches," he said.
Text messages and calls started to come in, not just from his teammates, but also from alumni, including Toews. It was a time of mixed emotions.
"I thank our lucky stars that David didn't have an episode with us, and that I'm not ever going to have to field some awful call about something happening to him," Shattuck coach Tom Ward said. "It's too bad that his hockey dream is most likely over, because I never coached a boy who had the sort of metamorphosis that David did in his three years here. Overnight, he went from a very nonchalant kid to somebody who just decided to be a player and dedicated himself as much as anybody ever has."
Ward added that there was no need to pity David Carle.
"He can take the stuff that he learned here and apply it to whatever he chooses," Ward said. "He's gonna be just fine."
It looked like the nearest thing to a happy ending came with the news that Denver University was going to honor the hockey scholarship it offered Carle last season. It wasn't a snap decision, just an easy one.
"David kept us informed of his medical situation when he came back from the combine," DU coach George Gwozdecky said. "We looked at the possibilities and the possible outcomes. We knew that he might not be able to play for us. We still wanted him, even if he couldn't. It's not a symbolic gesture -- we'll expect him to be part of the program on a daily basis. We'll just have to figure out the right role for him."
The story didn't end there, though. The NHL draft was winding down, teams were packing up and many in the arena in Ottawa were heading for the exits when the Tampa Bay Lightning were on the clock in the seventh and last round, with the No. 203 overall pick.
"The Tampa Bay Lightning select, from Shattuck-St. Mary's, David Carle."
Carle wasn't there, which is too bad. He could have walked out of the stands down to the floor and shaken hands with Lightning executives and donned a Tampa Bay sweater. Still, his name went up on the board behind the stage where the names were being announced.
It wasn't a mistake. Tampa Bay had received the notice of Carle's condition. It wasn't a long-shot move by the team. Nobody was banking on a reversal, a cure or a misdiagnosis that would net the team a top talent late in the draft. No, it was a call made by one of the Lightning's new owners, Oren Koules, who bounced around hockey's minor leagues before going on to become a successful Hollywood producer. Koules' son, Miles, is a student at Shattuck-St. Mary's. In a couple of years, he wants to play on the varsity team for which Carle starred.
"That school has meant so much to me and my family," Oren Koules said. "My son is a better person for going there. I met a bunch of the players when I was up there. They were all gentlemen, really respectful. I didn't think David should miss out on an opportunity he should have had. It was an honor to select him."
There will even be Lighning sweaters with the name Carle sewn on the back next season. On Friday, San Jose traded Matt Carle to Tampa Bay in a deal that sent All-Star defenseman Dan Boyle to the Sharks. That's a nice finishing touch, a nice bit of symmetry, a good excuse for David to make a trip down to the Gulf Coast. When he's watching games at Denver University this winter, David Carle might think about how much his life has changed since he got that call from the Mayo Clinic. But a couple of things will never change. He'll always be an alumnus of Shattuck and property of the Tampa Bay Lightning.
Gare Joyce is a regular contributor to ESPN The Magazine and ESPN.com.