By Brian and Andy Kamenetzky
Special to Page 2
Though the NBA's Most Valuable Player was revealed Sunday, the debate over who should have won rages on. Should it have been Steve Nash? What about Shaq? Or maybe even AI?
But while the fans and experts continue this debate, a startling aspect of the voting has flown under the radar.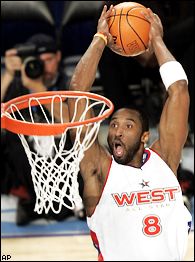 AP
Kobe was an All-Star, and the league's second-leading scorer -- but he finished behind P.J. Brown?
Kobe Bryant did not receive a single point in the balloting.
Oh, how the mighty have fallen.
We're not even talking about first-place votes. We're talking about votes all the way down to fifth place. Not one writer broke out his No. 2 and penciled in Kobe's name anywhere on the ballot. Kobe was the NBA's second-leading scorer. A starter on the 2005 All-Star team. Sure, the Lakers missed the playoffs by a mile, but come on!
The Cavs collapsed down the stretch faster than Bellamy Road, and LeBron came in sixth – with numbers fairly similar to Kobe's. KG was on the board, and we all saw what happened to Minnesota. Even P.J. Brown got a point. P.J. Brown! A solid role player, sure, but more valuable than Kobe? Can you honestly say that with a straight face?
Kobe's numbers in '05 nearly mirrored his '04 output – when he landed at No. 5 on the MVP tally chart. So why did he suddenly hit rock bottom? Because people believe a) Kobe ran off Shaq; b) Kobe ran off Phil; and c) Kobe is a lousy GM.
Clearly, the time has come for some damage control. We know two things right now about the '05-06 Lakers. First, Kobe will put up gaudy numbers. Second, the Lakers might miss the playoffs even if Phil comes back. So if Kobe wants to get back in the MVP hunt, he'll need to crank up the PR machine. To that end, we present the Kobe Bryant 10-Step Image Rehabilitation Program.
1. Share, share, share
Kobe should go whole possessions without touching the rock. Go whole games, even. Let Odom run the O. Let Butler have that monster dunk. If the ball comes Kobe's way, he should duck, or stick his hands inside his waistband. Maybe run off the court screeching like a 6-year-old girl. Anything to increase the belief that he is, indeed, a team guy.
2. Show me the funny
Shaq gets extra props because he provides great one-liners. Writers with deadlines love that stuff. So instead of spending the summer working on his jumper or interviewing prospective coaches, it's time for Bryant to hire a team of sitcom writers, hit up some open mike nights and cultivate some top-shelf material.
3. Resurrect old Vlade
Kobe needs to show he can play with an out-of-shape big man who is more popular in the locker room. How? Make sure the Lakers bring back Vlade Divac, then help him revert to his old habits – namely his tendency to smoke more cigs than the Marlboro Man before, after, even during games. If Vlade doesn't hit at least one layup a game with an unfiltered Camel in his mouth, Kobe's not taking this mission seriously enough.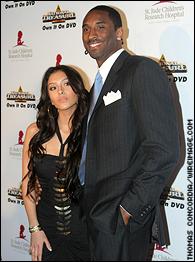 Kobe's worked hard to make it up to Vanessa -- now he must turn his attention to the media.
4. Three words
Ben. Wallace. Fro.
5. Babies, and the kissing of said babies
At no point should Kobe be surrounded by fewer than a dozen babies. The babies of teammates, fans and Lakers staff. Rented babies. Cabbage Patch babies. Off the court and on. A constant baby posse might make it tough to split a double-team, but he's a very good athlete. He'll figure it out. And how can someone who loves babies be a bad guy?
6. Wealth redistribution
A big knock on Kobe is that he doesn't make his teammates better. So from now on, for every basket he scores, he donates one point to a teammate. Every other assist, rebound, steal or block also goes toward a teammate's stat line. The better he plays, the better everyone else looks. If he can't actually make them better, he'll make them superficially better.
7. Bring on the bling
When Kobe's "troubles" began in Colorado, it's clear he called his jeweler before his lawyer. Smart move. Vanessa saw the light (or sparkle, as it were). Well, members of the media love swag. And fortunately for Bryant, we can be bought for far less. A really good cheeseburger will do the trick, at least for those of us without regular TV gigs. Maybe we can all get together for one giant recommitment ceremony.
8. Kobe: The Series
Kobe's not accessible. Kobe's aloof. Kobe never lets anyone in. Well, our society has developed a solution to those sorts of problems. It's called reality television. If Doug Christie can have his own show (even one nobody watches), why can't Kobe Bryant? Less appealing people have become huge reality TV stars (Omarosa, anyone?), and he'll never seem like a stranger again.
9. Kobe Bryant: Team Mom
This bump in the road is nothing a few halftime orange slices couldn't cure. Maybe some Cokes after the game? Perhaps he could institute a car pool and take Devean George, Slava Medvedenko and Luke Walton home after practices. Or host a team sleepover and read everyone a bedtime story? (But no Truth or Dare, please!) How heartwarming would that be?
10. Blame Canada
Kobe can win over the "Made in the USA" crowd with aggressive patriotism. Point out whenever possible how horrible it is that the MVP award no longer resides on American soil (we're not going to quibble about where Nash actually lives). That he will not rest until it's back. There's got to be one flag-waving, Fox News-watching MVP voter out there who will be swayed by the propaganda.
Brian
and
Andy
Kamenetzky
IMAGE IS EVERYTHING