By Andrew & Brian Kamenetzky
Special to Page 2
Desperate times call for desperate measures, and Mike Tyson is no exception. According to Tysontalk.com, the self-proclaimed No. 1 source of news is Iron Mike, the famously broke pugilist, is open to radical options for raising revenue.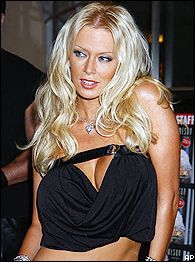 With Jenna in Mike's corner he can't go wrong.
"I've talked to some people, I just talked to a gentleman named Jimmy, whose involved with Club Jenna, you know Jenna Jameson," said Tyson. "They said they were interested in getting me involved in that kind of business as well." Tyson doesn't proceed to announce a three-picture deal, but doesn't dismiss the notion, either.
Mike Tyson, the adult film actor? Crazy as it may sound, this could very well be the ticket. His real life offers endless elements for his future scripts to implement, sucking potential viewers in with a blend of fact, fiction, and the adult film industry's penchant for parodying high-profile films. If any athlete's gonna cross over, Tyson's the prime candidate. Here are a few prime suggestions for Mike's future filmography.
"Crouching Tiger, Fornicating Dragon"
Our hero, ancient warrior Iron Mike, is incensed that a rare magical tiger, a gift from his master, was stolen by a beautiful thief. It's the most special tiger in Iron Mike's entire collection, and he's determined to get it back by any means possible … So he can pawn it for the money he
really
needs by any means possible. After a chase through the treetops, across riverbanks and endless sword battles, Iron Mike is impressed enough by the young lady to offer her martial arts training in exchange for the tiger. She refuses … saying she'd rather have lessons in love. Cue sex.
"Porn of the Worlds"
Tyson plays Ray, a construction worker who uses an alien invasion as a means of becoming a better father to his children (unfortunately, he caps off this achievement by eating them). The aliens are intent on destroying the earth and trying to use our blood to fertilize it. But Ray convinces the aliens (who happen to be female) that their time on earth could be put to better use than killing random humans. Let's just say the results are out of this world.
"Sexyweight Champion of the World"
For 10 years, the WBC, WBA, and IBF Sexyweight Titles of the World have been spread all over the world. Weak contenders have displayed subpar technique and physical acumen in the Ring of Love, tarnishing the long legacy of dominating sexyweights from days gone by. Until Tyson, a white-toweled, black-trunked sexual dynamo blows onto the scene. His powerful, quick striking lovin' leaves all challengers, and ladies, in the dust.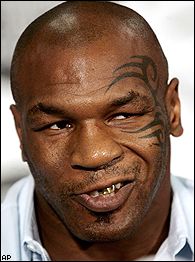 Mike has to be crazy to even consider this ... wait.
"Mikey: Fully Loaded"
An aging Tyson stumbles attempting to work his way through cupcakes like Danny Williams and Kevin McBride. All hope is lost, until he's given a beat up but spunky fighter called "Mikey" by an old cornerman. Mikey takes over all of Tyson's boxing, training him and helping resurrect his career in the ring … and outside it, too. Turns out Mikey is also well-educated in the ways of love. The only thing Tyson bags faster than belts are ring card girls and groupies.
"The Fantastic Foursome"
A space mission gone awry leaves Iron Mike with special powers -- invisibility, elasticity, rock hardness, and the ability to control fire. By day, he uses his powers in the ring -- invisibility to cover up for fading mobility. Elasticity to add reach to punches, since he's no longer quick enough to get inside. Fire to put heat on his opponents, and rock solid strength to add sock to a once lethal right hook. But by night, those same powers are used on the ladies in huge, Roman style orgies. Invisibility to sneak and seduce. Flames for the fireplace, to better manage the mood. Elasticity to extend, rock hardness for … you get the point.
"Million Dollar Babydoll"
A female boxer enlists Tyson to help her train for a run at the title. Reluctantly, Tyson agrees, but only after dressing him up like "Razor" Ruddock, about whom Tyson once said: "I'm gonna make you my girlfriend. I can't wait to get my hands on a pretty thing like you." The action heats up in the ring, as Tyson's protégé tears through the ranks … and in the bedroom, where Tyson's protégé fulfills every Ruddock fantasy Tyson has ever harbored.
"Eternal Sunshine of the Dirty Mind"
His relationship with Robin Givens having turned sour, Tyson enlists the aid of a hot female brain doctor who will zap all memory of Givens from his brain. But instead of erasing all the bad memories his doctor puts in happy … and dirty ones. Visions of naked ladies mix with bitten ears. Voluptuous coeds with posh digs for his collection of pigeons. Tawdry escapades with … tawdry escapades.
"Must Love Dogs"
Lonely and broke Mike Tyson, looking for love, places an ad online (well, a friend actually does the typing) for a personal ad, letting prospective women know that they need to be okay with a dog of a man. After a series of disappointing meetings (that nonetheless end in one night stands), a sexy red head, thinking Iron Mike is a canine lover, meets him at the local Starbucks with her cocker spaniel in tow. They laugh, then love, over the miscommunication.