By Tim Keown
Page 2 columnist
The NCAA Tournament is the sacred cow of American sports, free of skepticism and immune from criticism. It's perceived as being so great, so wonderful and so pure that it can't be questioned. This is mainly because a nation of middle-aged sports fans -- many pining for the freedom and innocence of college days -- looks at the competition and sees something unique: participants who, believe it or not, seem to care as much as they do.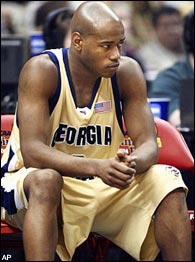 Disappointment was plentiful in this year's NCAA Tournament.
But this year? Sorry. We all tried. We filled out our brackets and rooted for the 16 seeds and hoped for the best stories, but there's a limit to the power of imagination.
You can go to Vegas and place your bets. You can adopt the University of Pacific as your personal dark horse. You can infuse the event with as much melodramatic music as can be found in the CBS library, but you can't make it happen on the court. The play was flat, the heartwarming upsets nearly extinct and the officiating almost uniformly sub-par.
As an aside, have there ever been as many commercial breaks as there were in the final three rounds? The announcers like to segment the game into "runs" -- it's easier that way -- but this year it seemed like the tournament was nothing more than a series of disconnected runs.
To cap it off, Georgia Tech gave one of the most uninspired championship-game performances in recent memory. You can "One Shining Moment" yourself all night long, and you can Zen to the poetry of Dick Enberg till your eyelids flutter, but the question remains: Was there a bad shot out there that the plucky Yellow Jackets didn't manage to take?
This Week's List
Besides, there's something traditional about the pastoral simplicity you get only from the inside of a dome in Tokyo: Opening Day on American soil is fine for some, but if there ain't a big ol' RICOH on the side of the helmets, it just don't feel that special.
Opening Day starters who should give you pause when assessing your team's chances in 2004: Shawn Estes, Cory Lidle.
All the excitement over the Phillies' prospects can be tempered with two syllables: Bowa.
One reason not to believe in the Astros: Jimy Williams.
What everybody's been saying: Ozzie Guillen, handling it from the seat of his pants.
Better stuff than Tim Worrell, that's for sure, and the results will show it: Matt Herges, Giants closer.
Opening Day fashion note: The new Blue Jays uniforms are a significant improvement, but is there a word to describe the color of those caps?
From the files of the Laura Ashley paint collection, three possibilities: 1) Dusty Gray; 2) Gunmetal Surprise; 3) Sandstorm Twilight.
The only interesting possibility for the NBA Finals: Lakers-Pistons.
Worth watching, though: The Grizzlies.
When you really don't care, and you're just trying to find a reason to root for one team over another, this might be the toughest call in sports: Pat Summitt or Geno Auriemma.
A man whose hair reminds us all of the days when Dan Gladden used to slide into a base five seconds before his hair: Craig Wilson, Pirates.
Just for the heck of it: Joe B Hall.
Overplayed storyline: Georgia Tech's win over UConn in the preseason NIT.
Apparently they had to carry them: In the build-up to the Giants-Astros opener it was suggested that Roy Oswalt was the obvious choice to be Houston's Opening Day starter because Roger Clemens and Andy Pettitte were exhausted by the effort it took to get their families to the game.
Until further notice: When the topic is the postseason, the Astros are still a called third with two out and the tying run at third.
A great season, but a lingering image: Eddie Sutton, head in his hands.
Sign of the times, and not a good one: In interviews with USA Today, the six top high school basketball players in the country all said their summertime AAU coaches were the most influential coaches in their lives.
Overworked puns of the week: 1) "Much Adu about nothing"; 2) "Much Adu about Freddy."
From a place called Hope Forest: Luke Schenscher.
A day that will live in infamy: April 6, 2004, when the Tigers woke up to see 1.000 next to their name in the morning paper.
Funny, just two days ago I was telling someone the exact same thing: A story Monday's Detroit Free Press ran under the headline, "Cochrane a good model for Pudge."
Yep: Mickey Cochrane, who became a Tiger in 1933.
Just a question: Did Mickey have a six-foot, one-ton bronze statue of himself outside his nine-bedroom, 11-bathroom house?
And finally, one last question: Other than chronic incontinence, is there any reason in the world to need 11 bathrooms?

Tim Keown is a senior writer for ESPN The Magazine.