By Tim Keown
Page 2
Hello there. My name is Dat Nguyen, and I'm just here to say I haven't noticed anything out of the ordinary.
This Week's List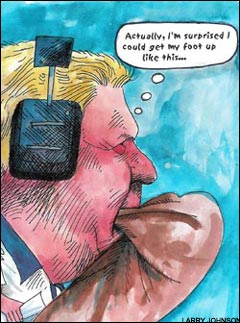 And the beauty of it is, by prefacing his remarks with " ... no disrespect for the Orientals," he managed to insult them both coming and going: In a press conference Monday, Bill Parcells said his offensive coaches have a few "Jap plays" -- surprises, get it? Like Pearl Harbor? -- ready for their opponents this year.
There might be a major-league job out there for the Rice pitching coach ... or its lead recruiter: Three of the Owls' pitchers -- Philip Humber, Jeff Niemann and Wade Townsend -- were among the top eight picks in Monday's draft.
It's almost enough to make you forgive the hair: Long Beach State pitcher Jered Weaver, Jeff's brother, has walked a grand total of 19 hitters in 136 1/3 innings.
To be honest, it's like something you'd expect from Detroit: Dick Van Dyke sang the national anthem before Game 1 at the Staples Center, and he wore American flag sneakers.
And they should still win going away: Larry Brown's Olympic basketball team might end up looking more like a contrived Futures game by the time everybody is finished pulling themselves off the team.
Still: Carlos Boozer, Olympian?
Maybe she's auditioning for her own reality show -- The World's Angriest Female: Marion Jones' latest public target is IOC president Jacques Rogge, who questioned her current and past associations, including her choice of roommates, a directly indirect reference to Tim Montgomery.
And, as far as votes of confidence go, this one's right up there with, "We reserve the right to re-evaluate Skip's job performance as we see fit": Rogge is quoted as saying of Jones, "Today she is technically innocent."
You know the starting times for the NBA Finals are too late when ... : You live in the Pacific time zone and the games still end too late for your sports-mad second-grader to watch till the end.
Just for the heck of it: Sonny Parker.
Two eternal truths of card-playing: 1) Don't play poker against anybody whose first name is a state or a species of snake; 2) Don't play poker against a guy named "Moneymaker."
Wow, you figure that had to hurt at some point or another: The announcer just said Tampa Bay's Dave Andreychuk has played more than 1,700 games without a Cup.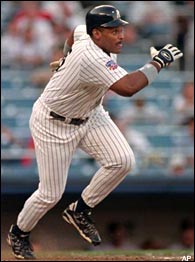 We miss watching Cecil Fielder run the bases.
By the way, could you imagine someone in another sport -- say, the manager of the team that eventually beats the Cubs in some future World Series -- apologizing for ruining such a good story the way the Birdstone people did?: Watching Smarty Jones run the final stretch of the Belmont was like watching Cecil Fielder try to stretch a double into a triple.
Smarty Jones: The most disappointing finish by a horse since Pie-O-My.
The NHL might be in danger of becoming a cult sport, but there's no denying one truth: In the sports world, there's no desperation quite like Stanley Cup playoff desperation.
One problem: Overtime in Game 7 is an absolute necessity.
Calgary's favorite son: Kerry Fraser.
We're all for the sentimental value of rooting for the old guys, but: Karl Malone and Gary Payton have to show a little more than they did in Game 1 to capture the public's imagination.
Like we were saying: Elden Campbell and Ben Wallace, hitting the big shots.
Larry Brown's defensive strategy: Let Shaq get his.
This might be treading perilously close to the dreaded coach-is-god school of thought, but here goes: Phil Jackson let them play it their way in Game 1, and everything that follows will be different.
To which you say: Yeah, right -- take your Zen somewhere else.
This is a remarkable concept, especially when you consider the interviews aren't the Jon-Gruden-talks-dismissively-out-of-the-side-of-his-mouth-for-eight-seconds-while-running-to-the-locker-room variety: Even in Game 7 of the Stanley Cup Finals, hockey players take time out during intermission to do a television interview.
To put it into the proper perspective, consider this possibility: "Gary Payton, you're 1-for-5 with no assists in the first half, whaddaya think you need to do to turn it around?"
And finally, grading on this liberal curve, Brent Musburger has Bill Russell beat all to hell: We have to assume Byron Scott was practicing his sarcasm when he began his comments on the pregame show Sunday night by saying, "This is my third straight Finals ... "

Tim Keown is a senior writer for ESPN The Magazine. He is the co-author of the upcoming book "Hunting the Jackal: A Special Forces and CIA Ground Soldier's Fifty-Year Career Hunting America's Enemies," to be published in June by William Morrow.