By Tim Keown
Page 2
So now the Olympics are over, and I have an important question: What the hell am I supposed to do now?
Over the past two weeks, I watched stuff I didn't think I'd watch on a bet. I watched hours of gymnastics, I'm ashamed to say, and I found myself disgusted with the judging even though I had no idea about any of it.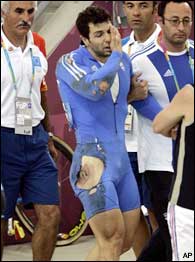 Even the wardrobe malfunctions aren't sexy at the Olympics.
Now some people are making noise about fixing the scoring system in gymnastics, which is a horrible idea. Nobody in his right mind would watch gymnastics or figure skating or diving (don't start with the diving -- hour after hour after hour of the diving) if the scoring was changed to become something closer to fair. This is not a real Us vs. Them sporting event, and never will be, and the utter stupidity of the entire operation is its only redeeming quality.
I watched equestrian events (soothing) and a taekwondo match involving a woman from China who screeched and yelled even when she wasn't doing anything, which was 98 percent of the time by my calculations.
I saw Lester Holt eat dinner and Jim Lampley speak with dire seriousness and some other announcer say that beach volleyball hero Misty May was "thrilled" to have brought a portion of her mother's ashes with her to Athens.
I even watched some track cycling, and I'm here to tell you it is no mystery that there is no big-time, big-money track cycling league in this country. I mean, honest to God, I'm watching these guys go around the track on their bikes and then out of nowhere there's this guy on a moped or an electric bicycle, and he's leading the cyclists like a pace car, and suddenly the Olympics looked a lot like a Monty Python skit.
This Week's List

Say what you will about the Athens Games, but you have to say this: They featured the best open-field tackle by a defrocked Irish priest ever in Olympic competition.
Of course, in these days of heightened tension and terrorist fears and rampant paranoia: If a guy shows up along the Olympic marathon course wearing that uniform, wouldn't you think someone might keep an eye on him, thinking there might be an outside chance he might do something a little funky?
If John Ashcroft had anything to do with this, all the BALCO boys and girls would still be running free and Mr. Needle-in-the-Mail would be awaiting trial: Sprint coach Trevor Graham admitted he was the one who mailed the dirty THG syringe, then he proclaimed himself a hero for our time.
This makes me feel much better about the treatment my little boy BankOne might get when he heads off to school: Chipper Jones named his newborn son Shea, after the stadium.
Paavo Nurmi was the last guy to do it, in 1924, so what's the big deal?: Moroccan Hicham al-Guerrouj won the 1,500 and the 5,000 in Athens.
No, no and no: Olympic trampoline, because once you hit puberty, the stupid thing loses nearly all of its appeal.
This is way off-topic, if that's at all possible, but answer this: How can a guy who gets paid to give his opinion on political and social issues admit on national television, while he's being paid to give those opinions and while he's sitting at the Republican convention, that he hasn't seen "Fahrenheit 9/11"?
And by the way: It doesn't matter what you might think of the movie, but it seems like required viewing for folks in that business, wouldn't you agree, Mike Barnicle?
I think I'd like the Brothers Gymastic better if they would do one simple thing: Get rid of the whole "Hahm" pronunciation.
Someday, when the sociologists weigh in on the 2004 Olympics, they'll attach great significance to the following fact: In the wake of the relay-baton fiasco, Lauryn Williams, constantly referred to as "just 20 years old," stood up and took the responsibility for botching the handoff with Marion Jones, while the seasoned veteran Jones just stood there with that beatific, serene, we're-all-just-here-to-make-sure-Athens-is-straight-with-its-feng-shui look on her face.
Just for the heck of it: Dave Rader.
Not to go all GM on you, but: If the New York Giants weren't going to start Eli Manning, wouldn't they have been better with Kerry Collins?
And conversely: Wouldn't Collins have been better off starting in New York than backing up in Oakland?
That's the beauty of football: So many questions, so few answers.
Look, we'll be the judge of that: Deion Sanders on his comeback -- "It's going to be unbelievable."
And finally, proving that giddiness can peacefully coexist with Calvinist dread: The papers in Boston are starting to refer to the Red Sox current run as "magical."

Tim Keown is a senior writer for ESPN The Magazine.