By Tim Keown
Page 2
This will not qualify as news to any parent of a sports-minded kid from the age of 8 to 16. But those of you outside that demographic might not be familiar with the most influential sports publication on the market -- the Eastbay catalog. With its shiny pictures of all the latest-model athletic shoes just sitting there page after page in all their disembodied glory, from adidas to Nike to And1 to the apparently disinherited Dada, this is consumer porn at its very best.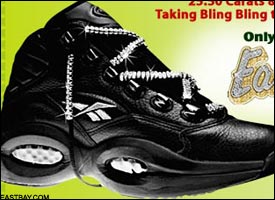 Would you wear these down to the park for a pickup game?
The November issue is 108 pages long, and there is no underestimating its sociological value. The catalog is purely Darwinian in concept, with the newest models of shoes and jerseys and just plain gear selling for outrageously full retail. ($25.99 for a "Carmelo Retro Wings Tee" makes you wonder how retro a 20-year-old man can be; $99.99 for most top-of-the-line basketball shoes from the major brands.)
Last year's stuff, because it simply isn't cool to anybody who knows the difference, is marked down considerably ($24.99 for last year's Reebok Answer VI hoop shoe). Dada, which I believe was started as someone's idea to market and capitalize on Chris Webber, looks to hold as much market share as diet caffeine-free Mr. Pibb.
Clearly, however, the most enlightening commentary on our current condition can be found on page 5. Dubbed "The Ultimate Gift," it is "The Allen Iverson Question" by Reebok. This is a pair of shoes, mind you, but so much more. "Taking Bling-Bling to a Whole New Level," the ad touts.
5.50 CARATS!
246 DIAMONDS!
ONLY ONE PAIR
WILL EVER BE MADE!
This, of course, is for "Serious Players," or at least those serious enough to part with $65,000 for a pair of shoes. It comes with a combination-lock stainless steel suitcase "for optimal security." The shoelaces are covered in diamonds set in pure white gold.
So, kids, save your pennies. And moms and dads, if you pride yourself on being unique, call the number. Full pre-payment is a condition of sale. No cancellations. Not valid with any other promotion.
Supplies, as they say, are limited.
This Week's List

He probably won't smile, but for his next trick, Bill Belichick will juggle 12 knives and teach Dieter Brock to run the triple option: On Sunday, the Patriots beat the Rams with wide receiver Troy Brown and Earthwind Moreland in the defensive backfield.
And, oh yeah: Adam Vinatieri threw a touchdown pass.
Stupid coaching tricks, part I: Carolina stayed in a hurry-up offense with a first down on Oakland's 3-yard line with more than two minutes left. The Panthers scored right away instead of killing the clock, giving Oakland time to drive for a game-winning field goal.
Heard the name the other day, and realized the man, the name and the game remain always guaranteed to bring a smile: World B. Free.
Bigger and bigger every week: Ben Roethlisberger.
As it stands now, here are the four best BCS matchups, as viewed from my couch: 1.) USC vs. Oklahoma; 2.) Cal vs. Auburn; 3.) Utah vs. Wisconsin; 4.) Boise State vs. Texas.
Unanswerable question: If college basketball can figure out the enduring appeal of the underdog in the NCAA Tournament, why can't college football figure out how cool it would be to see both Boise State and Utah play for a shot at the championship?
And in related news, truth is no longer the ultimate defense: Mark Cuban was fined by the NBA for writing in his blog that the NBA was crazy to open the season on election night.
Then again: Despite his dead-on comments about the league, it's going to take some time for us to forget "The Benefactor."
Meanwhile, on a beach in Australia, a man rolls out from under a tent and thinks of marijuana: Dave Wannstedt, done.
Ethel, get over here by these talking pictures, cuz I just done heard somethin' amazin': As I write this, I am sitting in stunned silence, because Jerry Falwell just told the fine-looking lady on CNN that the war in Iraq was as just and necessary as World War II.
With all this talk of homeland security: You'd think the Diamondbacks could have sprung for a background check -- or at least a pre-hire Google search -- of Wally Backman.
And finally, we've given the man nine weeks of our lives, so now we have just one question for Terrell Owens: Can we please have our season back now?

Tim Keown is a senior writer for ESPN The Magazine.