Single page view
By Tim Keown
Page 2
The Houston Astros gave Roger Clemens $3 million a month to pitch roughly two-thirds of a season, and now some people think the team should have had the common decency to trade him to a contender so he wouldn't have to suffer the ignominy of finishing his career -- as if he's ever going to retire -- with a noncontender.
Just one thought from a world gone even madder.
This Week's List
• Even the Royals wouldn't have screwed up this one: If it's true Orioles owner Peter Angelos turned down the Astros' offer of Roy Oswalt, Morgan Ensberg and Adam Everett for Miguel Tejada, Major League Baseball should strip him of his ownership.
• Thanks for the offer, big guy, but we're gonna hold on to this Taser deal we've got right here: Confronted by two Miami police officers in South Beach, Dale Davis challenged them to drop their badges and guns so he could take care of them in a manly way.
• You know what? At this point, we're going to have to take your word for it: An NBA headline on this very Web site says, "Next summer's free-agent crop has difference makers."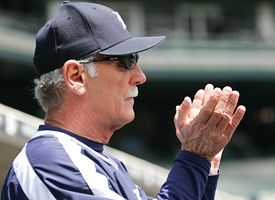 Gregory Shamus/Getty Images
If Jim Leyland doesn't win Manager of the Year, we give up.
• The next time someone tries to tell you the role of the big league manager is overrated, say the following two words: Jim Leyland.
• You can have your Jim Thome (who can flat-out rake) and your Nomar, but for me, there's only one guy for Comeback Player of the Year: Frank Thomas.
• The remarkable thing is, the Chinese players kept their cool until LeBron bunted for a base hit with his team up 115-69: Final score from the world of the China Basketball Challenge -- USA 119, China 73.
• Next "challenge" for USA: Athletes in Action.
• It sounds like something Rick Barry and Bill Russell would be playing on, but the name is probably overly descriptive for all those people who might think LeBron and Carmelo are on the J.V.: The official name for the USA Basketball team is USA Basketball Men's Senior National Team.
• I don't know all the specifics, but it seems like it's this kind of behavior that has gotten them into so much trouble over the past few years: The Raiders' offensive motto for this year, at this early stage, is "Running Downhill."
• Just for the heck of it: Ed Halicki.
• Someday, when they write the primer, "How to ruin a pitcher in three easy steps," they'll cite this: The Indians, who made 22-year-old Fausto Carmona their closer after trading Bob Wickman, have changed their minds.
• Whenever you're feeling down about the importance of your chosen profession, read the following sentence and realize someone is paid to figure out such things: "According to the Elias Sports Bureau, Carmona is only the second pitcher in major league history to lose four games in relief in a span of no more than seven days."
• One of the Elias boys needs to put this in his search engine and see what it spits out: Guard Eric Steinbach, arrested for boating under the influence, became the fifth Cincinnati Bengal in three months to be arrested.
• It's inspiring enough to make Felipe Alou ask for a seven-year contract: Joe Paterno is approaching his 80th birthday.