We met in a parking lot in an undisclosed city. It was Sunday night, about three hours after the NBA played its first All-Star Game in Las Vegas. The only rapper in the world who couldn't make it to Vegas for the weekend didn't want his name to be used, and he demanded that no identifying details be revealed in the course of this story.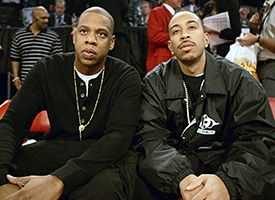 AP Photo/Kevork Djansezian
Jay-Z and Ludacris were in Vegas for the main event.
I understood completely.
"I shouldn't even be talking to you, man," he said. His voice sounded kind of funny coming through the ski mask. I could see only his eyes.
"You know what I went through? You know how hard this was on me? Six months ago I went to make my reservation, get a sweet place at the Bellagio, or maybe the Wynn. Then my girl says, 'Wait, that's the weekend of April's baby shower. I need you to watch the kids on Saturday.'"
He quickly said April was a made-up name, in case someone might know an April who actually did have a baby shower last weekend. He tried to get a sitter, but there was no one available. He offered to take the kids to Vegas with him, but that didn't work either.
"My girl said Amber had her horseback riding lessons Sunday morning, and there was no way she could miss or else she'd lose her spot."
He quickly said Amber was a made-up name.
"I saw it. Starting Friday night, I saw every minute of it. Ludacris, Jay-Z, Diddy -- all of 'em there. And me sitting on my couch because of a baby shower and horseback lessons."
He turned away from me at this point, and I swear I saw him wipe away a tear.
"I'm going to have to come strong next year, baby. I've got to think of something big. My agent was on the phone to Barkley by midnight Saturday night. I know I can beat Charles in a race."
This Week's List
• Here's a worthwhile endeavor: Let's all sit around and argue about the level of play exhibited at the NBA All-Star Game, because doesn't everybody care about that?
• Hey, we've got a situation here -- I think The Doctor needs a doctor, stat: On the radio broadcast of the All-Star Game, Jack Ramsay kept telling us how many baskets wouldn't have counted had the game been played by the traditional rules governing the sport.
• "Mr. Bryant? Mr. Hardaway on line 2": I'm not sure how it happened, probably more through erosion than anything else, but Kobe Bryant has completed a remarkable image rehabilitation over the past couple of years.
• The Saints were thinking, "Why couldn't Carrot Top turn his ankle?": Reggie Bush, playing celebrity basketball Saturday night, turned his ankle.
• Except for the guys who have the infatuation with the shape of his body -- they probably didn't notice: Phil Mickelson gets to hear all the choker talk again.
• To be fair, though, you have to include this: Tiger wouldn't have lost that lead over the final nine.
• At some point, somebody up there is going to ask the guy next to him, "Hey, why wait 'til the end of the game?": Arizona State won its first Pac-10 game of the season in mid-February, and the students in attendance stormed the court.
• Score another one for Bob Knight: On Monday he blasted the NBA's minimum-age rule as a disaster, and he's exactly right -- a player can play for a college and never once step foot in a classroom on his way to the NBA.
• How, you might ask?: Simple -- if an athlete doesn't step foot in a classroom at all during his first semester, he gets a 0.0 GPA and is placed on academic probation for the second semester, and then he doesn't step foot in a classroom at all during that second semester and is declared academically ineligible for the following year, when he's already in the NBA.
• The only thing worse than trusting Julian Tavarez with a lead is trusting him with your career: Manny Ramirez apparently chose Tavarez to convey the message to Red Sox management that he wouldn't be reporting to spring training on time because his mother is undergoing surgery.
• Perfect A-Rod: During Monday's odd carnival of catharsis, in which he revoked his friendship with Derek Jeter and admitted to lying about it, Alex Rodriguez used the most reprehensible, lazy and infuriating phrase in the English language when he said, "It is what it is."
• I promise they won't have a comeback: The next time you're in the presence of someone who uses that line, respond by saying, "No it isn't."
• And finally, the good part is he got the Kevin Federline role for the next "life comes at you fast" commercial: Ron Rivera went from being a hot head-coaching candidate to being demoted from defensive coordinator in Chicago to linebackers coach in San Diego.
Tim Keown is a senior writer for ESPN The Magazine. Sound off to Page 2 here.