It's always educational to learn what people think they know. Two people -- or a million -- can look at the same incident and come away with completely different reactions.
Where is this vague introduction leading? To the Tyler Hansbrough-Gerald Henderson incident in Sunday's Duke-North Carolina game. Obviously. Judging by the television coverage, all roads lead to the same place.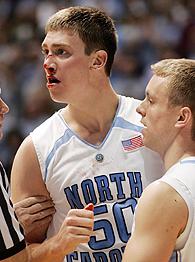 Jim Bounds/US PRESSWIRE
Tyler Hansbrough (and the man responsible for that infamous flying elbow) aren't the most popular players among opposing fans.
Billy Packer said there was no way Henderson's flagrant foul was an intentional attempt to injure Hansbrough. A lot of other people -- including Coach K, of course -- thought the same.
I'm probably like most of you -- no particular rooting interest in the outcome of the game, no connection to either school or its players, no preconceived notions about Henderson or Hansbrough.
And I didn't see an accident. The hit Henderson put on Hansbrough was at least partially intentional. I don't think he could have foreseen the injury or the repercussions, but there's simply no way -- as Packer so definitively decreed -- he was going for the ball.
It seems pretty simple from here, as I'm sure it does from Coach K's office and Packer's courtside seat. I think the reaction is predictable, though, because nobody wants to believe a college kid would intentionally jackhammer an elbow into an opponent's nose. Nuance -- you know, a kid so frustrated by circumstances that he temporarily loses it and does something out of character -- is rarely considered.
For the most part, we only know what we think we know, except for this one undisputable fact: The replay of Henderson v. Hansbrough was on "SportsCenter" so many times in my house I found blood splatter on the family room floor.
This Week's List
• What you learn watching professional golfers hit golf shots during golf tournaments: The people who were brilliant and lucky enough to buy into The Villages -- with the music, the happy faces, the carefree living -- are enough to make you want to hurry up and get old.
• Once again, timing is everything in life: If Ron Artest hadn't carved "Kings" into his head during his team's recent road trip, the cops might not have been able to recognize him when they came to arrest him Monday after a domestic violence complaint.
• This, apparently, is what happens when you spend too much time staring at Reche Caldwell's eyes: Bill Belichick is reportedly interested in bringing Randy Moss to the Patriots.
• News item: Bears linebacker Lance Briggs says he won't play for Chicago anymore because he feels disrespected by being tagged the team's franchise player and being given a salary of $7.2 million for next season.
• Your reaction, most likely: "The greedy ingrate -- how can anybody be disrespected at more than $7 million a year?"
• The in-between stuff that doesn't always see daylight: The franchise tag removes the player from free agency and comes with no guaranteed money, at a time when free agents with less pedigree than Briggs are banking $20 million, guaranteed, when they sign their deals.
• Which, of course, raises a question: How did the NFL Players Association ever agree to such a non-player-friendly rule?
• Just for the heck of it: Lewis Lloyd.
• Watching Joakim Noah run around like a madman Sunday made me ponder another question: Remember when beating Kentucky meant something?
• I'd never pretend to be able to out-John Clayton anybody in the first place, but this is a real mystery: When I hear "the NFL's first $10 million per year defensive player" the name "Nate Clements" isn't anywhere near the top of my list.
• "So Doc, it really hurts when I take my knee and jam it against my shoulder like this": With Dwyane Wade out again, isn't it about time for Pat Riley to take another hiatus?
• In other news, Dennis Green was voted best coach and Barry Bonds best teammate: Kevin McHale of the Timberwolves is the No. 1 general manager in professional sports, according to the methodology employed by the people at Forbes magazine.
• Proving that no one at Forbes ever reads a newspaper that includes standings: Billy King of the 76ers is No. 3.
• Has it really come to this? Has Duke fallen so far that Coach K wants to dictate when the opposing coach should take out his starters to keep from embarrassing his team?
• And finally, an existential question: What would happen if all the world's draftniks and all the world's bracketologists wound up in the same room at the same time?
Tim Keown is a senior writer for ESPN The Magazine. Sound off to Page 2 here.