Phil Jackson's problem might be more with human nature than with the officials. The free-throw disparity in Game 2 on Sunday night -- 38-10, Celtics -- could be a simple case of perception becoming reality.
First, a tangent: Not that anybody cares, or should, but I've coached a lot of youth-league basketball. I've learned if your team plays with some semblance of structure, and if they're pretty good with fundamentals, it sometimes works against them.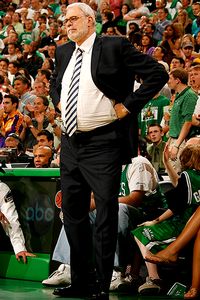 Nathaniel S. Butler/NBAE/Getty Images
Sorry, Phil, your guys are just too gentle.
Here's why: If the other team travels every third time it has the ball, or double-dribbles, oftentimes the referees shrug and say they can't call everything or we'll be here all night.
But if the team that plays well fundamentally takes an extra step, it almost always gets called. Why? Because it's obvious and unusual and they clearly know better. It's just human nature.
This is relevant to the Celtics-Lakers, kind of. The Celtics are the Eastern Conference tough-guy team. In the Finals, that's their role. The Lakers are the finesse, flashy, keep-their-hands-to-themselves team from the West. That's their role.
Is it even possible to expect the officials to ignore this, or somehow hold themselves above it? It's a version of the same principle that allowed Tom Glavine and Greg Maddux to use their pinpoint control to convince the umpires to expand the width of the plate.
So when the Celtics come out of the locker room and immediately start pushing and grabbing, the officials can't call everything because that's Boston's style. That's who they are and what they do. Besides, we'd be here all night.
But when the Lakers, with their less physical and less effective defense, smack or grab or hold, it's more obvious and thus more likely to be called.
And Leon Powe gets more free throws than the Lakers, and Jackson gets rightfully snippy.
And perception becomes reality.
---
Baseball's home run problem -- fair or foul, gone or not-gone -- is not going away anytime soon. The Diamondbacks' Mark Reynolds lost a home run on Monday in Pittsburgh when a fan caught his homer in the first row and leaned forward on impact to make it appear the ball would have hit the wall.
This issue is almost always framed in distinct terms: replay or no replay?
As San Francisco Chronicle columnist Ray Ratto has astutely observed, this is mostly an architectural issue -- rails, poles and people haven't always been in a position to deflect, obscure or catch possible home runs.
But since the solution to that problem exceeds the capacity of this page, what about a temporary solution that could be instituted almost immediately and improve accuracy by 78 percent? (Margin of error: + or - 78 percent.) Best of all, it wouldn't incite traditionalists -- not as much, anyway -- or necessitate a trial run in the Arizona Fall League.
Here's what you do: In each stadium, designate four front-row bleacher seats to be used only for home-run marshals (think air marshals on an airplane) whose identities are known only to the umpires. Put one closest to each of the foul poles, one in right-center and one in left-center, in seats with unobstructed views of the center-field wall.
The home-run marshal closest to the home run signals to the umpire on each home run, close call or not, in some sort of clandestine manner I haven't yet devised. The home-run marshals would be paid a small amount for each game, similar to the official scorer.
Get it? No invasive technology, more accuracy and the lingering possibility that egregious human error could still trigger an on-field riot. That's pretty much foolproof.
This Week's List
• Every time I begin to develop an appreciation for the activity, something disgusting involving an ear invariably gets in the way: An MMA fight on Versus on Monday night ended after one of the fighters fought for at least one round with an ear spurting blood onto his chest after it was torn during ground fighting.
• In news from a less manly sport: The NFL has apparently informed punter Scott Player that it is officially eliminating the use of single-bar face masks.
• Next time, buy all 10 tickets and remove all doubt: Judging by the highlights, if you attended the Reds-Marlins game Monday night, you had a 10 percent chance of coming home with Ken Griffey Jr.'s 600th home run ball.
• Just for the heck of it: Rennie Stennett.
• First clue -- Carl Crawford flying in from left field to commence vigorous face-pounding after Coco was already being held down: It seemed like more than just a reaction to a breach of baseball decorum when the Rays went after Coco Crisp with a vengeance after he charged the mound last week.
• Come to think of it, did anybody ever see them together?: Kenny Stabler's mug shot makes him look a lot like Krazy George.
• First he gave Drew Rosenhaus' number as his primary number, then he gave them a number for a phone that had a full voice-mail box: If you didn't know any better, you'd think Terrell Owens was trying to avoid the NFL's drug testers before they put him on the Previously Secret Watch List.
• And finally, Hall of Fame, here he comes: Leon Powe, the latter-day Robert Horry.
Tim Keown is a senior writer for ESPN The Magazine. Sound off to Tim here.