"I can even play in Iraq if need be."
-- Manny Ramirez, to ESPNdeportes.com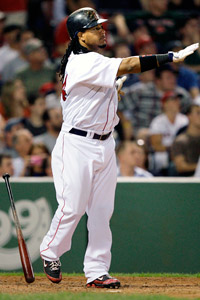 AP Photo/Charles Krupa
Realistically, we probably don't want to see Manny in the Army.
U.S. Army officials expressed disgust Monday when told Pfc. Manny Ramirez, a recent recruit from Massachusetts, refused to participate in a late-afternoon patrol with the rest of his platoon Sunday night.
Members of the platoon said Ramirez reported for duty on time and appeared to be ready to gear up and hit the streets outside of Baghdad. However, roughly one hour before go time, Ramirez was seen wincing while flexing his left leg. He returned to the barracks against orders.
"He was muttering something about it being too hot," said a platoon member who asked to remain anonymous. "With this guy, it's always something."
Tests on Ramirez's leg, consisting of a medic's shrugging his shoulders and saying, "Dude, suck it up," revealed no injury. Ramirez reportedly asked to be taken to the training room for a pre-patrol deep-tissue massage, a request that quickly made Ramirez the laughingstock of the entire division.
Ramirez's availability for Tuesday night's scheduled raid on an al Qaeda stronghold outside Basra will be determined later in the day, according to Army officials. Weather continues to be a factor. It was 113 degrees in Baghdad on Monday, with a low of 87. More of the same was forecast for the next two to three months.
Controversy is nothing new to Pfc. Ramirez. Since arriving in Iraq last week following the big trade with the Boston Red Sox, he has consistently irritated platoon mates and frustrated the normally implacable leader of the American forces in Iraq, Gen. David Petraeus.
On his first day in Iraq, Ramirez had a physical confrontation with his sergeant major when he discovered he would be bunking with 31 other men. After he was refused his request for a single room, preferably a suite, Ramirez yelled, "Just do your job!"
In a terse exchange with reporters, Gen. Petraeus said, "I don't know where this guy comes from, but this thing he calls 'Manny being Manny' -- what the [bleep] does that mean? Whatever, it doesn't work in this man's army. This young man's problems started with the haircut and grew from there."
Ramirez, who earns $19,054 per year as an E3, has complained about his four-year "contract" with the Army since leaving Boston. One of his bunk mates says he overheard Ramirez speaking on a cell phone, telling someone, "Nineteen grand -- I spend that much by lunchtime."
In his first public comment since the trade, Ramirez spoke to reporters over his shoulder as he brushed past them. He suggested he wouldn't be opposed to a change of scenery.
"I'm tired of the Army, and the Army's tired of me," he said.
Reached by phone, Gen. Petraeus said, "Kandahar's nice this time of year."
Asked about Kandahar, Ramirez said, "I don't care. I can even play in Boston if need be."
This Week's List
• He also has a company car -- a nifty little Ford Focus that gets 32 miles a gallon: Does Brett Favre's Packer-issued cell phone come with a prepaid minute plan?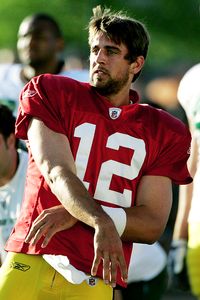 AP Photo/Morry Gash
Is Mr. Rodgers ready for his moment in the sun? We shall see.
•
And by the way, Aaron Rodgers:
Now they all feel silly for wasting all those words about Favre's being your mentor.
• At this rate, he's going to have a lifetime contract before he wins a game: Indiana University gave men's basketball coach Tom Crean a two-year contract extension Monday; he was hired in April.
• Then again, maybe the money for the extension was raised by influential Xavier U. alumni: Indiana guard Jordan Crawford transferred to Xavier on Monday, becoming the second Indiana player to leave this summer for the Musketeers.
• Just for the heck of it: Horacio Pina.
• Why thank you, I really like the way it looks with the pitchfork: An "Outside the Lines" report that aired Sunday featured Joe Paterno's dismissing the rampant criminality of his football team by saying, "That's a nice-looking witch hunt you got there."
• It sounds kind of weird, and it was more likely to happen three days ago, but as of Sunday it was still alive: Brian Fuentes to the Texas Rangers.
• You know it's a big game for the Marlins when … : There are actually people sitting in the bleachers.
• This is the week you can smell the desperation: There's nothing better than watching out-of-contention teams try to pretty up the guys they're hoping to trade by playing/pitching them every day 'til the deadline.
• Case in point: The San Francisco Giants, making the call for Tyler Walker and Jack Taschner with frightening regularity.
• And finally, it helped that he was one of only three riders who didn't pedal through the countryside with an IV pole attached to his handlebars: Carlos Sastre, Tour de France champion!
Tim Keown is a senior writer for ESPN The Magazine. Sound off to Tim here.