Jacksonville Jaguars offensive tackle Richard Collier was shot and critically wounded early Tuesday morning. In the past 18 months, Washington Redskins safety Sean Taylor and Denver Broncos cornerback Darrent Williams were shot and killed. For the NFL, a league of roughly 1,800 young men, this is an astoundingly high casualty rate.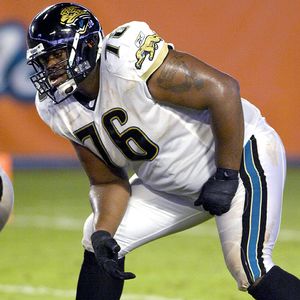 Al Messerschmidt/Getty Images
The shooting of Richard Collier is just the latest tragedy to hit the NFL.
It's sad and it's confusing and it's maddening. It's also clearly an issue that needs to be addressed with something more serious and considered than a dress code or a conduct policy.
Ten years ago, the news of a professional athlete being killed or shot on the street would have been the lead story in every sports section. Twenty years ago, it might have been on the front page of every newspaper in the country. Now, though, the shock is gone.
What's the historical reaction to a situation like this? It's always been addressed with the same term: image problem.
NFL players get arrested? The league has an image problem.
NBA players head into the stands to fight? The league has an image problem.
Major League Baseball is revealed to be a traveling pharmacy? The league has an image problem.
And if three young football players are shot in the span of 18 months? The league has an image problem.
No. Wrong. Forget the league on this one. Forget image. These tragedies have pushed us well past that point. It's time for these issues to be taken out of the area of public relations and into the area of reality.
This is not an image problem. This is not an issue that should be framed in terms of marketing or television ratings or ticket sales. This is not a PR issue, and not something that can be sweetened by applying a few more United Way commercials as icing.
Professional athletes being victimized by violent crime -- or perpetrating it -- is becoming a major social issue.
Three shootings in 18 months. The Jaguars have had 11 players arrested in the past year. Think about it: Even taking into account the inflow and outflow of players, that's somewhere around 20 percent.
In many ways, this has become a lifestyle issue. The lines are no longer clear -- Collier was shot in a nice neighborhood. He and a former teammate had been at a club (presumably a nice one) and were returning to the home of two women they met while they were out.
This is a delicate issue. Obviously, the person or people who pulled the trigger are the criminals here, and Collier is the victim. But there's a pattern to a lot of the trouble athletes are finding.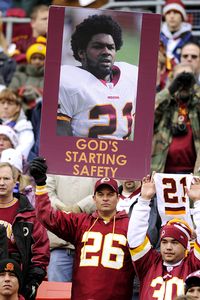 AP Photo/Nick Wass
The death of Sean Taylor hit football fans hard last year.
I don't have a solution to this problem, but it's hard to dismiss one thought: These guys are being targeted at nightclubs. Darrent Williams was shot while leaving a club. Javon Walker of the Oakland Raiders was beaten and left on a Las Vegas street after he reportedly made a spectacle of himself in a club.
And then there's Adam Jones and his club exploits, which I hesitate to mention because they threaten to take a serious issue and turn it into parody.
Is the atmosphere at these clubs so charged that any small slight, any suggestive look can result in murder? Of course, there doesn't always have to be a reason, and the problem isn't limited to high-profile athletes. Earlier this summer, a man in San Francisco and his two sons were killed in their car when they apparently didn't give another car enough room to enter a busy street. We all know those stories.
But when it comes to the special circumstances of athletes, what can be done? Does this have the potential to turn pro athletes into hermits? Will it ramp up the idea that every athlete needs a posse, and those posses need to be armed at least as well as the thugs doing the targeting?
Every sports league runs rookie seminars that go over every possible scenario. Clearly, young professional athletes should be able to go out for dinner and a few drinks wherever they want, but it's just as clear that alcohol and egos and women and late nights/early mornings fuse to create a highly combustible compound.
And yeah, the NFL has an image problem. But it's secondary to the real problem. Two murders in the past 18 months, and now this? It's instructive that we're not shocked anymore.
Instructive, and sad.
One thing, and maybe only one, is for sure: This is no longer just an image problem for a team or a league. This is a problem that is drifting perilously close to becoming a crisis, if it hasn't already reached that point. And it's time to focus on how it affects the young men involved, and not just how it reflects on a league and its bottom line.
Tim Keown is a senior writer for ESPN The Magazine. Sound off to Tim here.