Pryor's Three TDs Fuels Ohio State Past Northwestern
Ohio State scored two meaningless touchdowns in the final minutes of its 45-10 win over Northwestern on Saturday, and it looks like it was just the kind of coaching maneuver that could vault Jim Tressel into the ranks of the all-time greats.
When I watched the end of the game, I had a completely different opinion. I thought Tressel was joining the growing ranks of coaches who put their own interests above sportsmanship. I thought it was one of the more undignified performances in a sea of them. I thought it was a terrible lesson in a profession that teaches fewer and fewer good ones.
I'm guessing I thought about the same way as Northwestern coach Pat Fitzgerald, who put his hand over his mouth and spoke vociferously to his kickoff return team after Ohio State scored a garbage touchdown with seven seconds left to make it a five-touchdown advantage.
In the fourth quarter, the Buckeyes: 1) faked a punt with roughly nine minutes left, up 31-10; 2) threw a 34-yard touchdown pass on the next play to go up 38-10; 3) scored that touchdown with seven seconds left instead of taking a knee.
But what seemed indefensible Saturday afternoon is completely understandable now that I've read about the game. In fact, I have a completely different viewpoint on Tressel's actions. I have become enlightened to the ways of the world. On one popular blog, I read the following:
"Has Tressel finally figured out that winning by 35 is better than winning by 21, no matter how you get to that total? Has he finally bought into the style points (sic) factor in the rankings system? Maybe. Hopefully."
In the Columbus Dispatch, I learned we should "applaud the move" of the fake punt because it heralded a new day of Buckeyes toughness and steely-eyed aggressiveness and some other important quality previously lacking in Tressel. In fact, the ESPN announcers who questioned the final touchdown were chastised by the Dispatch; it was suggested they were grumpy because they didn't eat a halftime meal. I'm sure a hot dog would have made them applaud the move.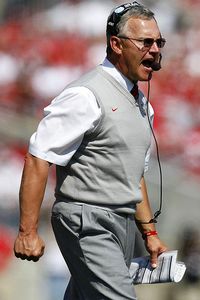 Gregory Shamus/Getty Images
Way to score in garbage time, Jim. But where were those TDs against USC or Penn State?
(Oh, and one other thing I learned: Tressel was not even asked about either of the last two touchdowns in his postgame press conference. Mike Wallace must have had the day off or something. Tressel brought it up himself, saying of the last touchdown, "Who knew he would run for all those yards?" Not me, but I know how many yards you run for on a kneel-down: minus 1.)
First, don't bother with all the comments about skirts and checkers and afternoon tea. I'll save you the trouble -- this is football, so you stomp your opponent until he falls and then you grind your heel into his throat until you've finished the job.
Go team.
But spare me the concept of college football teams being an extension of the educational system -- and football coaches being educators. And understand something else: This problem is getting worse. Whether it's done to impress pollsters or out of pure arrogance, it's bound to have consequences. As Fitzgerald was screaming into his hands, I had one thought: It's only a matter of time before retaliation results in someone getting hurt. A coach with nothing to lose is going to designate a kid with nothing to lose to go after someone. If guys like Tressel and Mike Leach and countless others can use kids for their own purposes, guys on the other side can do the same.
Either that or there will be a brawl at midfield. Many more displays like Ohio State's on Saturday and it will happen. Guaranteed.
This Week's List
• Every time I read something like this a big photo of Derek Bell and the words "Operation Shutdown" appear in my head, in the shape of a billboard: Several Browns, led by Jamal Lewis, are suggesting some of their teammates quit during last week's loss to the Broncos.
• From the look of my television, all the roads leading to the arena were closed: The crowd shots of ARCO Arena during the Warriors-Kings game Sunday night bore no resemblance to the years and years of consecutive sellouts.
• Guns don't kill people -- football games do: Two LSU fans were shot dead Saturday evening in Owassa, Ala., after they showed up at the house of an Alabama fan with a pistol; the Alabama fan allegedly had a shotgun.
• We probably could have guessed: A sheriff's investigator says alcohol may have been a factor.
• Just for the heck of it: Ernie (Arrowhead) Holmes, and the helicopter.
• Buy the beer and guacamole now, because supplies will dwindle as the week wears on: Rams vs. 49ers, Sunday.
• A statistic that surprised me, which is indicative either of the incomprehensibility of the statistic or my powers of observation: Kurt Warner has the second-highest career passer rating of all time, behind only Steve Young.
• This week's eBay find: A 1975 Tim Foli Twinkies baseball card.
• OK, Pete Carroll -- guess who's playing in the title game if it comes down to Texas and USC: Taking the counterintuitive approach, Longhorns coach Mack Brown buttered up the BCS by pointing out how much better it is than the previous system.
• And if you need a second opinion: Ask Jeff Tedford -- he knows.
• And finally, in a world fraught with insecurity and division, it's heartening to see someone with the guts to tackle a tough issue and lay it bare in terms that can unite all of us: A headline Monday on Google News managed to speak to us all -- "Holliday traded to A's: Disastrous for fantasy owners."
ESPN The Magazine senior writer Tim Keown co-wrote Josh Hamilton's autobiography, "Beyond Belief: Finding the Strength to Come Back," which is available now on Amazon.com. Sound off to Tim here.