It's pretty easy to agree on the hierarchy of the NBA. There are three really good teams -- Celtics, Cavaliers, Lakers. There are a handful of teams that could contend if everything were to break just right -- Orlando, San Antonio, maybe Denver. And, finally, there is pretty much everybody else.
Which raises an interesting question: What do the owners and general managers of so many of the league's worst teams see that the rest of us don't?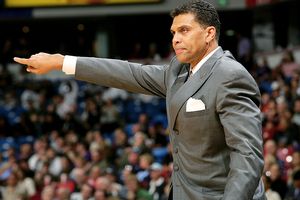 Rocky Widner/NBAE/Getty Images
Wait, Reggie Theus is the reason the Kings aren't good this year?
Six coaches have been fired before Christmas, and aside from the obvious lemming-into-the-sea reasons -- they fired their guy, so maybe I should, too -- there's little reason to believe the men hired to replace the fired coaches are better bets to lead their teams.
Without knowing the locker-room or front-office politics involved, did any non-glue-sniffing human expect the Sacramento Kings to be a lot better than 6-18 through their first 24 games? And how many of those would have felt the same had they known Kevin Martin, Brad Miller and Francisco Garcia would all miss significant time?
It's safe to say fan discontent hurt former coach Reggie Theus more than most other coaches. There was a time when all a Kings team had to do was put its uniforms on right-side out and the arena would be filled with people just glad to be out of the house. Now, though, the tenor has changed, the building rarely is full and management has to create the appearance of forceful action.
(There are exceptions, or at least one. The 76ers fired Maurice Cheeks because of severe underperformance with a high-priced roster that management thought would make a run at the Celtics. They overestimated the impact of the Elton Brand signing, but the circumstances that led to the firing of Cheeks -- big buildup, no delivery -- follow the well-worn path of firings in pro sports.)
But of the new guys, only Kevin McHale had coached an NBA game before. Aside from the momentary spikes inevitably created by a coaching change -- Sacramento 118, Minnesota 103 on Monday night -- none of the league's worst teams will be any less worse with new coaches.
There aren't many growth industries in our current economic state, but apparently "interim NBA head coach" is one of them.
---
Last week I wrote what was intended to be a satirical look at the importance of college football in the South. The idea was simple: We've become homogeneous as a society, and very few regional differences separate us. College football, though -- that's one.
My thoughts were sparked by a news story regarding Olive Tuberville, mother of recently deposed Auburn coach Tommy Tuberville. She spoke to a local reporter about her belief that her son was fired and did not resign. I poked fun -- gently, I thought -- by saying reporters in other parts of the country wouldn't have thought to call the coach's mom.
(By the way -- Gene Chizik over Turner Gill? I don't know whether Charles Barkley is right in saying that race was the reason Gill wasn't hired. I do know Auburn needed to make a hire that would return it to relevance in the SEC, and Chizik wasn't it. Think about the PR boost -- good and bad -- that Alabama got when it hired Nick Saban, then look at this hire. This goes beyond Gill, even. It's hard to come up with a good argument for Chizik instead of Tuberville, a man who averaged more than eight wins a season with the Tigers.)
Anyway, I heard from the reporter on the Tuberville story, Joe McAdory of the Opelika-Auburn News, who wanted to clarify. He did not call Olive Tuberville; he went to Tommy's house the night he lost his job. "Olive answered the door and invited me in. She knew I was a reporter and agreed to answer my questions as I waited for Tommy to arrive."
So McAdory went after the story and got it, even if it wasn't from the source he might have anticipated. Good for him, and bad for me, I suppose, for suggesting using an elderly woman as a source "creepy."
However, there's a greater truth at work here. Judging by the response, it's clear I was correct on one account: College football in the South is a serious -- and sometimes profane -- business.
This week's list
• "Mr. Irrelevance, meet your party at the Downtown Athletic Club. Mr. Irrelevance, please meet your party ... ": The Heisman Trophy hasn't been completely discredited -- it's still the most overhyped award in sports -- but the claim "best player in college football" has been diminished by the fact that eight of the past nine winners have been quarterbacks from title-contending teams.
• Sometimes, not even a halo is enough: From all media accounts, Bills coach Dick Jauron is the shining light of humanity, but there's a good chance he'll need more than that to keep his job after the disastrous play call that resulted in the Jets' winning score on Sunday.
• Just for the heck of it: Joe Cribbs.
• In other news, there's this one guy who called into a sports talk radio show, and he says he thinks A-Rod is like, the worst player ever, you know what I'm saying? In this week's biggest "who cares?" moment, Steve Williams, international megacelebrity and Tiger Woods' caddie, says he can't stand Phil Mickelson.
• The Lions might never miss an opportunity to miss an opportunity, but these guys take a backseat to nobody: The Chiefs, who can lose a three-score lead faster -- and more often -- than any team in history.
• Maybe he should just be happy some of these guys are still desirable: According to a report in the Contra Costa Times, Raiders coach Tom Cable is "pissed" that Lane Kiffin is poaching his coaching staff and some members of the team's personnel division, which nobody knew really existed until Cable got pissed about losing some of it.
• Cable likes 'em double-sided in silver-and-black ink, and you just can't teach that: One of the recently poached Raiders employees is Steve Reaves, one of Kiffin's brothers-in-law and a guy whose duties with the team included but were not limited to making copies.
• And finally, to give you an idea what this means, even JaMarcus Russell is listed in the Raiders' media guide: Steve Reaves, the copyboy/brother-in-law, wasn't even listed in the Raiders' media guide.
ESPN The Magazine senior writer Tim Keown co-wrote Josh Hamilton's autobiography, "Beyond Belief: Finding the Strength to Come Back," which is available on Amazon.com. Sound off to Tim here.