Commentary
Breaking down foregone conclusions
Originally Published:
May 5, 2009
By
Tim Keown
| Page 2
What if Kobe-LeBron doesn't happen? Lakers-Cavs has been a foregone conclusion since Kevin Garnett was declared out for the playoffs, but now we have one reason to believe we might have been getting ahead of ourselves: The Rockets' win over the Lakers on Monday night in Los Angeles didn't look anything like a fluke.
The Rockets have a chance. A good chance. I wouldn't have said that before Game 1, but consider this: (1) Shane Battier and Ron Artest are big enough to get a hand in Kobe's face on the perimeter and quick enough to stay in front of him to get help on drives; (2) the Rockets' big men are bigger and stronger than Pau Gasol and Andrew Bynum; and (3) Aaron Brooks is a breakdown guard, fast enough to beat his man off the dribble, especially Sasha Vujacic. As Charles Barkley said, Phil Jackson needs to play Jordan Farmar to slow down Brooks.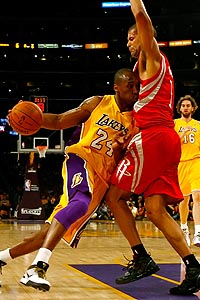 Jeff Gross/Getty ImagesDo Shane Battier and Co. have what it takes to dethrone the Lakers?
This is going to be a good series. With Artest on his best behavior -- right now Kenyon Martin has him beat for Player Most Likely to Shred His Team's Chances With Thuggery -- and Yao hitting every single free throw that comes his way, the Rockets just might make this happen.
As the series plays out, Artest will be worth watching. His attitude, so often a negative for his teams, is exactly what the Rockets need. He thinks and plays like the best player on the floor, no matter who else is out there. Because his team's biggest star, Yao, plays without swagger or arrogance, Artest's presence is a huge deal in a matchup against Kobe and the Lakers.
And on the other side … Battier. I'm not sure what to make of all the "Moneyball"-like statistical analysis that has crept into the NBA, but I know Battier has become the cover boy. He does a lot of things that don't show up in the box score, which is either a denunciation of the traditional box score or of Battier.
There's an argument to be made on both sides, but I know this: He made a play in Game 1 that no box score would ever dream of including, and it might have been the biggest of the game.
With 35 seconds left, the Rockets up by six and trying to break the Lakers' trapping press, Brooks tossed a lazy pass toward the Lakers' hoop in the direction of Battier. Vujacic was coming from the free-throw line to pick off the pass, but Battier jumped, got a hand on the ball and tapped it to Kyle Lowry. This was a huge play, one of those things you don't see unless you're watching. But if Battier hadn't made that play -- and it wasn't easy -- the Lakers would have been down by four with more than 30 seconds left. At that point, who knows? The Rockets might have started thinking about how they weren't supposed to win, and there's a very real possibility they might not have.
---
The left cross delivered by Manny Pacquiao to the jaw of Ricky Hatton was the most devastating punch in the ring since Mike Tyson. It's just not normal for a 140-pound man to lift a good opponent off his feet with one shot and have the guy lose consciousness before he hits the canvas.
The fight was a perfect example of the paradox of boxing. (Paradox only if you enjoy the sport, since it probably isn't a paradox at all if you think the sport is barbaric and obscene.) You can be absolutely blown away by the athletic achievement -- Pacquiao's quickness, power and genius in setting up the shot -- and then within seconds, as Hatton lay on the mat with his eyes blank and his mouth slack, you realize That's a human being lying there. That could have killed him.
Pacquaio is at his peak right now, but he'd be fine with leaving after one more fight so he can pursue his goal of holding elected office in the Philippines. If he had his choice, that one fight would be against Floyd Mayweather Jr.
The day before Pacquaio-Hatton, Mayweather unretired -- a word invented for boxers -- and announced he would fight Juan Manuel Marquez. Floyd is a smart dude; he knew if he had announced his unretirement the day after the fight, he would have had a harder time selling the idea of Marquez when everybody was clamoring for Mayweather-Pacquiao.
Of course, after watching Pacquaio take less than six minutes to destroy Hatton, Mayweather might not want anything to do with Manny. Hatton, remember, stayed in the ring for 10 rounds with Mayweather before losing by TKO.
If he beats Marquez, Mayweather might have no choice. It's the only fight anybody wants to see, and it's the only fight that could guarantee both guys more than $20 million each. One other guarantee: If Mayweather fights Pacquiao, Mayweather -- 39-0 now -- will not retire or unretire undefeated.
This Week's List
• It's not often you can say this about a big-time professional athlete, but in this case it fits: White Sox closer Bobby Jenks looks like a bodyguard for a second-tier country singer, the kind that plays weeknights at the local Native American casino.
• In about a month, when it comes time for everybody to do their annual story about the best players you don't know about, remember you read it here first: A's catcher Kurt Suzuki.
• Speaking of unsung heroes: The Celtics might have been able to survive to the Eastern Conference finals without Kevin Garnett, but the Leon Powe injury was huge.
• Just for the heck of it: LaSalle Thompson.
• Sure to make Raja Bell look like Bill Moyers: A Nuggets-Lakers series would have the added bonus of Kobe driving the lane while a little voice in the back of his head says "You sure you don't want that pull-up 12-footer? Cuz I think that's Kenyon Martin's forearm I see heading our way."
• My new favorite athlete: Calvin Borel.
• Next up on TNT: "Trash Talk," starring Sasha Vujacic.
• I know NBA refs have one of the toughest jobs in sports, but just do us one favor: Call the obvious travels, especially on the post, when guys routinely change their pivot two or three times.
• After watching the replay of Derrick Rose annihilating Brian Scalabrine's dunk attempt, I have one piece of advice for Brian: Dunk faster!
• And finally, the Hawks and Heat answered one question nobody wanted to ask: Can a seven-game series manage to get worse with each successive game?
ESPN The Magazine senior writer Tim Keown co-wrote Josh Hamilton's autobiography, "Beyond Belief: Finding the Strength to Come Back," which is available on Amazon.com. Sound off to Tim here.