Commentary
Nats should show Strasburg the money
Originally Published:
June 9, 2009
By
Tim Keown
| Page 2
We start today with a hypothetical question: If nobody raised an eyebrow when JaMarcus Russell signed with the Raiders for six years and $61 million as the NFL's No. 1 pick, why do so many people get their shorts in a wad over the idea -- the very idea -- that Scott Boras might ask for six years and $50 million for Stephen Strasburg, the best amateur pitcher in the history of the baseball draft?
Or, to make a more contemporary comparison, take Matthew Stafford's six-year, $72 million contract with the Lions. Just the price of doing business, right? I've seen both guys play, and when it comes to dominance in their chosen sport, Matthew Stafford is to Stephen Strasburg like your local community college is to MIT. Seriously, there's no comparison.
[+] Enlarge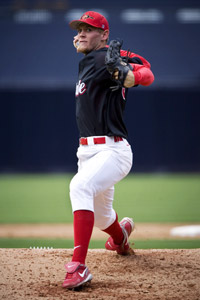 Andy Hayt/Getty ImagesIf Stephen could throw a football, no one would be complaining about the money.
And on Tuesday at roughly 6 p.m. ET, commissioner Bud Selig will call Strasburg's name when the Washington Nationals make the first pick of the MLB first-year player draft. And the course of events that follows will be predictable: The Nationals, as they should, will adhere to the elusive "slotting system" that attempts to keep first-year contracts/bonuses in check; Boras, in turn, will laugh.
As he should.
For one very important reason: He's right.
I know, I know -- there are more people lining up to get a series of rabies shots than there are defenders of Scott Boras. He is bad for baseball. He is ruthless. He has been sent from some faraway planet to destroy all that is good and pure and pastoral about baseball. If he thought he could pull it off, he would outlaw fathers' playing catch with sons.
And in your little fairy-tale world, the owners who control the multibillion dollar industry are altruists, interested in nothing more than the dignity of the game. Maybe, but the Lerners, who own the woeful Nationals, are worth an estimated $4.5 billion. Selig's unenforceable "slotting system" is just another loophole at those rates.
While reporting a story on Strasburg for ESPN The Magazine, I asked Jim Strasburg, Stephen's father, if he had any reservations about choosing Boras to represent his son before Stephen's junior year at San Diego State. He looked at me as if I was kidding, and said, "My reference is real estate. That's what I know. And if you had a multimillion dollar property to sell, would you go to someone who had sold maybe one or two multimillion dollar properties, or would you go to the guy who had sold more multimillion dollar properties than any of the rest of them combined? Once Scott expressed interest, there was no reason to talk to anybody else."
Even the hardest-crusted baseball scouts say Strasburg would be a front-of-the-rotation guy for more than half the big league teams right now. The scouts who have fallen in love with Strasburg -- that's most of them -- say he'd be a front-of-the-rotation guy for everybody. There simply isn't much debate -- he throws 102, he sits at 97-99 over the course of 110 pitches, and his curveball is good enough to make the scouts swoon. He has a 93 mph "one-seamer" -- think Kevin Brown in his prime -- that dives at the back foot of a right-handed hitter. And San Diego State pitching coach Rusty Filter, the man who created the monster, says Strasburg's "plus-plus" changeup couldn't be used in college because the hitters weren't good enough to be fooled by it.
More on Strasburg

San Diego State right-hander Stephen Strasburg is regarded as the best pitching prospect ever. Related content:
So, if he's a big league-ready talent, why shouldn't he be paid in a manner equal to that talent? If he were a free agent on the open market -- say, a Cuban 20-year-old with Olympic experience, a young arm and a nasty streak -- he wouldn't be able to fend off the suitors. They'd have an auction, and the Yankees would undoubtedly win with a Powerball number.
I watched Strasburg pitch in person on a chilly night in March. I had read all the overheated praise before I got to Tony Gwynn Stadium, so I went in with the attitude that Strasburg couldn't possibly live up to the hype. I tried to summon my inner scout, which is that little voice inside that says, "Prove it," no matter how good someone is supposed to be.
Even with my expectations, I was blown away. The ball explodes out of his hand in a way that I've seen in person just twice: (1) present-day Tim Lincecum, and (2) Nolan Ryan, when he was 42 years old. On the night I watched, Strasburg reached 101 and cruised easily at 98.
Boras, in a conversation with our intrepid co-conspirator Jerry Crasnick, asks a pertinent question: "What if Stephen Strasburg was raised in Tibet? What would we do? Because he's American, we're going to penalize him? That's the story."
Yes, it is. The pitcher most often mentioned in relation to Strasburg, at least in terms of money, is Daisuke Matsuzaka, who cost the Red Sox $52 million when he left Japan after nine professional seasons. When I mentioned Dice-K to Nationals GM Mike Rizzo, he was quick to point out Dice-K's length of pro service in Japan. Valid, sure, but if Dice-K was coming out of Japan with Strasburg's stuff -- 100-plus mph with a filthy hard curveball -- how much more would he have gotten? Seventy-five million? A hundred?
And the argument doesn't have to be limited to Dice-K. There is Jose Contreras and El Duque Hernandez and Livan Hernandez. Nothing in baseball, especially pitching, is assured, but none of those guys figure to have half the shelf-life or a third the success of Strasburg. To compare Strasburg to Contreras is an insult, and Contreras signed with the Yankees for four years and $32 million in 2006, based mostly on his international amateur success with the Cuban national team.
You could contend that those players were older, more established pitchers, far more prepared to face the rigors of the big leagues. Sure, but in August '07, the Giants gave 16-year-old Dominican third baseman Angel Villalona $2.1 million. He is considered a top prospect and someday he could be a true star, but when he signed he wasn't 1/20th the prospect that Strasburg is right now. Villalona is spending his second professional season in Class A San Jose. Trust me, there is no reason whatsoever for Strasburg to spend even one inning in Class A.
Michael Inoa, a 16-year-old Dominican right-handed pitcher, signed with the A's for $4.25 million in January 2008. And get this: At the time of his signing, he had never pitched in a game. It's worth repeating: He had never pitched in a game.
Inoa has the potential to be amazing. He throws 93 and has the makings of a perfect pitcher's build -- in other words, the A's gave him more than $4 million knowing they would have to work for four or five years to get Inoa to the point, physically, where Strasburg is right now.
Inoa was the creation of the baseball-academy mentality in the Dominican, where kids with talent and the right physical tools run through drills and work on mechanics until they catch the eyes of scouts. It's like machining a bolt, which doesn't make it wrong, but it doesn't change the fact that thousands of 10-year-olds in America right now have more experience throwing to batters in competitive situations than Michael Inoa had when he collected more than $4 million to play professional baseball.
This is not to say that anybody should feel sorry for Strasburg if he ultimately ends up signing with the Nationals for four years and $25 million. The old-time ballplayers will arch their aching backs and say a guy shouldn't be able to retire before he even starts his job. But the talent is undeniable, and since when do we create artificial limits on the value of those talents? And why does a guy who is not subject to the draft have an advantage over an American college player who has the misfortune of being forced to deal with one team in one two-month period to determine his worth?
Those are the questions Scott Boras would like to have answered, and you can bet he'll do his level best to ask them. And I, for one, would like to eavesdrop.
ESPN The Magazine senior writer Tim Keown co-wrote Josh Hamilton's autobiography, "Beyond Belief: Finding the Strength to Come Back," which is available on Amazon.com. Sound off to Tim here.