Commentary
Cowboys Stadium is, to be blunt, crazy
Originally Published:
June 30, 2009
By
Tim Keown
| Page 2
I'm sitting in the press box at the Rangers Ballpark in Arlington as I write this. The Angels and Rangers, the top two teams in the American League West, are playing the first game of a three-game series. As far as the home team is concerned, this is about as big as a June series can get.
And yet the crowd is just a dinner party under 17,000, and the atmosphere is underwhelming. The fans sat around waiting for the Rangers to do something, and when it became clear they wouldn't, they politely filed out of the stadium and walked the several hundred miles to their cars.
[+] Enlarge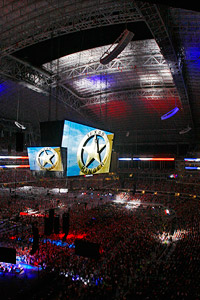 AP Photo/Mike StoneThe retractable roof opens during the first event at Cowboys Stadium -- a George Strait and Reba McEntire concert.
Before you get upset, this isn't a screed against Texas or Rangers fans or the Rangers or the Angels or anything else. People spend money as they see fit, and if the decision comes down to a weekend Costco run or a night with Eddie Guardado and Justin Speier, you choose what works best.
But just beyond the parking lots -- or, more accurately, between the parking lots -- there is a monument to excess that makes you wonder whether we've all lost our minds. The new Cowboys Stadium, built at a cost of $1.15 billion (and the meter is probably still running), looms like a character in the fever dream of a kid who reads too many comic books.
It's utterly insane. It's impossible to describe. The obvious comparison is to a spaceship, but that's too facile. Maybe it resembles the imaginary place where spaceships are built, but it really doesn't look like anything I've ever seen -- and that includes University of Phoenix Stadium in Glendale, Ariz., which is hideously overdone, but compared to this thing looks like an old washing machine sitting in the front yard of a single-wide trailer.
(Obviously, they'll fill it. I know that. It's Dallas, after all, and it's the Cowboys. They'll fill it if they play an exhibition game against UT-San Antonio in the middle of the night. Filling it isn't the issue, and neither is the pride Jerry Jones must feel when he looks out over his domain.)
And on a Monday night in June, it sat there with its millions of lights blazing into the suburban night, existing solely because it can. And once the novelty of the vision wears off, there's only one question left: What the hell?
It'll cost you $15 just to tour the thing, and judging by the size of it, you'd better bring your sensible shoes. The citizens of Arlington provided $325 million in funding for the project some of them have dubbed Jerry World, but there's no hometown discount.
Not to stray too far from the fun and frivolity of lives lived vicariously through sports, but 600,000 people a month lose their jobs (in a good month) and yet we've still got the money and ingenuity to build a billion-dollar-plus palace for 10 games a year and a bunch of secondary events?
It's remarkable and insane at the same time.
On one hand, we've still got it.
On the other hand, this is what we have to show for it?
It's one of the coolest buildings I've ever seen in my life, and easily the most ridiculous.
THIS WEEK'S LIST
• And better yet, if he knows the testing schedule he might be back to full strength by September: Manny Ramirez is just about finished with his MLB-approved head start that allows him to hit the ground running when his suspension runs out Friday.
• Shaq, the Phil Jackson of dominant centers: Now the questions must begin: Can the eternal second banana ever win a title without Kobe, Dwyane or LeBron?
• Take that, Urban Meyer! Slacker! Evan Berry, 13, has committed to play football for Lane Kiffin (or his successor, or his successor's successor) at Tennessee.
• And somewhere: Bryce Harper fumes.
• Just another reason why there's a new sheriff in town: Meyer has a policy of waiting for adolescents to show secondary puberty characteristics before offering scholarships.
• Just for the heck of it: Ed Ott.
• Guaranteed to stop a game dead in its tracks: Vicente Padilla, the slowest worker in baseball.
• Because, you know, nobody saw this coming: Milton Bradley and Lou Piniella.
• Funny even if it isn't true: According to several reports out of Los Angeles, Kobe Bryant and Mayor Antonio Villaraigosa apparently had some issues regarding compatibility during the Lakers' championship parade.
• And finally, a big night in Lake Elsinore doesn't move the needle the way it once did: Manny has dropped to seventh among outfielders in voting for the National League All-Star team.
ESPN The Magazine senior writer Tim Keown co-wrote Josh Hamilton's autobiography, "Beyond Belief: Finding the Strength to Come Back," which is available on Amazon.com. Sound off to Tim here.