Single page view
By Tim Keown
Page 2
The news: Jason Williams of the Memphis Grizzlies engages in locker-room altercation with Memphis Commercial-Appeal columnist Geoff Calkins after the Suns complete a four-game sweep.
The issue: In print, Calkins quoted Williams as saying "I'm happy. I go home and see my kids and my wife and I'm OK. All this [stuff] is secondary."
The question: What do you expect from these guys?
It's not meant to be flippant, but really – a lot of athletes don't care as much as you might think. Fans often find it hard to accept when they take losses harder than players do. Calkins had every right to question Williams' desire based on the man's own words. People pay money for tickets and souvenirs. Owners pay salaries based in part on the money generated by the public. The whole symbiotic side of it cries out for an athlete to at least pretend it's a big deal.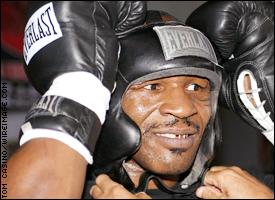 "Hi! Remember me? I used to be Mike Tyson."
But the truth is, sometimes it might not be. Sometimes, the players on the No. 8-seeded team know what's up – they're going to lose, they're going to get paid, they're going to move on. It's a long season, you do your best, things work out.
Some guys, though, think it makes them look smart or more balanced if they say they still have their health and their family and their sanity. It rarely works that way, though.
As usual, it gets down to image. It's one thing for Williams to believe the game is secondary to his apparently ethereal home life, but it's something entirely different to have it spelled out in black and white for the people who invest their money and their emotions in a team's fortunes. Those people, right or wrong, expect more.
Since he stole Calkins' pen and screamed while the columnist was attempting to do his job, it's clear that Williams does care. It's what he cares about that's in question.
This Week's List
• As an aside: Has anyone ever looked less committed to a cause than Williams as he walked around with Calkins' pen, wearing that silly cap, his eyes bugging out of his head?
• A tip to make the NBA playoffs shorter and better: Switch to a 14-team format, give the top seed in each conference a first-round bye and ditch the tiresome 8 vs. 1 matchups.
• And just as the Sooners' baseball program was starting to gain a foothold in the all-important inner-city recruiting battle: Larry Cochell resigns as head coach after twice using a racial epithet – but in a "good" way – to describe his African-American center fielder.
• Shot of the playoffs, so far: Ray Allen's fall-away 3 over Brad Miller with the shot clock winding down Sunday night and the Kings still holding slim hope for a comeback.
• Tick tick tick: Yanks complete 3-6 homestand.
• Judging by his slick little move on the union on the steroid penalties issue: There's a good chance Bud Selig has been watching some of that there poker on the TV.
• Kind of like "FBI, CIA heads meet": A headline in Monday's San Francisco Chronicle read, "St. Mary's hosts MPSF lacrosse."
• For the one or two of you who don't know: Mountain Pacific Sports Federation.