Single page view
By Tim Keown
Page 2
Proof that the funniest things aren't meant to be:
Kevin McBride and his little flunky manager had just finished telling the world they were just getting started, that Kevin was ready to "shock the world," that he'd fight anyone, anywhere, anytime. Bring it on, McBride said. You're looking at the next great champion. Ireland's waiting.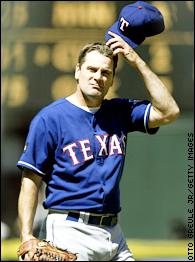 Maybe a few rejection letters would straighten Kenny out.
Then Mike Tyson shows up and says he won't fight anymore. McBride is sitting right next to him, and when Tyson is asked by one of the goofball sycophants if he might consider fighting again, just a few more times, just for us, just for the people, Tyson says, "No offense to Kevin, but we all know what his record is. We know what kind of fighter he is." Then he says he doesn't want to defile himself or his sport any further.
Tyson doesn't have to be any more direct. The point was made: McBride is a stiff, and the once-great Tyson lost to a stiff. Therefore, Tyson is presently lower than a stiff.
But what does McBride do while Tyson is saying this? He nods, of course, bobbing his head like it's spring-loaded. Mike's not only right, he's so right McBride can barely contain himself. He just told us he's going to be the next great heavyweight, and now he's agreeing with every word Tyson is saying.
It was rich and hilarious and pathetic and perfect all at the same time. Nobody could have made it up.
This week's list
• Fashion tips from the pros: It's prime time for college baseball, so it's time for all the stylish young men to take after their favorite college head coach and put a high-quality, chemist-grade mechanical pencil behind the ear.
• And not only that, but nobody coaching 8-year-olds can successfully pull off the pencil-behind-the-ear move: Why is the adult who leads the team in Little League called a manager while the adult who leads a college baseball team is called a head coach?
• Of course, there's always a chance she wasn't on the air for us to marvel at her basketball expertise: Eva Longoria's views on the competitive balance in the NBA vis-a-vis the San Antonio Spurs were slightly less than compelling.
• Purely hypothetical, but still: If there were a basketball equivalent to a brushback pitch, how much time do you think Rasheed Wallace would spend on his butt?
• Next on Fox – "When Good Trades Go Bad": Someone needs to explain how Ryan Drese, Texas' Opening Day starter, is released outright while Tomo Ohka, who had to leave the Nationals after crossing Frank Robinson, can fetch Junior Spivey in a trade.
• This would have been the world's easiest prediction if it hadn't already happened: Some hotshot college pitcher drafted in the first round will be asked to throw too many pitches in the next two weeks, sparking concern from the team that drafted him.
• The "already" part: Mark McCormick, Baylor, 137 pitches in Sunday's super regional.
• Just for the heck of it: Campy Russell.
• These two, believe it or not, didn't get along when they worked together: According to The Associated Press, Rick Majerus reportedly is telling NBA teams that Andrew Bogut – Majerus' former player at Utah – has a degenerative eye disorder that makes him a risky pick. Bogut says it's bogus.