Lots to cover this week, and I'm still giddy from this weekend's Arcade Fire homecoming concert. Let's get right to it.
1. The American League's ERA leader is 40 years old and couldn't dent a slice of bread with his fastball. Betting against him could be a bad idea.
Tim Wakefield's ERA is a microscopic 1.79 through his first seven starts, ranking him ahead of Johan Santana, Roy Halladay, Josh Beckett, Danny Haren and every other top-flight pitcher in the league. In Wakefield's past two starts, he's shut out the Twins and Blue Jays over 14 innings, yielding just six hits.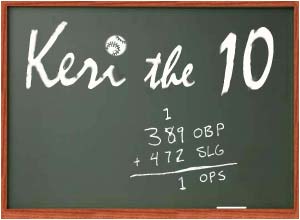 Beckett's MLB-leading seven wins have inspired fawning in Boston, mixed with a healthy dose of relief that the Sox didn't get completely hosed in sending Hanley Ramirez to the Marlins. But Beckett's always had great stuff, showed flashes of stardom in Florida, and is 14 years younger than the ERA king. Wakefield's story is far more interesting for two reasons:
First, he's complicit in the most lopsided contract in the game. As Rany Jazayerli explained this spring, Wakefield is signed to a one-year, $4 million deal with the Red Sox -- and the Sox can renew the deal at that rate, no questions asked, for eternity, with Wakefield's complete, unconditional approval. Think about that for a second. If Wakefield somehow keeps blazing through the league and ends up a top-five Cy Young pitcher this season, the Sox can have him back in '08 at less than half of what MLB's worst pitcher, Jeff Weaver, is making in '07. If he blows out his shoulder or turns into a pumpkin, they can chuck him and invest the cash elsewhere.
Second, anyone who claims he can predict what Wakefield will do for the rest of the season is lying. Sure, his past four seasons of above-4.00 ERAs suggest that his early-season performance won't last. But knuckleballers are the most unpredictable of all baseball creatures, not subject to typical statistical patterns. Studies that show how the vast majority of pitchers have very little control over the outcome of balls hit in play (a topic discussed in this space two weeks ago) are quick to note that the biggest glaring exception is the knuckleball pitcher. For that reason, it's presumptuous to assume that Wakefield's .213 batting-average-against this year, sixth-lowest in baseball and well below the league norm of around .300, will somehow correct itself over time.
Even more remarkably, knuckleball pitchers often seem able to cheat the aging process, with spectacular results. Charlie Hough threw 252 innings with an ERA 23 percent better than the league average while pitching in Texas at age 40. Phil Niekro tossed 342 innings(!!!) at age 40, and had five above-average seasons after that before finally retiring at 48. Hoyt Wilhelm threw 136 1/3 innings at age 40 as the league's biggest relief workhorse; he had nine straight above-average seasons after 40, including a 1967 campaign in which he posted a 1.31 ERA at age 44.
It could be that after all these years, Wakefield simply has found the perfect grip for his trademark pitch, and -- combined with a few lucky gusts of wind -- is on pace for another knuckleballer season for the ages. Or he could get rocked in his next start, miss a bunch of starts to injuries like he did last year, and go back to being good ol' back-of-the-rotation Tim Wakefield. It's as fun a story as there is in baseball right now.
2. It's mid-May, so you know what that means: The Minnesota Twins finally have decided to get serious about their season.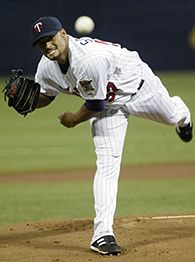 AP Photo/Paul Battaglia
It's time for Johan Santana and the Twins to get serious.
In 2006, the Twins came into the season with one of the worst left sides of an infield ever assembled on a contending team, and huge question marks at the back of their starting rotation, despite ample talent in the farm system to address those problems. On May 14 of last year, the Twins were below .500, despite having won the AL Central three of the previous four years, and sporting a roster that included the eventual AL batting champion (Joe Mauer), Cy Young winner (Johan Santana) and MVP (Justin Morneau). In trusting starting spots to Juan Castro, Tony Batista, Kyle Lohse, Carlos Silva and Scott Baker, then sticking with those players well into May and in some cases June, the Twins were attempting to perform the baseball equivalent of stealing a base while hopping to second in a potato sack. It was around this time that the Twins finally wised up, handed jobs to the likes of Francisco Liriano, Boof Bonser, Jason Bartlett and Nick Punto, and saw their season take off -- resulting in another division crown.
At least some of last year's chaff had some redeeming value: Silva has been inconsistent, but at times very effective as a control specialist; Lohse has looked very good at times this year in Cincinnati; and Baker has good stuff but probably just wasn't ready to succeed in the majors. Sidney Ponson had no such redeeming qualities, and he is the biggest reason the Twins again find themselves below .500 this year, despite their array of frontline talent. Ponson got his walking papers on Sunday, getting designated for assignment for the third time in 10 months. Since re-signing with the Orioles before the 2004 season, Ponson has logged a series of escalating ERAs, from 5.30 in 2004 to 6.21 in 2005, 6.25 in 2006 and 6.93 this season (while allowing a ridiculous two baserunners per inning). Though Ponson will cost Minnesota only $1 million this year, it was impossible to understand why the team tapped the plus-size righty over the likes of Matt Garza, Kevin Slowey, Glen Perkins and even Baker when the Twins broke camp.
As a final kick in the groin to the Orioles, Yankees, Cardinals and Twins -- Ponson's employers over the past three-plus seasons -- it's worth noting that Ponson will have cleared close to $14 million while serving up delicious meatballs all over the place during that time. Said the obviously unconcerned Sir Sidney: "If nothing happens, nothing happens. No problem. I'll just go sit on the beach."
Moms, in the spirit of Mother's Day, heed this advice: Teach your kids how to throw 90 miles per hour. You could end up ensuring their financial future for life.
3. Jack Cust cannot be stopped by mere mortals.
Last week, the A's earned kudos for refusing to stand pat and instead going after a crop of players with excellent minor-league track records who've struggled to get a clean shot in the bigs. A week later, Jack Cust has become the talk of the baseball world.
When he first broke into the minor leagues, statheads loved Cust. Here was a player with a rare combination of light-tower power and a discerning batting eye, able to wait for his pitch and whack it a mile when he got it. Scouts and most major-league teams chose to focus instead on his weaknesses -- some real, some overblown. Cust's propensity to strike out reminded too many people of whiff artists like Dave Kingman -- players who can look ugly a lot at the plate and make reporters question the manager about the latest four-strikeout game. Those comparisons ignored how much value Kingman offered offensively, as well as Cust's superior on-base skills (despite his so-so batting averages). One complaint was more legitimate: Cust couldn't field his way out of a paper bag … still can't.
So the A's did what any team desperate for offense and riddled with injuries would do: They signed him to a dirt-cheap deal, tossed him in the lineup, and used him at DH as much as possible, even with their outfield badly depleted. All Cust has done is crank five homers in the past four games (six in his first seven games of the season) while compiling a line of .346 AVG/.469 OBP/1.077 SLG. With Milton Bradley and Nick Swisher getting healthy, Cust should move almost exclusively to DH while Mike Piazza rehabs. Cust might not keep up his Ruthian pace. But if the A's plug him into the lineup and just leave him alone, they should continue to be pleased with the results.
Teams, fans and the media often focus way too much on a player's weaknesses, and not enough on his strengths. The Jack Cust story shows what can happen when a team accepts a player's limitations and puts him in a situation to do what he does best.
4. The Tigers could be just as good as they were last year -- maybe better.
Even after Sunday night's blowout loss to the Twins, the Tigers own the second-best record in the AL, thanks to a scorching hot streak that's seen them win 11 of their past 13 games. Sure, Baltimore, Kansas City and Seattle aren't quite the '27 Yankees, and the Twins have struggled early on. But the Tigers will need to win games against both the league's best and its worst to make another playoff run in the tough AL Central.
One of the league's most pleasant surprises (non-Cust) has been Magglio Ordonez. An MVP-caliber player during his peak years with the White Sox, Mags had become much closer to a league-average corner outfielder after signing a massive five-year, $75 million deal with Detroit. But this season Ordonez has crushed the ball, getting back to his tendency to hit balls to right-center with authority -- a staple of his game in Chicago. He leads the league with 18 doubles to go with his seven homers. And has spiked his walk rate, with pitchers becoming more afraid to challenge him, and Ordonez resisting the urge to hack at work-around offerings.
Led by Ordonez (.344/.437/.648), the Tigers' offense has been the team's key to success this season, a reversal from last year's pitching-and-defense-led World Series run. Detroit's tied for second in the majors in runs scored, but ranks just 18th in team ERA -- despite playing in one of the best pitcher's parks in the majors. The pitching might take a while to come around, with top reliever Joel Zumaya out for three months and top starter prospect Andrew Miller still a few weeks away from joining the rotation. But the offense could get even better: Off-season acquisition Gary Sheffield has just started to hit, Ivan Rodriguez has hit well below his career norms (.238/.244/.354) and is due for a bounce-back, and Dave Dombrowski is likely to upgrade at first base with Sean Casey looking like Doug Mientkiewicz v2.0.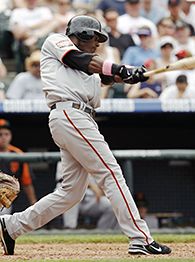 AP Photo/David Zalubowski
Fred Lewis' performance should give Giants fans hope.
5. The Giants could have their first real position-player prospect since Rich Aurilia.
His name's Fred Lewis, and you're not getting him cheap in your fantasy league -- not after what he did on Sunday. With less than 20 major league ABs heading into Sunday's game, Lewis became the first Giants rookie to hit for the cycle in 35 years, when Dave Kingman (there's that name again) did it. Despite the power display, Lewis projects more as a classic leadoff man, with a career minor league OBP above .380 and great speed (30+ steals in three straight seasons from 2003 to '05). He turns 27 this year so his upside might be limited. Still, with Dave Roberts lost to elbow surgery and the Giants' roster in dire need of young, offensive talent (every starter is over 30), they'll give Lewis every chance to succeed. If they need another reason, there's this: Hitting for the cycle is rarer than throwing a no-hitter.
6. PETA has a new poster boy for animal abuse: Brad Penny.
Where they once lived peacefully, worms now quake in fear when Penny takes the mound. After a seven-year major-league career in which he graded as a near-neutral pitcher who induced only a few more groundballs than flyballs, Penny has become a poor man's Brandon Webb this season, with a 2.26 GB/FB rate. As a result, Penny is the author of an amazing streak: 206 batters have stepped in against him this year. Not one has hit a home run. That's by far the longest such streak this season, stretching over 51 2/3 innings.
Penny's homer-preventing efforts have fueled a breakout season: He's 5-0 with a league-leading 1.39 ERA. Last week he threw two dominant outings, striking out 14 in seven scoreless innings against the Marlins, then yielding just one run on four hits in 6 1/3 innings against the Reds. The Dodgers are in first place in the NL West, with a three-game lead over the Padres, and have the third-best team ERA in MLB. If Penny keeps making batters chop three-hoppers to short, they could stay on top for a long time.
7. The Blue Jays are so banged up, even the loss of Victor Zambrano might not help them.
Roy Halladay's bout of appendicitis is expected to knock the Jays ace/Cy Young contender out for 4-6 weeks, the latest setback for the league's most snake-bitten team. B.J. Ryan's elbow injury led to Tommy John surgery and even more negative press in Toronto, after J.P. Ricciardi admitted that the team tried to cover up the injury and couch it as a nagging back problem. Troy Glaus is killing the ball when he's healthy, but he can't stay in the lineup, his latest leg injury raising the possibility of another DL stint. Reed Johnson's already out until at least midseason after back surgery, and a number of other players have also missed chunks of time.
The Jays are tied for last place at 15-22. John Gibbons probably won't make it through the season, and you have to wonder how much longer ownership will stick with Ricciardi, after the Jays ponied up well over $200 million for multiple years of Ryan, A.J. Burnett and Vernon Wells, only to see the team regress to Devil Rays land. On the plus side, Zambrano and his 10.97 ERA are out of the picture for now, after Toronto DL'd the righty with a strained forearm. "Strained forearm" being code for "lack of ability."
8. Oliver Perez for Xavier Nady could become the most lopsided deal since Travis Hafner for Einar Diaz.
Neither of those trades was straight-up. But as far as the main players go, it's tough to argue with acquiring a 25-year-old potential staff ace for an outfielder who can't hit righties -- unless it's landing a David Ortiz clone for a catcher who can't hit at all. In Perez, the Mets might have rediscovered the then-22-year-old dynamo who ransacked the league in 2004, fanning 239 in 196 innings while posting a 2.98 ERA. After a rough outing in San Francisco, Perez rebounded to throw 8 1/3 innings of two-hit ball against the Brewers on Sunday, lifting the Mets to within a half-game of the division-leading Braves. Perez dropped his ERA to an even 3.00 on the year, while averaging more than a strikeout per inning.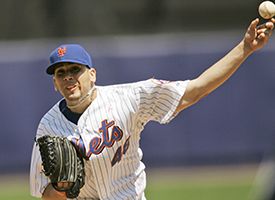 AP Photo/Kathy Willens
Maybe Oliver Perez can be an ace after all?
Most importantly, Perez has kept his walks in check, allowing just one free pass every three innings. That's well below his 2005 and 2006 averages, when a lack of command and an assortment of injuries made the Pirates shuttle Perez back and forth between the big club and the minors. Those problems eventually led Pittsburgh to trade him away for what might turn out to be about 25 cents on the dollar. Give the Mets a lot of credit for acquiring Perez, pairing him with pitching coach Rick Peterson, then entrusting him with a rotation spot. A team with legitimate World Series hopes both this season and last, the Mets were exactly the kind of team that could have been hurt most if Perez had imploded, yet they rolled the dice. On the other hand, the Pirates haven't had a winning season in 15 years, and were exactly the kind of team that could afford to wait on a great talent like Perez, knowing that the upside far outweighed the downside. If we all had the same job security afforded to Dave Littlefield, the beaches and golf courses of America would be overrun by workers ignoring their TPS reports.
9. The Angels could stand to be more aggressive on the trade front. But they shouldn't panic.
A rash of injuries has prompted the Angels to start their annual search for an offensive upgrade ahead of schedule -- and sent at least one writer into a personal vision quest to figure out why the Angels recently had Jose Molina steal home to scratch out a run. It's true that the Angels rank near the bottom of the league in walks and homers. But this is a team that's never walked much and still fared well in recent years, riding high batting averages and plenty of extra-base hits to success. On the power front, Orlando Cabrera and Mike Napoli have just three homers between them, and both have a track record that suggest better production lies ahead.
Meanwhile, Vladimir Guerrero is back in MVP form, Gary Matthews Jr. has been on fire after a slow start, the Angels should get dynamic young second baseman Howie Kendrick back by the end of the month, and Mike Scioscia is wisely using Shea Hillenbrand less lately. The pitching is stellar as always, with Bartolo Colon's impressive return bolstering a strong starting staff and the bullpen shutting teams down as usual. If Colon stays healthy, the team's pitching depth could allow them to trade a young starter for offensive help, assuming Bill Stoneman finally takes the plunge after years of flirting with impact deals. Of course, it's tough to blame Stoneman's conservative approach when you look at the standings: The Angels are back in first place, again.
10. NL MVP? How about J.J. Freakin' Hardy?
Once a highly-regarded prospect, Hardy seemed overmatched in the majors last season, leaving critics wondering whether Milwaukee had done the right thing in shifting Bill Hall to the outfield and trusting a player who couldn't manage a .300 OBP last year to play every day. All Hardy's done so far this season is tie for the NL lead with 11 homers (five in his past nine games), surge to second with 34 RBIs (15 in his past nine games), hit .325/.376/.616, handle the toughest position on the diamond, and lead the Brewers to the best record in the National League.
Jose Reyes and Barry Bonds offer compelling cases, too, with Reyes' defense and Bonds' track record of success making them far more likely to sustain their MVP-level form for the rest of the season. But Hardy's unlikely barrage on NL pitchers is exactly what makes baseball so unpredictable, and so great -- unless you're a fan of the Cubs, Reds, Astros, Cards or Pirates, of course.
Jonah Keri is a regular contributor to Page 2 and the editor and co-author of "Baseball Between the Numbers." You can contact him here.