1. The Yankees waited for him all season. Without his contributions, their playoff chances were dim. Now that he's back, they're a very real threat to storm back and contend for the wild card.
Bobby Abreu, you got here just in time.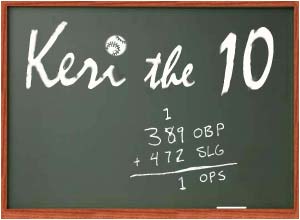 With all the attention focused on Roger Clemens, it's the revival of the Yankees' long-slumbering right fielder that sparked the Yankees' six-game winning streak, fueled the drive to Joe Torre's 2000th career managerial win and shoved the Bombers back into the playoff race. At the end of May, Abreu's line stood at .228 AVG/.289 OBP/.313 SLG. Those numbers ranked Abreu as one of the worst outfielders in baseball, along with the likes of Emil Brown, Jay Gibbons and Jason Lane. He's been a different player in June, hitting at a blistering .500/.604/.789 pace, including a 4-for-4 effort Sunday.
Abreu's not going to hit .500 for the rest of the season. But Yankees fans can stop worrying that he might hit .228. It's tough to say exactly what caused his massive slump; whatever it was, it got so bad that Abreu not only stopped hitting, he also stopped walking, a shocking development for a player who'd topped 100 walks in each of the past eight seasons. If Abreu matches his career numbers of .300/.410/.500 the rest of the way, he'll be worth about five more wins for the duration of the season than the Neifi Perez clone he resembled through the first two months. Trading Bad Abreu for Good Abreu would be about as valuable to the Yankees as trading Josh Phelps for Mark Teixeira.
Compare that to what Clemens is likely to provide compared to Kei Igawa or Matt DeSalvo. Last season, Clemens posted a stingy 2.30 ERA with the Astros, the third straight year below 3.00. On the flip side, Clemens averaged less than six innings per start and had the benefit of facing inferior National League lineups. He turns 45 in August and hasn't looked the same in limited action this year, whether on the farm or in Saturday's so-so outing against the Pirates. He'll help the Yankees, there's little doubt of that. But expecting him to be much more than two wins better than the run-of-the-mill pitchers the Yankees have been using is asking a lot.
In other words, Roger ain't the savior.
2. Trevor Hoffman's career should be honored with a Hall of Fame induction. But let's not go nuts over the 500 saves.
Number 500 happened Wednesday against the Dodgers. After the Padres' last out in the bottom of the eighth, the bullpen door swung open, "Hells Bells" boomed from the sound system, and the Petco Park crowd went nuts. This would be the culmination of a great career for Hoffman. A few minutes later, Hoffman's teammates were hugging him and carrying him off the field, with their closer having accomplished an amazing feat: He got three batters out before the Dodgers could score three runs.
If you want to celebrate Hoffman's accomplishments, acknowledge his 2.70 ERA, a mark that's 50 percent better than the league average during his career. Point to his amazing strikeout-to-walk rate of nearly 4-to-1. Or simply point out that Hoffman's been one of the best relief pitchers in the game for more than 13 seasons. But measuring a relief pitcher's value by counting his saves can be a horribly misleading exercise. The save rule allows for gimme saves like the one Hoffman notched for his 500th, while three runs up. Saves are also often about opportunity as much as ability: Joe Borowski is second in the AL in saves despite a 6.65 ERA, because the Indians win a lot and give him plenty of chances.
Also, many times the most important moments come earlier in the game, during the bases-loaded jam in the seventh with the game tied, or the two on, none out, one-run lead situation in the sixth. Two innings before Hoffman was carried off to glory, Heath Bell made what may have been the biggest pitch of the game, inducing an inning-ending double play to protect the Padres' lead after the Dodgers knocked out Greg Maddux. In fact, if you focus on run prevention instead of saves, and take high-leverage situations into account, Hoffman is the third-most valuable pitcher in the Padres' bullpen, behind Scott Linebrink and Bell.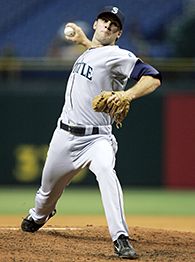 Michael C. Weimar/US Presswire
Seattle may have to move its hardthrowing rookie Brandon Morrow into the rotation.
So by all means, let's tip our caps to Hoffman for a Hall of Fame career. Just save some applause for Linebrink, Bell, Cla Meredith, Akinori Otsuka, and the many, many other relievers who've gotten the job done in front of him, with much less fanfare.
3. The Mariners scoff at the Padres' bullpen.
Three times over the weekend the M's put their relief corps up against the Padres' top-ranked crew. Three times Seattle pulled out a win. Like the Padres, the Mariners own a deep stable of effective relievers. Closer J.J. Putz has followed his breakout 2006 season with another lights-out season. George Sherrill has been a shut-down lefty in a set-up role. The unheralded pair of Sean Green and Eric O'Flaherty also has done the job. At 33-26, the Mariners are just 1.5 games behind Detroit in the wild-card chase and one of the biggest surprises in the game -- thanks in no small part to the bullpen.
But despite the pen's efforts, the M's own the fifth-worst team ERA in MLB. You can thank the horrendous duo of Jeff Weaver and Horacio Ramirez, who together comprise the worst back end of a rotation in the majors. Ramirez, whom the M's acquired for lights-out reliever Rafael Soriano in one of the most inexplicable deals in recent memory, is mercifully on the disabled list. But the Mariners somehow allowed Weaver to re-enter the rotation after hitting the DL with a 14.32 ERA, a decision that can be called nothing other than insane. With the pen in great shape and the offense ranking among the best in the game -- despite a horrible start by Richie Sexson -- the rotation remains the one weak link the M's need to address to have a shot at the postseason. Felix Hernandez is still working himself back into shape after his early-season injury. But even with a healthy Felix, a trade probably needs to happen.
WEEKLY LINKS
• Interesting feature on the excellent season being turned in by Diamondbacks outfielder Eric Byrnes. Arizona has been a factor in the NL West due mostly to its excellent pitching; the offense ranks among the bottom 10 in baseball, and Byrnes has been one of the few bright spots at the plate. One thing worth noting: Most of Byrnes' skill set remains the same. He still has pretty good pop and a subpar walk rate (up slightly to about one walk for every 12 plate appearances this year). The only thing in Byrnes' profile that's changed this year is that his batting average has suddenly spiked to about 50 points above his career mark. If his average starts to pull back toward his typical levels, he'll be back to being the same decent, but not great, player he's always been.


• The Long Beach Armada of the Independent Golden League is in the news again. The same team that let Jose Canseco pitch in a game last season is now planning a "Worst Music of All Time Night". Still, it's hard to beat LBALACUSNAIBA.


• Let it never be said that Brewers fans can't rap.


• A week after the Astros called up Eric Munson -- seemingly heeding my call for Brad Ausmus to get less playing time behind the plate -- the Dodgers and A's followed suit. L.A. called up Matt Kemp from Triple-A, then bumped rookie third baseman Tony Abreu into the No. 2 spot in the order, dropping the punchless Juan Pierre to No. 8. Meanwhile, Oakland dumped Adam Melhuse on the Rangers, then called up promising catching prospect Kurt Suzuki. Look for Suzuki and Mike Piazza (when he comes off the DL) to take some at-bats away from offensive black hole Jason Kendall.


• Last week, I linked to an excellent Giants blog called the McCovey Chronicles, with a hat tip for a well-done parody of The Onion. I've since learned that this is not necessarily the blog's best effort. Check out this great take-off on the old "Choose Your Own Adventure" series. If you read these books when you were a kid like I did, you can probably guess what my favorite issue was. No. 6, of course.


• Tickets in the Nationals' new stadium are going to be ridiculously expensive for a team that's probably going to struggle for at least the next several years.


• Tim Marchman of the New York Sun, one of my favorite baseball columnists and one of the most underrated writers around, has a great take on Bud Selig's attempt to blackmail Jason Giambi into cooperating with former Sen. George Mitchell's ham-handed steroids investigation. Major League Baseball better watch out -- Mr. Bear has teeth.


• Last week I wrote that Aaron Hill's steal of home against Andy Pettitte reminded me of Rex Hudler doing it in 1988 against a similarly distracted lefty pitcher. Several readers wrote in to tell me about players ranging from Carl Crawford to Orlando Cabrera to Eric Owens who also stole home against righties. That these moments stand out in our minds is a testament to how rarely straight steals of home happen in today's game. Sometimes I wish I were old enough to have seen Jackie Robinson play at Ebbets Field.
• I've written about Brad Ausmus' lack of offensive production on multiple occasions. But in the recent athletes' edition of ESPN The Magazine, Ausmus showed that he's an excellent, thoughtful writer. I'll eat my plate of humble pie now -- let's just say if I tried to be a major league catcher, I wouldn't be 1/1,000,000th as good as he is as a writer. Well done.
• Finally ... Super Manny!
Or does it? Here's another thought: The A's have found great early success in their conversion of lefty reliever Lenny DiNardo to the starting rotation; would the M's consider doing the same with Brandon Morrow, the hard-throwing 22-year-old rookie with a 1.59 ERA? Morrow was a starter in college, owns a starter-worthy repertoire of pitches, and would be an upgrade over Weaver and Ramirez even if he rolls the ball up to home plate. A gradual transition from the pen to the rotation, like the kind the Astros used in Roy Oswalt's 14-3, 2.73 ERA rookie season, could pay big dividends. Morrow's taking the ball every fifth day could be the move that keeps the Mariners in the race come Labor Day.
4. Give the Tigers credit: At the draft table, no one shows more huevos.
Make it two years in a row that the Tigers have grabbed a premium player in the draft when others wouldn't, favoring talent over signability. Last year, Detroit swooped in after several teams sweated the asking price for the draft's top-ranked lefty starter, Andrew Miller. Last week, the Tigers were at it again, pouncing on high school phenom hurler Rick Porcello after 26 other teams said no thanks. Porcello is considered by some to be the draft's second-best pitcher (behind No. 1 pick David Price); he was universally ranked well above No. 27 on talent alone. But numerous teams couldn't stomach the idea of negotiating with Porcello's hard-nosed agent, Scott Boras. The result is a Tigers team with an all-world pitching core that could include Jeremy Bonderman, Justin Verlander, Andrew Miller, Joel Zumaya and Porcello by the end of the decade.
Score another one for Dave Dombrowski, whose case for the title of best GM in the business grows stronger with each passing day.
5. Curtis Granderson didn't hit a triple Sunday -- that's big news.
The Tigers' 26-year-old center fielder is having a breakout season, fueled by an MLB-leading 12 triples in the team's first 62 games. He's on pace for just over 31 three-baggers this season. To put that in perspective, no major leaguer has managed 20 triples since Cristian Guzman had 20 in 2000. Only three players have ever managed 30 in a season, led by Chief Wilson's 36 in 1912. The last player to hit 25 or more in a season was Kiki Cuyler, who bagged 26 in 1925. Big triples totals are mostly a relic from the deadball era, when far-flung walls and go-nowhere baseballs led to a lot of gap hits, but few over-the-fence home runs.
Granderson has the advantage of playing in Comerica Park, where the spacious outfield regularly yields some of the highest triples totals in the majors, even if it's not quite Forbes Field. Even with that advantage, 10 of Granderson's 12 three-base hits this season have come on the road. However he's doing it, it's great to see the most exciting play in baseball making a comeback, even on a small scale.
6. With an aging roster, several holes and multiple injuries, the White Sox aren't going to make the playoffs. The time for a youth movement is now.
In my 83 story lines season preview, the one topic that generated more angry e-mails than any other was my list of the game's top third basemen -- a list that didn't include Joe Crede. The omission was something of an oversight: Depending on how big a list you want to build, you might be able to make a case for Crede's sneaking onto the tail end of it. But I still wasn't all that bullish on the South Side's resident playoff hero and favorite son, partly because of his .308 lifetime OBP and also because of his chronic bad back. The White Sox got a taste of both this season, as the back injury limited Crede to an ugly line of .216/.258/.317 in 46 games before finally forcing him to the DL. Luckily for the Sox, Josh Fields, their top hitting prospect, also happens to be a third baseman. He figures to be a solid upgrade over Crede v2007, so much so that people might start wondering why the Sox didn't sell high on Crede when they had the chance.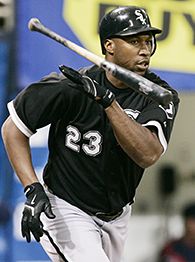 AP Photo/Jim Mone
With Jermaine Dye a free agent after the season, the Sox should consider dealing him.
Meanwhile, Mark Buehrle's having a solid season after struggling last year. But he's not the star pitcher many believe him to be either: His fielding independent ERA is 4.38 in '07, a solidly above-average figure in U.S. Cellular Park, but not the kind of production that warrants the massive contract he's sure to land on the free-agent market this offseason. Meanwhile, 21-year-old lefty Gio Gonzalez is striking out 12 batters per nine innings in Double-A and could be ready for a promotion. Gonzalez may not be an upgrade over Buehrle, especially in the early going. But he could prove an able replacement -- with a starting salary around $300,000 to boot.
This is a talented team with some exciting young players on the verge of helping the big club. By trading Buehrle and fellow pending free agent Jermaine Dye and moving on without Crede at third, the Sox could reload even quicker and be back in the AL Central race in the near future.
7. Leo Mazzone is making an impact.
Despite their recent struggles, the Orioles still rank fourth in the AL with a solid 4.09 team ERA. Here are the biggest reasons why:
Player
Stats
The Skinny
Jeremy Guthrie
2.70 ERA, 3.8-to-1 K/BB rate
28-year-old failed No. 1 pick claimed off waivers from Cleveland
Erik Bedard
3.72 ERA, leads MLB with 103 K's
Lefty might be baseball's most underrated pitcher
Brian Burress
2.89 ERA, 1 HR in 43.1 IP
Fringe prospect's been a surprise, though homer and strand rates will likely regress
8. The Mets are coming back to the pack.
They're still a great team with enough talent to make a World Series run. But this isn't the NL Central, where 85 wins probably gets you to the playoffs. The Braves and Phillies are good teams, with enough resources and farm system talent to trade for upgrades where needed; and the Marlins have a history of staging big, surprising runs. It's getting interesting:
Standings 13 days ago
EAST
W
L
Pct.
GB
Home
Road
RS
RA
Streak
L10
NY Mets
33
17
.660
--
15-10
18-7
255
191
Won 4
7-3
Atlanta
29
23
.558
5
15-11
14-12
246
234
Lost 1
4-6
Philadelphia
26
26
.500
8
13-12
13-14
271
258
Lost 2
5-5
Florida
25
27
.481
9
12-15
13-12
256
268
Won 2
6-4
Washington
21
31
.404
13
11-14
10-17
191
251
Lost 1
6-4
Standings today:
EAST
W
L
Pct.
GB
Home
Road
RS
RA
Streak
L10
NY Mets
36
25
.590
--
17-16
19-9
292
243
Lost 2
3-7
Atlanta
35
29
.547
2.5
18-16
17-13
297
294
Won 2
4-6
Philadelphia
32
31
.508
5
15-15
17-16
316
325
Lost 1
6-4
Florida
31
33
.484
6.5
13-17
18-16
317
321
Lost 2
5-5
Washington
26
37
.413
11
14-19
12-18
240
308
Lost 1
5-5
9. Curt Schilling should've consulted with Pedro Martinez before shaking off Jason Varitek with one out to go for a no-hitter.
On Aug. 29, 2000, Martinez had a no-hitter of his own going against the Devil Rays. Facing light-hitting catcher John Flaherty, Pedro shook off Varitek's sign -- then watched Flaherty slap a single, the only hit of the game for the Rays in a 13-strikeout virtuoso performance. Through the magic of Retrosheet, we can reconstruct Pedro's brush with the record book. Jurassic Carl Everett cracked a double, triple, two homers and six RBI in Boston's 8-0 win. But that wasn't my favorite part of this box score. How bad were the Rays in 2000? Their shortstop on the day of Pedro's near no-no was Ozzie Guillen.
10. Welcome to Keri the 10's new feature, the Weekly Juan Watch.
Named in honor of Juan Pierre (now at .277/.299/.318), the Weekly Juan Watch highlights one player from a contending team who needs to be upgraded ASAP for that team to improve its chances of a playoff run.
This week's Juan is Jeff Weaver. In his first start off the DL, Weaver yielded just two hits in four innings before leaving with a bad back. That was by far his best start of the year, actually lowering his ERA to 12.46. The surging Mariners shouldn't be suckered into believing that Weaver's going to help them, though -- at this stage of his career, Don Zimmer throws a harder fastball. If the Mariners can find a taker for Weaver's services, trade him immediately. If not, just designate him for assignment and move on. The $8.3 million the M's spent on his 2007 salary is already spent. The longer they wait to upgrade their starting pitching, the harder it'll be to hang in the AL West or the wild-card race.
Check back Friday for a bonus Father's Day edition of Keri the 10.
Jonah Keri is a regular contributor to Page 2 and the editor and co-author of "Baseball Between the Numbers." You can contact him here.