Flipping through MLB Extra Innings on Sunday, I stopped on the Rangers-Reds game, bottom of the fifth, Rangers up 6-3. Three factors made me stop to watch the Reds bat in the bottom of the fifth.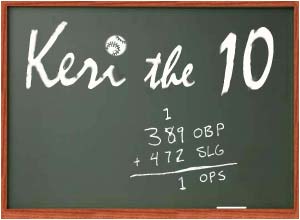 First, I wanted to see if the adjustments Kevin Millwood had made between starts would help him. Millwood came into the game with a 7.82 ERA, having allowed nearly two baserunners per inning. For all the trade talk surrounding other players -- even other Rangers players -- as we near dealing season, Millwood is a healthy pitcher, signed to an affordable contract by today's standards (he's in the second year of a five-year, $60 million deal) who could be a bargain along the lines of Bobby Abreu last year going to the Yankees. Sure enough, Millwood looked sharper than he's been for most of the season, scattering six hits over six innings while striking out 10. His location still isn't close to where it was in 2005, when he won the AL ERA title (the two homers he gave up were both on pitches that missed the catcher's target by a wide margin). But for all the Scott Boras intrigue surrounding Mark Teixeira, the injury question marks dogging Eric Gagne and the other holes in others' résumés, Millwood could be an intriguing trade target for a team willing to take a leap of faith that the big righty will turn it around outside the pitchers' hell that is Arlington.
Second, the Reds' announcers were interviewing Tony Hamilton, father of Josh Hamilton, the most motion picture-worthy story in the big leagues since Jim Morris. The questions asked were mostly softballs, few of them daring to dredge up Hamilton's history of drug addiction and other problems. They didn't need to. Even when asked simple questions such as whether he still gets nervous watching his son bat, Tony Hamilton was emotional, noting what a thrill it was to see his son with his life back in order -- never mind the excellent numbers he's put up in his much-belated rookie season. It was definitely a cool Father's Day moment. (If you missed it, check out the dad-and-baseball stories from Friday's bonus column.)
The third reason is the subject of this week's top item.
1. The only Big Donkeys likely to make news on the trade market are the teams that pass on Adam Dunn.
When it comes to evaluating baseball players, baseball fans, writers, broadcasters and managers share the same two nasty habits: They focus on what a player can't do rather than on what he can, and they put far too much blame on the team's stars when things go wrong. Adam Dunn is a classic example. While doing my weekly ESPN Radio hit on the SportsBash with John Seibel, I was asked if the Reds could hope to get something of value for "The Big Donkey," as Seibel called the Reds left fielder. Seibel, who's a Reds fan, contends that Dunn is a terrible hitter with runners in scoring position, or as he put it, "he's not a run producer." After I defended Dunn on air, I got a bunch of angry e-mails from other Reds fans, listing Dunn's supposedly numerous faults, the biggest one being his complete inability to drive runners home, especially in "clutch" situations.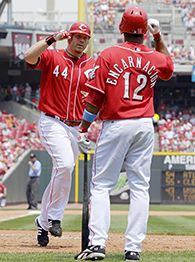 Frank Victores/US PRESSWIRE
With Dunn, you have to live with strikeouts as you wait for the big payoff.
Here are Dunn's averages over the past three seasons:
Situation: AVG/OBP/SLG
All: .249/.380/.533
Scoring position: .236/.434/.538
Scoring position, 2 out: .249/.460/.534
Runner on 3rd, less than 2 out: .195/.391/.468
If there's an overarching pattern, I'm not seeing it. Strip out intentional walks and Dunn's the same hitter with or without runners in scoring position. Yes, he's hit considerably lower with a runner on third and less than two outs during this period. But we're talking about a stretch of 77 at-bats; four more singles and his batting average would be nearly identical to his overall numbers. His numbers are down this season in such situations, but in that case we're talking even smaller sample sizes. There's no denying that Dunn strikes out a lot, and that strikeouts are frustrating, especially when a fly ball or well-placed grounder can score a run. But why fixate on such a specific, rare occurrence, when Dunn is one of the best hitters in the game, period.
Dunn's defense is terrible, and he's much better suited for an AL roster than an NL one. He's going to be a little less successful in certain situations than some dink-and-dunk hitters might. He strikes out a lot.
But let's not lose the forest for the trees here. Dunn ranks ninth in the NL in OPS, second in homers, and for all you RBI hounds, is tied for eighth in runs batted in (and runs scored). His 100-plus walks a season are enormously valuable, even after stripping out the intentional ones. His strikeouts, taken as a whole, won't be much more harmful than any other outs, especially when weighed against the small number of double plays that he starts. While other teams search for the mythical Clutch Hitter®, Dunn's going to hit a ton of game-winning homers, even if those homers occur in the early innings of a game.
The Angels, Twins and other contenders would do well to focus on the positives. Fixate on the negatives too much, and you'll shake your head, wondering why you stuck with Garret Anderson and Shea Hillenbrand, or Jason Kubel and Jason Tyner, instead of going after the 40-homer guy staring you right in the face.
2. If Barry Bonds isn't an All-Star, who is?
Alfonso Soriano passed Bonds in voting for the third starting outfield spot on the NL All-Star team. When asked if he'd add Bonds to the roster if the fans don't vote him in, NL Manager Tony LaRussa said he wasn't sure.
Uh, what?! Let's see … Bonds is one of the greatest players in the history of the game. He's eight homers away from breaking the all-time home run record. This may be his last season. The game is being played in his home park. Of course you might be one of those people who thinks that a player should get in on performance, not reputation -- who can forget Cal Ripken making the All-Star team in his final season, on his last legs and on his way to hitting .239/.276/.361. But Bonds leads the league in OBP and OPS, and remains a threat to hit one out every time up. He's not the guy he was in 2001, but he's still better than 98 percent of the rest of the NL, and he's one of the few players in the league with legitimate star power. Even if you're a Bonds hater -- wouldn't you rather boo him heartily than listen to sporadic, polite applause for Eric Byrnes?
3. Carlos Beltran can't keep hitting like this if the Mets want to make a World Series run this year.
I mentioned the Mets' shrinking NL East lead last week, so I'm not going to harp on them again this time. I still think they're the favorites in the division, as healthy returns by Pedro Martinez, Moises Alou, John Boccabella and all their other ex-Expos stars are going to bolster what's already a very good roster. But if Carlos Beltran's hurt, they need to sit him down ASAP. Beltran's now 8-for-53 in June, with one walk, two RBIs and one extra-base hit. At this rate, the Mets should consider following through on those Dontrelle Willis trade rumors, if only to upgrade their offense.
WEEKLY LINKS
• Justin Verlander's no-no headlined a banner week for streaks, milestones and big games. Casey Blake extended his MLB-leading hitting streak to 26 games. Brandon Watson of the Washington Nationals' Triple-A Columbus passed 26 in May -- en route to his still-going 43-game hitting streak. The old International League record of 42 games, broken on Sunday, was set by Jack Lelivelt, 95 years ago.
Elsewhere, Chipper Jones bagged his 2000th hit in the Braves' 5-2 loss Sunday. They'll need him to stay healthy and hitting to keep pace in the competitive NL East. And former teenage pitching phenom Rick Ankiel smashed three homers Saturday, tying for the PCL lead with 19. As we noted last week, the listless Cardinals lineup is one of many things that would be more interesting if Ankiel were involved.
• Are you a Mariners fan, an owner of Felix Hernandez in your fantasy league or just a big fan of King Felix? Then you're probably growing frustrated, watching Hernandez struggle since returning from an early-season injury -- especially after starting the season with two dominant outings. In an effort to figure out what's ailing the M's future franchise player, Dave Cameron of USS Mariner has done yeoman's work in his Charting Felix series. Without giving too much away, Hernandez seems to be throwing way too many fastballs at the start of games (probably an organizational edict, and something that can be fixed) and is having some trouble with his breaking pitches (which might be due to lingering effects of his injury, and is more worrisome). Click the link above for more, then search the USS Mariner site for other entries on Felix.
Also on the Felix beat is Dan Fox of Baseball Prospectus. Check out this unbelievably detailed pitching profile of Hernandez, which shows how much teams and even interested fans can do with the increasing proliferation of play-by-play data.
• Not baseball-related, but this is the best news I've heard in a while, on the voided sentence of Genarlow Wilson, a victim of Georgia's archaic sodomy laws. Here's the original E-ticket article, which explains how all this nonsense got started.
• Enjoyed this article on platoons through the years by Steve Trader of The Hardball Times.
• Bruce Froemming is retiring after more than 5,000 games in the majors. That's about 1,500 more games than all-time leader Pete Rose played.
• Do you like waffles and making fun of indecisive college basketball coaches? Then you might want to check out the Fort Myers Miracle's "Billy Donovan Night" on Wednesday.
Beltran's injury is the same left quad that led to a subpar season in 2005, the second-worst of his career. When a player fights through an injury, refuses to come out of the lineup and hits like he's Ray Oyler, he's not being brave or heroic -- he's hurting his team. The Mets already have Alou and Endy Chavez on the DL, making them woefully thin in the outfield. It's up to Omar Minaya to find reinforcements, and to Willie Randolph to sit his star center fielder down until he's ready to contribute.
4. Bud Selig hopes to send a message about performance-enhancing drug use in his strong-arm tactics against Jason Giambi. But if there's a lesson to be learned, it's this: Never talk to anyone about anything.
It's hard to believe that PED use has been limited to Giambi, a couple more big-name sluggers and a few no-name minor leaguers. But Giambi's mistake was that he talked -- and just barely, at that. He made some cryptic comments about being sorry for what he did, and now he must decide if he wants to cooperate with the Mitchell investigation into PED use, or face a possible suspension. As Buster Olney wrote last week, Selig might not be able to follow through on his threat without the union thwarting his efforts, but at least he can say he tried.
What incentive would any player now have to address a question about PED use, even indirectly? In fact, why should players talk to the media at all? Between the steroids witch hunt that never ends, and the PC police looking for any excuse to blow an innocuous quote out of proportion, I'm amazed that more players haven't gone the Steve Carlton route and just stopped talking altogether. They're more likely to do themselves harm than good. And most of the quotes that come out of game reports are canned clichés, delivered briskly so that beat writers can make their deadlines and players can get home to their families or back to their hotel rooms. When "giving 110 percent" is the best-case scenario, and "Jose Canseco showed me his needle collection" is the worst, it may be time to just zip it.
The bigger question might be whether we as fans even want this kind of coverage anymore. In an age where fans can watch 162 games a year from their living room and dissect countless stats at the click of a mouse, do we really need to hear a player tell us that he's happy he hit the game-winning double? I'd still like to see occasional longer-form Q&As, especially when the player being interviewed has something interesting to say. But it might be best for all parties to junk quickie clubhouse interviews for good.
5. In locking up Billy Beane through 2014, the A's inked the rare long-term contract that isn't likely to blow up.
Oakland's general manager wasn't a free agent after this season, as the deal merely extended an existing contract by a couple more years. Still, for all the massive, long-term deals teams hand out to players, it's a wonder they don't do the same for key front-office personnel. The occasional Bonds or Clemens exceptions aside, most players tend to peak by their late 20s, as their bodies thicken and their reflexes slow down.
GMs don't have that problem. If anything, a general manager can gain valuable experience and perspective the longer he holds down the job, figuring out the moves that work and don't work on the trade market, in the draft and elsewhere. Beane's not likely to stop making intelligent moves for the A's anytime soon; neither is Dave Dombrowski for the Tigers, or some of MLB's other top GMs. Considering Beane's flirtation with the Red Sox job a few years ago, and the threat of other premium GMs jumping ship, it makes plenty of sense to offer job security to the game's elite -- assuming the person running the show isn't approaching retirement age. Sure, an owner is going to be looking for scapegoats if a team takes a turn for the worse. But this isn't a field manager, where vague notions of shaking things up and renewing team chemistry may apply. When it comes to running a ballclub from the executive suite, if you're good enough, you're good enough.
6. The Cubs might be the most maddening team in baseball.
Three things that drive me nuts about the Cubbies: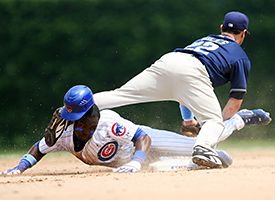 Tom Fluegge/US PRESSWIRE
At 22, is Felix Pie ready to play every day in center for the Cubs?
• Their outfield is a mess. After spending about $300 million in free-agent contracts, Jim Hendry reached out for one last, seemingly minor deal, inking Cliff Floyd for one year at $3 million. Floyd is no longer the power threat he once was and he's a defensive liability; but his .312/.372/.416 line is at least decent at a corner spot. The bigger issue is the way Lou Piniella has handled his personnel. Forgetting the shift to and from center field, Alfonso Soriano is the one obvious constant. But the player who looked like he could be the second-best hitter in the outfield was Matt Murton, a skilled 25-year-old coming off a promising .299/.367/.466 effort in his first full season who figured to improve as he entered his prime. Instead, Murton got hardly any playing time, until he was so out of sorts that the Cubs chose to demote him. In the process, the Cubs lowered the trade value of their most marketable commodity, given Murton's age, salary and service time. Meanwhile, Jacque Jones, who was a useful player against right-handed pitchers but a liability against lefties, hasn't hit either this year. Felix Pie has shown flashes of potential, but he's too green to be the starting center fielder on a playoff contender.
• They're 13th in the NL in walks. In 2006, they were last. In 2005, also dead last. In 2004, 14th. In 2003, also 14th. The last time the Cubs finished in the upper half of the league in walks was 2002, when they were sixth. For all the success the Red Sox and Yankees have had over the past decade or so, the common thread has usually been a lineup full of patient hitters, willing to grind out opposing pitchers, wait for a pitch to drive and gladly trot to first if that pitch doesn't come. The Cubs don't do that.
• They're at the mercy of Lou Piniella's managerial quirks. Piniella's spent the entire season searching for the right mix in the outfield, in the infield and in the bullpen. Some players have deserved quick hooks. But the manager's lack of patience and propensity to overreact could prove costly over time. Piniella's latest stroke of genius was to bench Michael Barrett for a stretch of three out of four games last week. That despite Barrett being one of the best offensive catchers in the game (including 6-for-17 in the Cubs' four prior games) and his replacement Koyie Hill being a fringe player buried below the Mendoza Line. It wasn't a huge deal -- Barrett returned to the lineup Sunday and should presumably return to regular duty. But the Cubs have the dubious distinction of being the team that's underachieved its runs scored versus runs allowed differential by more than any other team in baseball. Blame bad luck and blame a bad bullpen. But when do we start blaming a bad manager?
7. There's nothing wrong with Johan Santana.
On major Web sites, discussion boards, even on "Baseball Tonight," everyone's asking what's wrong with the defending Cy Young winner. That the topic is even being discussed suggests that we're still judging pitchers by hopelessly outdated standards. Santana's record stands at a mediocre 6-6 through 14 starts. Of course he also allowed two runs or fewer in four of his six losses, only to get burned by a lack of run support. Meanwhile, his strikeout rate (9.2 per 9 innings) is the highest it's been in three years, his 3.19 ERA is tied for 10th in the AL, and his walk rate, while above recent levels, is still a microscopic 2.2/9 IP.
The biggest difference in Santana's profile? He's allowing home runs on 14.5 percent of the fly balls he's given up, up sharply from the 11.5 percent and 10.9 percent figures of the past two seasons and on pace to be the highest of his career. Even if we ignore Santana's history of second-half dominance, a correction in his home run rate alone would be enough to yank his ERA back below 3.00, where it's been for the past three seasons. And if his teammates still won't score any runs for him, expect a few 1-0 and 2-1 Santana wins down the stretch.
8. The AL Cy Young race could be one for the ages.
Here's how I have it handicapped so far:
1. Danny Haren: 1.64 ERA leads league by almost a full run
2. John Lackey: tops in wins with 10, second in ERA at 2.53, big reason for Angels' second-best record in MLB
3. C.C. Sabathia: leads league in IP, K-BB rate over 5-1, only unlucky .322 BABIP holding his numbers back
Also in the mix: Johan Santana, Josh Beckett, Justin Verlander, Kelvim Escobar, James Shields
Notable omissions/pitchers likely to regress due to so-so peripherals: Chad Gaudin, Fausto Carmona, Andy Pettitte
9. The Yovani Gallardo Era is about to begin.
The top pitching prospect remaining in the high minors will make his major league debut tonight for the Brewers. Gallardo struck out an obscene 110 batters in 77.2 innings at Triple-A Nashville, and should give Milwaukee's rotation a big boost. There are many reasons why the Brewers lead the NL Central by 6.5 games -- Prince Fielder, J.J. Hardy, the Cardinals' injuries and the Cubs' underachieving chief among them. But in Ryan Braun (.294/.326/.529) and Gallardo, the Brew Crew also owns two in-season call-ups who widen the team's talent gap over the rest of the division, and could help shepherd Milwaukee to its first playoff berth in 25 years.
Don't sleep on Padres call-up Chase Headley either. The 23-year-old third baseman crushed Texas League pitching at a .357/.433/.648 rate before getting the call. Incumbent third baseman (and fellow rookie) Kevin Kouzmanoff is out for a few days with a bad back. Given Headley's track record and Kouzmanoff's struggles this season, someone might get Pipped in the near future -- either Kouzmanoff, or one of the Pads' slumping corner outfielders. In Headley and early-season call-up Justin Germano (5-0, 2.36 ERA), San Diego has a great duo of its own, one that could prove pivotal in the Padres' efforts to hold their own lead in the NL West.
10. This week's Weekly Juan Watch winner is …
… Shea Hillenbrand. Call this one a pre-emptive strike. Hillenbrand rode the pine in 10 of the Angels' previous 11 games before moving back into the lineup against the Dodgers on Sunday. With Garret Anderson lugging his own flaccid bat to the DL and Casey Kotchman battling the effects of a concussion, Mike Scioscia might be tempted to insert Hillenbrand back in the lineup on a regular basis for the next couple weeks.
Angels GM Bill Stoneman needs to take that option out of Scioscia's hands. Stoneman has developed a reputation for being extremely conservative on the trade market, passing on numerous rumored prospect-for-power hitter deals over the past few seasons. With their strong pitching staff and Vladimir Guerrero leading the charge, the Angels own the second-best record in the game and are the clear favorites to win the AL West. But for the Halos to improve their chances in the playoffs, Hillenbrand shouldn't even sniff the lineup (nor should Anderson, for that matter). The Angels should make a run at Dunn, or whatever other power bat they can find, then send Hillenbrand packing.
Before we go, an honorable Juan mention this mention this week to Jason Kendall. Ticketed to be this week's Juinner with the worst numbers of any regular hitter in MLB, Kendall had a huge week, going 11-for-22 and even smacking just his second homer in three years. With Jack Cust crushing the ball again, Mike Piazza's probably going to slide over to catcher when he comes off the DL, sending Kendall to the bench. But for now, we salute Jason Kendall's raging against the dying of the light.
Jonah Keri is a regular contributor to Page 2 and the editor and co-author of "Baseball Between the Numbers." You can contact him here.