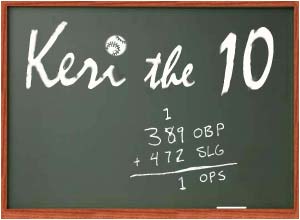 1. If he'd stayed healthy, would Ken Griffey Jr. be the guy Barry Bonds is chasing?
Junior got a warm reception in Seattle over the weekend in his first visit back. The applause wasn't only for a great Mariners player, but for a great period in franchise history, when Griffey was the Kid and the M's were an up-and-coming power in the AL. Griffey belted two homers Sunday, giving him 21 in what's shaping up as his best season in nine years. It also gave him 584 for his career.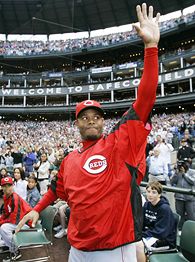 AP Photo/Ted S. Warren
In light of Junior's feel-good weekend in Seattle, we can't
help but think "What if … ?"
If we look at Griffey's career numbers, he played fewer than 140 games in 1995 and from 2001 through 2006 (1994 was the strike year). There's no surefire way to assign a number of games to each non-injured Griffey season, since we're dealing with a hypothetical exercise. But just for fun, let's try one projection which would qualify as extremely conservative: First, we'll assign 145 games to his '95 season, nearly doubling his injury-shortened total of 72. After his 40-homer season in 2000 at age 30, in which he played 145 games (his 12th big league season), let's assume he played that many games for the next five seasons, then started losing two games a year at age 35. We'll also assume that the rate with which he hit homers during those seasons didn't change. We'll leave his 2007 year-to-date total unchanged.
Here's what his actual vs. projected numbers would look like:
What if Griffey could've stayed healthy?
Year
Actual games
Projected games
Actual HR
Projected HR
1995
72
145
17
34
2001
111
145
22
29
2002
70
145
8
17
2003
53
145
13
36
2004
83
145
20
35
2005
128
143
35
39
2006
109
141
27
35
Career
584
666
These calculations probably shortchange the potential of a healthy Griffey. He may have been an entirely different player if he avoided all those major injuries, hitting homers at a higher rate while in the lineup than he would've in our make-believe scenario. Still, it's a tribute to Hank Aaron that Junior would still be 90 homers away from breaking the record in this alternate universe. Then again, with the way he's swinging this year, a Griffey run at Bonds' eventual record could've been a very real possibility.
History tends to blur our memories as players age and their skills erode. But 20 years from now, we should remember how great Griffey, Bonds and Frank Thomas were in their prime, and celebrate three of the greatest hitters of all time coming up all at once.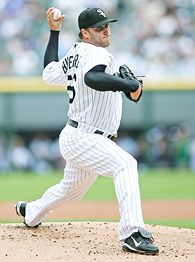 Tom Fluegge/US Presswire
The White Sox would be better off keeping Mark Buehrle than settling for pennies on the dollar in return.
2. The White Sox are planning another White Flag Trade -- but don't expect a huge windfall in return.
Ten years ago, the Sox traded Wilson Alvarez, Danny Darwin and Roberto Hernandez to the Giants for a package of six prospects that included Keith Foulke. With Chicago 13 games under .500, GM Kenny Williams says to expect some deals: "Change needs to happen and change is going to happen," he said. "When that happens, I don't know."
Whatever the time frame, White Sox fans shouldn't expect a megapackage of talent to come their way. In a study of trade-deadline deals for frontline players in the past seven years, Dave Cameron of USS Mariner found that in most cases, the selling team didn't get much help for the future. Rumors are swirling that the Red Sox could make a play for Mark Buehrle. But despite Williams' excellent track record of player acquisitions in recent years, he's probably not going to get any of Boston's top prospects for Buehrle, an effective pitcher who's also three months from free agency. The same goes for Jermaine Dye, who's going to be an attractive trade chip when he comes off the DL.
If the White Sox don't get any attractive offers for Buehrle and Dye, they should consider doing what the Nationals did with Alfonso Soriano -- nothing. When a team loses a Type A free agent like Buehrle and Dye, it collects a pair of high draft picks as compensation. Teams that do a good job of drafting and developing good players often find that those picks end up being more valuable than the flotsam they're offered at the deadline.
WEEKLY LINKS/E-MAILS
Instead of the usual assortment of links, we're running reader responses to my recent missive on why you should never skip a baseball game.
Meanwhile, from a buyer's perspective, it makes a lot of sense to go after Buehrle, Dye and other free-agents-to-be. A team in contention gets an in-season boost from a good player for a few months. Then at season's end, if the team doesn't re-sign the player, it can recoup draft picks by simply tendering a token offer of arbitration. The Oakland A's and Billy Beane have been the best at this. In 2002, the A's traded forgettable relief pitcher Jon Adkins for Ray Durham. Durham provided a boost to an Oakland team that went on to win 103 games and the AL West title, then helped the A's again when he bolted for free agency, allowing Oakland to restock its farm system with two more high picks. The team on the other end of the deal? The Chicago White Sox.
3, 4, 5, 6, 7. The Cubs looked at Michael Barrett and saw a problem. The Padres looked at Barrett and saw an opportunity.

The Cubs have played well since they traded Barrett for Rob Bowen and iffy outfield prospect Kyler Burke, including a three-game sweep of the White Sox over the weekend. Still, I thought the Padres made out like bandits in the trade, for five reasons:
• Catcher defense is overrated. Barrett's critics pointed to Carlos Zambrano turning it around when Koyie Hill replaced Barrett as his personal catcher. But Zambrano is a good pitcher who was going to turn it around sooner or later. To focus on just three starts and draw a sweeping conclusion from that small a data sample isn't convincing. Barrett got into tiffs with more than one pitcher, and he's regarded as a poor defensive catcher and game-caller. All of that doesn't make a big difference. If you want to see a comprehensive study on catchers and their (surprisingly) limited impact on pitchers' performance, check out Keith Woolner's landmark study.
• Petco Park favors right-handed hitters. For those who claim that Barrett's above-average power will be wasted in San Diego, that's just not true. Right-center field is a death zone for left-handed power hitters. But Barrett's pull power should play well as he takes aim at the warehouse in left.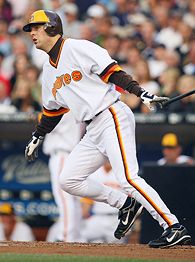 Robert Benson/US Presswire
The Padres acquired Michael Barrett from a position of strength and are poised to get draft picks if they don't retain him after the season.
• The Cubs made the deal under duress. Though he was just a backup in San Diego, Bowen could develop into a usable starting catcher in Chicago. But Barrett's already there and is one of the best offensive catchers in the league. The Padres got him cheaply because the Cubs felt they had to make a deal as soon as possible, given some teammates' issues with him. Teams always fare better when they trade from a position of strength.
• The Padres are paying next to nothing for Barrett's services. The Cubs will cover $1.5 million of Barrett's 2007 salary, with the Pads on the hook for only $700,000.
• Draft picks, draft picks, draft picks. Of all the angles from which you could view the trade, compensatory draft picks are one of the least explored -- and most important. If everything goes wrong -- Barrett flames out, the Padres miss the playoffs, Petco replaces the great fish tacos in the ballpark with rutabaga tacos -- the Pads will still collect two high draft picks if Barrett walks at the end of the year, the same way the teams that get Buehrle and Dye will if they acquire them before the deadline, then let them walk.
The MLB draft is unpredictable, with great talents sometimes emerging from the late rounds, and top picks flaming out. But smart teams give themselves as many darts as possible to throw at the big board. It's rare that a team can get the best of a trade both now and in the future. The Padres have done that here.
8. Where would the Angels be without Reggie Willits?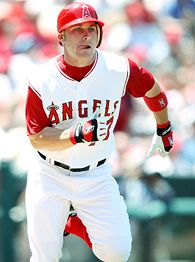 Jeff Lewis/US Presswire
Even if Reggie Willits doesn't hit .343 over the course of his career, he's proven to be an effective catalyst for the Angels.
That you'd even ask that question is amazing in itself. The Angels would still have Vlad and one of the best pitching staffs in baseball. But Willits has been one of the biggest surprises of 2007. With a line of .343 AVG/.439 OBP/.409 SLG, he's the front-runner in the AL Rookie of the Year race. Generously listed at 5-foot-11, 185 pounds, Willits has never shown even a hint of power at any professional level. But his huge contributions in his first full major league season suggest that all the .300-hitting he did in the minors may not have simply been the product of inferior competition and generous ballparks. For all the talk of Brandon Wood and other top prospects, it's been Willits, a late bloomer at 26, making the biggest impact for the Angels. His breakthrough season came just in time, with Garret Anderson having outlived his usefulness two years ago and now battling repeated injuries.
Considering that only eight players in major league history own a career batting average above .343, it seems unlikely that Willits will stay at this pace much longer. Still, if he can retain the bulk of his on-base contributions and his nearly spotless base-stealing tally (18-for-20), Willits could battle the likes of Orville Moody and Jumping Jack McCracken for the coveted title of Best Athlete from Chickasha, Oklahoma.
9. This week's Juan Watch Juinner is …

… Carlos Quentin. The Diamondbacks right fielder has flailed at a .213/.302/.365 rate this season, in a park that favors hitters. Meanwhile, the average NL right fielder is hitting .262/.327/.416. Quentin has shown flashes of developing into the hitter people expect, including a 2-for-4 game with a homer against Tampa last week. Quentin is a talented 24-year-old who's probably going to have a very good major league career. But with the D-backs leading the extremely competitive NL West by just one game, they might not be able to wait.
Finding the best alternative might be a challenge, though. Arizona needs to find playing time for Conor Jackson and Chad Tracy at the infield corners. That leaves Scott Hairston and rookie Mark Reynolds as in-house candidates to take at-bats away from Quentin. But both Hairston and Reynolds have struggled after hot starts. Would the White Sox consider a trade of, say, Hairston and a pitching prospect other than Max Scherzer (say, Dustin Nippert) for a healthy Jermaine Dye? Would that kind of package exceed the value of the compensation picks the Sox would get if Dye walks at season's end? These are the questions that make the approaching trade deadline one of the most intriguing times of the year.
10 RIP Shooter.
---
A couple of programming notes to pass along. First, we'll be skipping the Monday column next week. In its stead, look for a blitz of midseason content. Keri the 10 will return the following week, along with a longer-form feature story later in the week.
Jonah Keri is a regular contributor to Page 2 and the editor and co-author of "Baseball Between the Numbers." You can contact him here.