Following our rundown of National League teams, today we look at the 14 AL teams. Again, instead of giving each team a letter grade, we're assigning each one a member of the 1982 Milwaukee Brewers, in honor of the Brew Crew's great first half this year.
AL EAST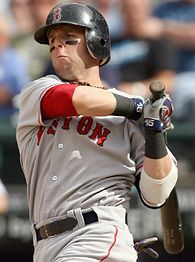 Otto Greule Jr/Getty Images
Dustin Pedroia might turn out to be a cornerstone of the Red Sox infield for many years to come.
Boston Red Sox (53-31):
Rollie Fingers
Battle-tested and dominant, with plenty of personality. That describes both Fingers and the Red Sox's veteran roster. After making his name with the World Series-winning A's teams of the early-to-mid '70s, then stopping in San Diego for four years, Fingers found new life in Milwaukee. He missed out on a return engagement in the playoffs, though, as a late-season injury knocked him out for the postseason. Given that the World Series went the distance, and that the Brewers lost two games in relief, it's possible that the series might've gone the other way had the mustachioed one been able to pitch. The Red Sox have the rare luxury of being able to succeed should a top veteran get hurt. As much as the Red Sox are identified as the team of Papi, Manny and Schilling, Kevin Youkilis and Jonathan Papelbon have become legitimate stars in their own right, Dustin Pedroia seems like a keeper for the next 10 years, and the rookie combination of Daisuke Matsuzaka and Hideki Okajima has given an already strong pitching staff a huge lift. The AL is loaded with good teams this year. But the Red Sox are the team to beat.
Toronto Blue Jays (41-43): Moose Haas
Haas was a serviceable third starter, a good enough player on that loaded roster, but ultimately someone the Brewers would need to upgrade. The Blue Jays have made similar noise about A.J. Burnett lately, with management ripping his lack of durability and reliability, even going so far as to say they wouldn't sign him if they had to do it over again. This is the kind of scapegoating you often hear when people start fearing for their jobs. No one forced the Jays to spend $55 million on Burnett, or $47 million for Tommy John surgery newbie B.J. Ryan. More changes are likely coming soon in Toronto, as the Jays have been unable to break into playoff contention. Maybe if they signed C.J. Nitkowski, D.J. Dozier and ESPN hockey analyst E.J. Hradek they'd be in better shape. At least they'd have someone else in town who could cover the Maple Leafs -- it's sad how little attention hockey gets in Toronto.
New York Yankees (40-42): Roy Howell
A first-round pick (No. 4 overall) by the Texas Rangers in 1972, Howell never lived up to the hype, losing his starting DH job to Don Money in the second half of the season. You look at the Yankees on paper, and you have to scratch your head; how can a team with these players be under .500? It's easy to blame age for the team's woes. But that doesn't explain all of it -- Robinson Cano has been just as big a problem as Johnny Damon or Bobby Abreu, for instance. The good news? The Yanks start the second half at Tampa, versus Toronto and Tampa, at KC and Baltimore, versus the White Sox and KC. The Bombers fashioned their biggest first-half winning streak out of a similarly weak part of their schedule. They'll need to blast through the league's dregs and upgrade at the deadline to have a chance to get back in the wild-card race.
Baltimore Orioles (37-47): Marshall Edwards
The 5-foot-9, 157-pound Edwards lasted just three years in MLB, before losing his job and leaving the majors for good. Fellow little guy Sam Perlozzo also lost his job. But no manager would get very far with the the lackluster talent the O's have. One positive has been the starting pitching. Jeremy Guthrie is a strong Rookie of the Year candidate, and Erik Bedard has emerged as an ace. On the other hand the bullpen still stinks, after the O's opened the vault for ill-advised signings such as Danys Baez. Meanwhile, Brian Roberts is the only big bright spot in this year's lineup. If only the owner could be fired.
Tampa Bay Devil Rays (33-51): Ned Yost
Yost had a lousy career as a player, then got his first big league managing job with the Brewers. The team finally has come around in his fifth season at the helm, which you could attribute to Yost being a late bloomer, or more likely the team's young nucleus maturing at the right time. The Devil Rays also have gone through years of pain, and at 18 games under .500, are living through it. But the losing won't last much longer. For all the excitement the offensive core of Crawford, Upton and company generate, how about the pitchers on the horizon. By 2009, the Rays could sport a rotation of Scott Kazmir, David Price, James Shields, Jacob McGee and Jeff Niemann. If you haven't heard of some of those guys yet, don't worry. You will, right around the time the Red Sox and Yankees start looking up at the Rays.
AL CENTRAL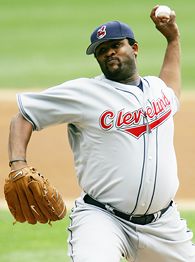 Jonathan Daniel/Getty Images
Behind C.C. Sabathia, Cleveland's pitching has been much more effective than in recent seasons.
Cleveland Indians (51-34):
Cecil Cooper
Cooper was a steady, powerful offensive presence who finally got to the playoffs with the Brewers when Robin Yount, Paul Molitor and others matured around him. For the past few years, the Indians have had the offense to contend, but not the pitching. This season, C.C. Sabathia has emerged as a leading Cy Young candidate, and the bullpen is at least decent, an upgrade from last year's ugly results. On the other hand, the back of the rotation has regressed -- something that matters now, but won't if the Tribe make the playoffs. If Travis Hafner goes back to being
Travis Hafner
, this team will be really scary.
Detroit Tigers (49-34): Don Money
Thirty-five years old and seemingly in decline, Money was reduced to reserve duty at the start of the '82 season. But after Roy Howell struggled, Money took his job, in the process providing a jolt to the offense. Gary Sheffield, 38, also has shown he's got something left in the tank, giving the Tigers a big lift. A good Tigers offense has become great in '07, leading the majors in runs scored thanks to Sheffield, as well as holdovers like Magglio Ordonez, Carlos Guillen and Curtis Granderson. But whither the bullpen? Joel Zumaya and Fernando Rodney have missed big chunks of the season, while Jamie Walker is pitching in Baltimore. Can a team that lost its top three relievers from a year earlier get back to the playoffs? There are too many other capable teams around for the Tigers to test that theory without trading for reinforcements.
Minnesota Twins (43-41): Don Sutton
Don Sutton was still chugging along in '82, pitching well in Houston before the Brewers acquired him down the stretch. The Twins have similarly found a way to keep contending, with Minnesota now working on its seventh consecutive above-.500 season, coming off four division titles in the past six years. You wonder if the team could've been in even better shape, though. The budget-conscious Twins make an effort to be extremely conservative in their player development strategies, waiting as long as possible to call up some of their top young prospects. This saves service time, but it can also hurt them. Last year, it was Kyle Lohse in the starting rotation instead of Francisco Liriano and Boof Bonser. This year, Sir Sidney Ponson and Ramon Ortiz started the year in the rotation, while Kevin Slowey and Scott Baker killed more time in the minors. Both got the call later in the year, and neither has been all that good. But as they've shown for the 7,409th year in a row, Johan Santana and a lights-out bullpen go a long way.
Chicago White Sox (37-45): Larry Hisle
Hisle had a solid career, but by age 35 he was boasting a .129 batting average and staring at retirement. His career path was a poor man's version of Tim Salmon's, with Hisle putting up big numbers through his age-31 season (.290 AVG/.374 OBP/.533 SLG) only to lose his starting job and barely play at all in his final four major league seasons. Likewise, the White Sox were very good for a while, only to suddenly drop off a lot quicker than expected this year. Of course, that can happen when you rely on older hitters (in this case the oft-injured Jermaine Dye, the sometimes injured Jim Thome and the ineffective Paul Konerko) to carry your offense. Even with their recent hot streak, the Sox should try to trade some of their older players (if they can fetch decent hauls in return), then move forward with Josh Fields, Ryan Sweeney, John Danks, Gio Gonzalez and other promising young players.
Kansas City Royals (36-49): Kevin Bass
Bass was a Brewer for only nine hitless major league at-bats before getting shipped to Houston. He turned into a pretty good player in the mid-to-late '80s with the Astros, his numbers held down by the stingy Astrodome and his "Small Mouth" nickname foisted on him by Chris Berman. The Royals have some good building blocks in Alex Gordon, Billy Butler and others. But pretty good looks like the high end of reasonable expectations right now, as the new regime works to rebuild the farm system after years of bad drafting and player development. Quick, Boomer, give us a clever name for "this could take a while."
AL WEST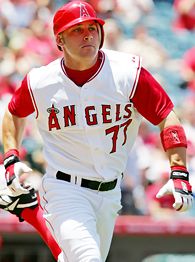 Lisa Blumenfeld/Getty Images
Rookie outfielder Reggie Willits has been a sweet surprise in Orange County this season.
Los Angeles Angels of Anaheim (52-33):
Ted Simmons
He hasn't made the Hall of Fame, but check out Ted Simmons' credentials: More RBI than Bench, more runs scored than Carter, more hits than Berra or Fisk. Goose Gossage, Ron Santo and Bert Blyleven are more glaring omissions, but Simmons deserves recognition too. The Angels deserve a hat tip of their own, after racing out to the second-best record in baseball and the top spot in the AL West. Bill Stoneman's insistence on keeping his young talent rather than trading for quick fixes has borne fruit, with players such as Howie Kendrick and Mike Napoli (and surprise Rookie of the Year candidate Reggie Willits) now solid supporting players for Vlad Guerrero and the AL's third-best pitching staff (3.97 ERA). Juan Rivera is due back in a few weeks to help the offense. Still, you wonder if one well-placed deal for a power hitter could help: The Angels are sixth in the majors in runs scored but just 26th in homers, relying on a .286 team batting average (second in the majors) to generate offense. Do the Angels go after Adam Dunn, Ken Griffey Jr. or another slugger, or just stay the course? My money is on Stoneman continuing his quest to equal "Stand" Pat Gillick's reputation for sitting on his hands and trusting his farm system. No Deal Bill is happy right where he's at, thanks.
Seattle Mariners (46-36): Mike Caldwell
No longer the pitcher he was earlier in his career and sporting a second-rate 'stache compared to Fingers and Vuckovich, Caldwell still proved valuable to the '82 squad, tossing 258 innings and 12 complete games as the staff workhorse. Will the Mariners be able to overcome their breakneck second-half travel schedule? Even under normal circumstances, the M's already travel more than any other team because they're isolated in the Pacific Northwest. But a string of early-season postponed games means they face an even more grueling travel itinerary in the second half. How about this stretch: Aug. 17-19 versus White Sox in Seattle; Aug. 20-22 at Minnesota; Aug. 23-26 at Texas; Aug. 27-29 versus Angels in Seattle; Aug. 30 at Cleveland; Aug. 31-Sept. 2 at Toronto; Sept. 3-5 at New York Yankees. That's 20 games in 20 days, crisscrossing the country three times. The Mariners have been a great story, in some circles a bigger surprise than the Brewers. But they're 10 games over .500 despite scoring just three more runs than they've allowed and facing a big decline by last year's 123-RBI man Raul Ibanez. Calling up Triple-A star Adam Jones would help both the offense and outfield defense. But the team's fortunes might depend on which Felix Hernandez we see the rest of the way: the King Felix who one-hit the Red Sox in April, or Felix the Pauper, the guy who hit the DL and has since been lit up several times.
Oakland A's (44-41): Ben Oglivie
Oglivie was a tall, lanky player, a good hitter who generated power with his quick wrists and enjoyed some big seasons in his prime. But he wouldn't have worked as the team's top banana. The Oakland A's have that same good-but-not-great sheen. Danny Haren is a Cy Young candidate and Jack Cust is one of several scrap heap finds who've flourished in the majors this year (Jeremy Guthrie and Carlos Pena chief among them). But these aren't the 100-win "Moneyball" darlings of old. The A's are second-to-last in the AL in runs scored. To keep pace with the Angels, Mariners and others, they migh need to go to their secret weapon: A "F***ing A!" trade by Billy Beane.
Texas Rangers (36-49): Charlie Moore
Moore was the weak link in an otherwise great offense, the kind of player the Brewers could get away with carrying, with Yount, Molitor, Cooper, Thomas, Simmons and Oglivie around. The Rangers have played better lately, but they're still the weak link in an otherwise solid division -- have been for a while, with just one winning season this decade. Run prevention remains the problem, as it has for years. You can only use the ballpark as an excuse for so long before the pitching and defense gets its fair share of the blame. Trading Mark Teixeira for pitching might not happen, given Scott Boras' stance that Teixeira not sign a contract extension and instead seek free agency after next season. No word yet on the Sosa 600 home run ball for Bonderman and Verlander offer. I think that deal's got legs.
Jonah Keri is a regular contributor to Page 2 and the editor and co-author of "Baseball Between the Numbers." You can contact him here.