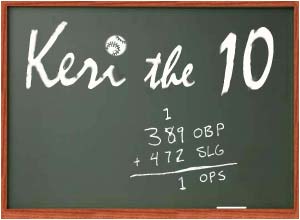 I'm approaching the homestretch of a 12-day, half-business/half-fun trip that's taken me to San Francisco, down the coast to L.A., to Vegas, back to L.A., and Monday night back to San Francisco. I've looked out to McCovey Cove from the upper deck at AT&T Park, soaked in the atmosphere in the pavilion at Dodgers Stadium, taken in the sights along the cliffs driving down the California coast, and I'll be attending my first MLB All-Star Game Tuesday night.
None of those experiences have or will equal the weekend I just had in Vegas. I spent 42 hours bringing both the poker room and the sports book (6-1 in baseball bets, see sidebar) at the Red Rock Casino to their knees. I had all the requisite Vegas fun, but with no repercussions -- no hangovers, and nearly perfect luck at every turn. If I had jumped out the window of my room on the 17th floor of the Red Rock, I probably would've landed safely on an inflatable pillow in the pool, as a piņa colada simultaneously landed in my hand.
Here are 10 highlights and lessons learned from a baseball-filled weekend in Vegas:
1. I picked one of the best baseball weekends of the year for the trip.

On Saturday:
A cool 6-for-7, baby
Final tally (home teams in CAPS, picks in bold):
• WON:
Brewers (Suppan) -140
NATS (Simontacchi) +130
Giants (Lincecum) -105
CARDINALS (Looper) -105
Angels (Lackey) +115
YANKEES (Clemens) -125
Mariners (Hernandez) +115
ATHLETICS (Harden) -125
Marlins (Mitre) +145
DODGERS (Lowe) -155
Devil Rays (Kazmir) -125
ROYALS (De la Rosa) +115
• LOST:
Angels (Santana) +170
YANKEES (Wang) -190
• The Angels beat the Yankees in 13 innings, after the Yankees blew a number of chances to win.
• The Tigers beat the Red Sox in 13 in a game that featured about five high-wire escapes in extra innings by both teams' relievers.
• The Mets beat the Astros in 17 in a game that featured 16 pitchers and no runs scored for a 10-inning stretch. Carlos Beltran ran all the way up Tal's Hill in Houston in the bottom of the 14th, saving the game for the Mets on a Mays-esque grab with his back to the plate.
• The Royals came back from down two in the eighth to take the lead, blew the lead in the top of the ninth, then beat Tampa Bay in the bottom of the ninth.
• Aaron Rowand of the Phillies made an amazing diving catch to save two runs against the Rockies.
• Washington's Ryan Langerhans saved two runs (and maybe the game) on a diving catch against the Brewers.
• Baltimore's Erik Bedard pitched a two-hit, 15-strikeout, zero-walk shutout against Texas.
• Felix Hernandez shut out the A's for eight innings.
On Sunday: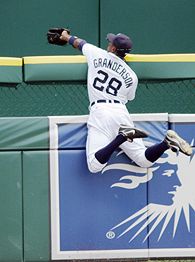 Duane Burleson/Associated Press
This photo only begins to tell the story of Curtis Granderson's catch that robbed Wily Mo Pena of a home run.
• The Tigers barely hung on again against the Red Sox before nailing down a one-run win; Curtis Granderson made the catch of the year to rob a home run, hitting the center-field wall on a dead run, stretching his entire arm over it and bringing the ball back on a snow-cone catch.
• The Reds beat the Diamondbacks in 11 innings.
• The Jays beat Cleveland 1-0 in their last at-bat after Paul Byrd and Josh Towers impersonated Gibson and Koufax for most of the game.
• Mark Teahen lost two straight balls in the sun and nearly coughed up a four-run Royals lead against Tampa Bay, which had me on the verge of hyperventilating.
And those were just some of the games I watched.
2. Any pitcher can beat any other pitcher on a given day.

Never is that point more obvious, or more relevant, than in a sports book. Vegas relies heavily (even too heavily) on pitching matchups in setting odds. But inexperienced, shaky or even flat-out bad pitchers beat good ones far more often than you'd expect. I watched Shane Youman (four career starts coming into Sunday's game) and the Pirates beat Carlos Zambrano and the Cubs; Jason Simontacchi -- who before this season hadn't pitched in the big leagues since 2004 -- led the last-place Nats over the first-place Brewers; Ryan Feierabend, who came into Sunday's start with a 9.72 ERA and 19 runs allowed in a total of four innings in two of his past three starts (sandwiched around five innings of shutout ball), kept the Mariners in the game long enough to beat Joe Blanton and his 3.09 ERA. For anyone who says that pitching is everything in baseball, I hope you caught the many apparent mismatches that went the other way over the weekend.
3. Ugly is beautiful.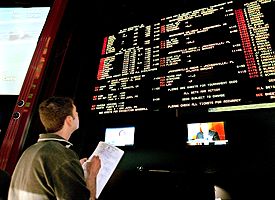 Jane Kalinowski/Associated Press
Make sure to do your research before heading over to the big board.
A game can seem like a foregone conclusion for many reasons other than the pitchers on the mound. One team might own a much better record. One team might be on fire, the other ice cold. Or maybe the underdog just looks downright ugly. I watched the low-profile Marlins and relative unknown starter Sergio Mitre (solid numbers this season, but a 4.85 ERA in his past five starts heading into Saturday's game) face the high-profile Dodgers and star groundballer Derek Lowe (1.83 ERA in his past five starts). As the game progressed, the West Coast-dominated crowd at the sports book pleaded with the Dodgers (who were paying $10 for every $15.50 wagered) to take down the Marlins (paying $14.50 for every $10 wagered). Tough luck for them, but great luck for me.
4. Ugly can be even prettier when paired against uglier.

Not a fan of Jorge de la Rosa and the lowly Royals? What if they were playing at home, as underdogs against the even lowlier Devil Rays? Sure, the Rays held the edge on paper with talented Scott Kazmir pitching. But the Royals had put up double-digit run totals in the past few weeks, and Kazmir's reputation had exceeded his production coming into Sunday's game (14 baserunners allowed per nine innings). Kansas City put up a 12-spot en route to beating the worst team in the majors.
5. Boom-or-bust pitchers are your friend.

Sticking with de la Rosa for a moment, here are his runs-allowed totals for each start of the season heading into Sunday's game: 1, 5, 5, 1, 5, 1, 6, 1, 2, 9, 5, 1, 3 (in 3.1 IP), 7, 7, 0, 3. The average AL pitcher's ERA this season is 4.43, which works out to about three runs allowed in six innings. Only once all season did de la Rosa have a start that resembled that kind of average outing: his seven-inning, eight-hit, three-run performance last time out against the Mariners. The rest of the time he was either dominant or terrible. If you're trying to predict the result of one game and want to hang your hat on an underdog, why not back the guy who's a near 50-50 bet to almost completely shut the other team down? If your prediction proves wrong, no biggie, since you were going out on a limb anyway. If it hits, your boom-or-bust pitcher could very well be the reason.
6. When in doubt, take the underdog.

In fact, you don't even need to be in doubt. Whether you're watching casually with friends or checking out the big board of odds, there's always an edge to be gained by going against the grain. If you're in a bar or at a buddy's place, you can impress the masses by pegging the underdog, especially if you've found a good reason beforehand to do so. If you're in Vegas, you'll often see such underdogs getting huge, even excessive odds. I picked six games out of seven correctly over the weekend -- and six of those picks were 'dogs.
7. Never doubt a good pitcher on a bad run.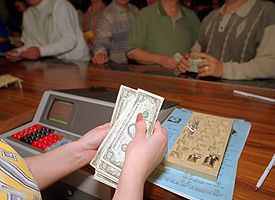 Lennow McLendon/Associated Press
Our humble correspondent was lucky enough
to be on the receiving end of the cash.
I wish I had time to run an analysis of every elite pitcher over the past 100 years who threw three or four bad starts in a row to see what he did next time out. Failing that, last weekend's results at least gave a small sample of anecdotal credence to this theory, coined by Chris Liss, managing editor of the excellent site
Rotowire.com
and my running mate for the weekend. I liked the Mets against an inferior Astros team Sunday, with iffy Dave Williams getting huge odds against Astros ace Roy Oswalt. But Chris warned me not to doubt Oswalt, who'd given up 29 runs and 77 hits over his past nine starts and 58 innings pitched. I stayed away from the Mets and watched the Astros whack them 8-3.
8. If it looks too tempting, it probably is.

Sometimes the outcome of a game will seem so obvious, the temptation is to be a contrarian and go the other way. In Vegas, this situation will show up in the form of an underdog's getting disproportionately huge odds. On Sunday, Cy Young candidate Chien-Ming Wang and the Yankees were listed as gigantic favorites over Ervin Santana and the Angels. Santana is one of the worst road pitchers in the game's history, with a 6.46 ERA away from Angel Stadium, compared to a 3.09 ERA at home. Despite a couple of improved road starts in the past few weeks, that huge split has mostly held up this year. But the Angels were paying $17 for every $10 wagered. That was too much for me to resist. It also proved to be my only loss of the weekend.
9. Never plan anything in Vegas.

The more plans you make, the more you're going to unnecessarily break your back trying to keep them. Why bother? I didn't plan a single thing all weekend and reaped all the benefits of keeping my options open. I found out that 112-degree weather really isn't that bad when it's a dry heat and you're poolside. Having the flexibility to start or stop playing whenever you like can help you maximize your gains. And most importantly, I learned that having no plans allows you to watch any game at any time, even if it goes 17 innings and two hours past when you expected to leave. We live our whole lives bound by schedules, appointments and obligations. Vegas should be the one place that doesn't require any of those.
10. Quit while you're ahead.

Two hours after I arrived in Vegas, I sat down to play $4-$8 limit hold 'em, a fairly small stakes game that's perfect for someone like me, an occasional player who understands the game well enough but isn't willing to put big money on the line against a table full of sharks. An hour and 45 minutes later, I walked away with way, way, way more money than a modest $4-$8 game could possibly produce -- unless you're so hot that you win 10 out of 13 hands at a full table, including five in a row. I left as soon as I snapped my five-hand streak, causing my entire side of the table to curse me. I then cashed so many baseball bets that the tellers' normal offer of "Any more bets?" became downright threatening, as if to say, "There's no way you're leaving this place until you start losing some money."
I'd like to say it was all skill. But any weekend that includes four straight poker hands that go pocket kings, pocket kings, nut straight and nut flush -- and a win by Jason Simontacchi -- can only be the result of some huge cosmic anomaly. I got out of Dodge as quickly as I could. I'm still smiling.
Jonah Keri is a regular contributor to Page 2 and the editor and co-author of "Baseball Between the Numbers." You can contact him here.