COOPERSTOWN, N.Y. -- If you've never been to a Hall of Fame induction ceremony in this tiny hamlet in upstate New York, I highly recommend it. Seeing all those baseball legends in one place, listening to and watching inductees break down in tears while thanking everyone from their wives to their Little League coaches, and most of all, soaking up the scene with thousands of other enthusiastic baseball fans, you'll feel transported and transformed for a day.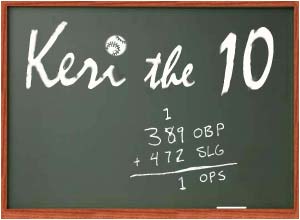 I attended my first induction ceremony on Sunday, cheering for Cal Ripken Jr. and Tony Gwynn while surrounded by an endless sea of fellow revelers. Here are 10 scenes that stood out:
1. There were about twice as many fans in a small corner of this one-stoplight town as there are for a sold-out game at Wrigley Field.
Officials estimated the crowd at more than 75,000 -- maybe a lot more. By the time a bus dropped me off three hours before the start of the ceremony, the entire main field was overflowing with lawn chairs, banners and jersey-clad fans as far as my eyes could see. I'm too young to have experienced Woodstock, but I imagine it looked something like this, only with more tie-dye and acid. This picture, which tries to capture the scope of the unfathomably huge crowd, shows everyone starting the long walk back to their cars.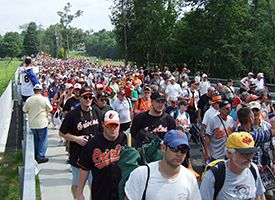 Angele Fauchier
The crowds in Cooperstown this weekend were enormous, with good reason.
What made the atmosphere so much fun was the overwhelming feeling of goodwill all around. Orioles fans, Padres fans and baseball fans in general were smiling, laughing, digging into coolers, playing Wiffle ball with their kids in the wide swaths of green space. Hey, instead of squinting at a faraway screen, listening to spotty audio and sweating in 90-degree July heat, we all could've watched the induction speeches on our immaculate TVs, in our air-conditioned living rooms. But why would you?
2. Cal Ripken Jr. has a big, BIG fan base.
When Ripken broke Lou Gehrig's consecutive-games-played record in 1995, there was a sense he had saved baseball, following the horrendous labor stoppage that wiped out the playoffs and World Series the previous season. That stroke of good timing made him an even bigger star nationwide, not just in his home state.
That said, you couldn't walk five feet on Sunday in Cooperstown without tripping over a Maryland license plate. Family after family drove up from Baltimore, and Towson, and Bowie, and Ripken's hometown of Aberdeen.
The Fisher clan of Hillcrest Heights, Md. -- huge Ripken fans all -- cited Cal's personality as standing out above his playing ability. Frances Fisher said she most appreciated "his honesty. He's just an ordinary person that treats everyone the same."
Sitting next to Fisher, Laura Wagenhauser added, "He stood out in a crowd of prima donnas as a guy who went to work every day. It was never about his ego -- it was about being part of the team."
3. Baltimore fans are a rare breed.
When Tony Gwynn's daughter Anisha sang the national anthem, you knew it was coming. After cruising through "Gave proof through the night, that our flag was still there," the orange-and-black-clad throng belted out "O!" the sound echoing throughout the valley. A better moment came a few minutes before the start of the ceremony, in the auxiliary field where thousands of latecomers had gathered to watch. When a pack of buses pulled up on the road directly in front of us, hundreds of people started chanting, "Move the bus! Move the bus!" When that didn't work, one swarthy middle-aged lady beside me, looking deadly serious, smacked her fist into her palm and told her friend, "These guys better move those buses, or they'll find out why Baltimore is called Mobtown." Less than five minutes later, all the buses had somehow disappeared.
4. Padre Nation was well represented.
Padres fans also showed up in force, despite the much longer trip. And much like with Ripken, a number of Gwynn fans had no San Diego ties, having come to root for the eight-time batting champion for other reasons. Drew Thomas drove his family of five up from Lancaster, Pa., to cheer for Gwynn. Thomas' Little League team was the Padres, which led him to start rooting for Gwynn and his unique style of slapping the ball between short and third (one group of fans held up the number 5.5 to symbolize that hole in the infield).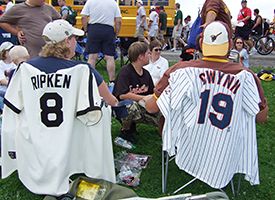 Angele Fauchier
The Thomas family are fans of both inductees.
Thomas, whose oldest son is a Ripken fan, said he'd be happy to see his children adopt either player as their favorite. "If you ever wanted your kid to emulate a big league baseball player, these two would be the guys."
5. Pete Rose is back.
After vowing to steer clear of Cooperstown, Rose showed up for the first time in four years, signing autographs all weekend at a collectible shop in town (charging $65-95 a head).
Asked by Newsday about his feelings on MLB's continued ban of the all-time hit king, Rose quipped: "My mistake, I chose the wrong vice. I could have chose drugs. I could have chose drinking. I could have chose spousal misbehavior. And then I would have been rehabbed and still managing the Reds. I just chose the wrong vice."
Yeah, seriously! Nothing bad has ever happened when a participant in a sporting event gambles on the outcome. Cut the man some slack.
6. Lines, lines, everywhere lines.
Any time you cram 75,000 people into a small part of a town with a population of just more than 2,000, you're going to get the human equivalent of gridlock. There were lines everywhere -- for hot dogs, water, buses and port-o-johns. But the longest line I saw all day snaked around for what seemed like miles. Just before returning to my comfortable seat under a big tree on the auxiliary field, I asked a security guard what the thousands of people sweating and standing while holding heavy coolers and chairs were waiting for. "VIP seating," he explained, without a trace of irony.
7. You can take the Sox fan out of Boston, but …
As thousands of appreciative fans prepared to pay tribute and shed heartfelt tears for the emotional inductions of Ripken and Gwynn, I spotted a married couple with two young children walking along the main road. The husband's T-shirt read: "A-Rod is an A-hole." The wife's: "Brokeback Jeter." What, no choice Matsui curses in Japanese for their 3-year-old?
8. My top three favorite jerseys of the day were:
3. A Roberto Clemente Pirates home jersey. Simple, classy, evocative.
2. A Bip Roberts Padres road jersey. A Hoffman, Peavy or Winfield jersey for the Pads fan who wants to wear something a little different? Sure, I could see that. But the sheer randomness of seeing the Bipper honored was a treat.
1. A Corey Patterson Cubs home jersey. Bonus points for supporting a player whose last act before getting run out of town was to hit .215.
9. Sunday marked the biggest collection of living Hall of Famers ever assembled in one spot.
O's fans applauded Frank and Brooks Robinson, Jim Palmer and Earl Weaver, then chanted Eddie Murray's name. Yogi Berra was there. So were Rod Carew, Bob Gibson, Ralph Kiner and Bob Feller, Harmon Killebrew, Reggie Jackson, Duke Snider and Whitey Ford. Willie Mays drew the longest ovation from the crowd. The player who made me stand and cheer the loudest? Sandy Koufax.
10. See you in Cooperstown this time next year.
I'll be pulling for a Raines/Gossage ticket.
Jonah Keri is a regular contributor to Page 2 and the editor and co-author of "Baseball Between the Numbers." You can contact him here.