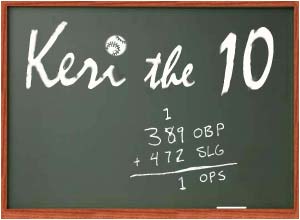 A rare Friday day game. The major league debut of one of baseball's best pitching prospects. A clash of two first-place teams. The Angels' weekend visit to Boston offered a great chance to catch up with the two best teams in baseball. Here are 10 things I learned from a Fenway matinee and a whole lot of Jerry Remy and Don Orsillo.
1. Gagne is French for BOOOOOOOOO!!!
Less than three weeks into his Red Sox career, Boston fans look ready to run Eric Gagne out of town. In seven innings over eight games with the Sox, Gagne has given up 16 hits and three walks, and has an ERA of 12.86. Critics have noted that Gagne is nowhere near the same force of nature he was in his heyday with the Dodgers, when he fired fastballs in the mid-to-high 90s and snapped off gravity-defying curves any time he wanted. That's all true -- but it's been true all season. Gagne has become something of a Trevor Hoffman clone, using a changeup as his go-to pitch now that his fastball has lost its juice. But using that same approach in four months with the Rangers, pitching in the AL's toughest park for pitchers, Gagne flashed a 2.16 ERA, holding opposing hitters to a .192 batting average. So what's changed in Boston?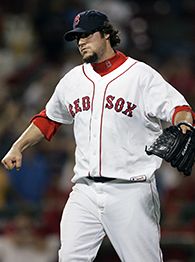 AP Photo/Charles Krupa
Thanks to Eric Gagne, the Yankees have crept even closer to the Red Sox.
Most likely, nothing. Gagne worked around two ninth-inning hits Sunday, striking out the side and restoring at least a little faith at Fenway. Relief pitchers, even really good ones, go through little rough patches all the time. Unless he's nursing an injury, Gagne should be fine as another soldier in the army of set-up men in front of Jonathan Papelbon.
The bigger question is why the Red Sox went after Gagne in the first place. With Hideki Okajima having one of the best seasons of any reliever in the game, Manny Delcarmen enjoying a breakout season and Papelbon throwing gas again, the Sox bullpen already was well-armed. Some have whispered that Papelbon might be nursing an injury, making him a little less dominant and leaving Terry Francona scared to use his closer for multiple innings. On the other hand, the Sox simply might have acquired Gagne to keep him away from other bullpen-hungry AL contenders, while figuring that a little insurance never hurts -- except when it does.
2. Garret Anderson is English for Really Bad Baseball Player.
The top of the Angels' batting order is a thing of beauty. After a miserable, injury-plagued start, Chone Figgins has been unstoppable, boosting his overall line to .337 AVG/.392 OBP/.439 SLG, stealing a ton of bases and triggering the offense. In the No. 2 hole, Orlando Cabrera is hitting .309 and has been one of the best all-around shortstops in the AL. Batting third, Vladimir Guerrero again has been one of the most prolific hitters in baseball. And then there's Anderson, who's vying for the prestigious "worst cleanup hitter in the history of the universe" award. Injured for much of the season, Anderson has been awful when upright, hitting just .271/.297/.412. Never a great on-base threat, even back in the days when people foolishly tossed him some MVP votes, Anderson is an absolute offensive sieve now that he's not hitting for power either.
Injuries have kept several key players out of the lineup for much of the year, including Juan Rivera, author of an .887 OPS last year, and the guy who'd probably be sending Anderson to the bench if he were healthy. But if Mike Scioscia is determined to stick with Anderson, two things need to happen: He has to bat lower in the lineup, at the very least sixth behind Gary Matthews Jr. and Casey Kotchman. And he has to stop playing the outfield. Rookie Reggie Willits has a lot more range than Anderson at this stage of their respective careers, yet the two players have nearly split the playing time in left field. Anderson is rated as about average or slightly below by several advanced fielding metrics. In the first inning of Friday afternoon's game, Manny Ramirez hit a flyball that hit a family of clouds and nearly took out a 737 before coming down, yet Anderson could only watch helplessly as it fell well out of his reach. There's something cruel about making a guy who can't hit a designated hitter. But at least this way Anderson would only be hurting the Angels when he's at bat.
3. When the Red Sox need pitching help this season, they always seem to get it.
Making his major league debut Friday, Clay Buchholz was far from perfect, allowing 11 baserunners and four runs over six innings. But a J.D. Drew first-inning error made Buchholz's line look worse than it was, and the rookie showed flashes of excellence, earning several standing ovations and giving the Sox valuable innings at the front end of the doubleheader. Coming up from the bullpen for a spot start Sunday, Julian Tavarez held the Angels to just two runs and two hits over six innings. As much as the Yankees' second-half surge has made Sox fans nervous, the team knows it can manage just fine if Schilling or Matsuzaka or even Beckett goes on the shelf for a couple of weeks. With the best ERA in the AL and more depth than they've had in years, the Sox have evolved into a team that can win with hitting, but maybe even more so with pitching.
4. Joe Saunders is a staff-saver.
With John Lackey and Kelvim Escobar forming one of the best starting tandems in the league, and Francisco Rodriguez, Scot Shields and Justin Speier making life miserable for hitters from the seventh inning on, it might seem like the Angels' pitching staff is untouchable. Not even close. Bartolo Colon's career looks all but over, just two years after he won 21 games and the Cy Young award. Promising righty Ervin Santana was so disastrous in road starts earlier this year that the Angels had to pull him from the rotation and send him to the minors. Jered Weaver hasn't been anywhere near as effective as he was in his lights-out rookie season of '06.
But little-known Joe Saunders has helped save the staff. Shuttled back and forth between Anaheim and the minors for most of the season, the 26-year-old lefty has rung up a 7-1 record and a 3.25 ERA. He shut down the Red Sox into the eighth inning of Sunday's game, allowing a lone run only after Shields let an inherited runner on first eventually come around to score with two outs. Although he struck out seven Sunday, Saunders hasn't been much of a strikeout pitcher in his short big-league career. But he's made up for the lack of K's with great command, allowing just 19 walks in 69.1 innings this season. He also keeps the ball in the park, ceding just five homers in 11 starts. Still, Saunders isn't your typical slop-throwing finesse lefty. On Sunday, he mixed off-speed offerings with a fastball that seemed to catch the Sox off guard. With Dustin Pedroia on first and two outs in the fifth, Saunders worked the full count against lefty masher Kevin Youkilis. He then reared back and fired a 94-mph bullet on the outside black, which Youkilis could only wave at for strike three. When the time comes to draw up this year's All-Underrated Team, Saunders has a great chance of making the cut.
5. Kevin Youkilis is ice-cold.
The Sox first baseman went 0-for-4 Sunday with three strikeouts, running his cold streak to four hits in his past 36 at-bats. You knew things were going badly when, in the ninth inning of the nightcap of Friday's doubleheader, home-plate umpire Brian Runge called Youkilis out on a check-swing strike three, then ejected him for arguing. Youkilis actually foul-tipped the ball, then saw it bounce out of the catcher's glove. He didn't try to run to first, and the catcher made no effort to go after the ball, but Runge still rung up Youkilis, the coup de grace in a terribly called game. As with Gagne's slump, Youkilis' probably won't last much longer. But the recent sharp decline in his production should remind the Sox that Youkilis isn't the superstar he appeared to be at the end of May, when he was hitting .354 with a .988 OPS. He's just a solid OBP guy, an excellent fielder and the inspiration for one of the funniest clips in Internet history.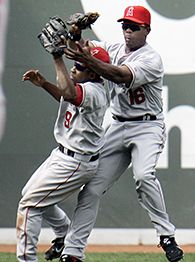 AP Photo/Elise Amendola
Garret Anderson and Chone Figgins barely avoided a crash on Sunday.
6. The bottom of the Angels' order is where rallies go to die.
Their productive farm system has allowed the Angels to paper-over a lot of injuries. Joe Saunders has been stellar in place of Bartolo Colon. Meanwhile, Maicer Izturis has fared well while covering three different positions. But DL stints for Juan Rivera, Howie Kendrick and Mike Napoli have created a black hole in the Halos' lineup. The catcher combination of Jeff Mathis and Ryan Budde is hitting .187 while subbing for Napoli. Erick Aybar has looked like a decent-hitting pitcher, managing an ugly line of .239/.286/.278. After a blistering start, rookie of the year candidate Reggie Willits also has cooled off. And Anderson, the player who'd make the most sense on the bench with Rivera back, has been brutal batting cleanup. The Angels happily will stick with Willits' defense and on-base prowess in the No. 9 spot. But as great as their front-line players have been, the Angels need to get Napoli, Kendrick and Rivera back soon, or they run the risk of blowing their two-game AL West lead over the Mariners.
7. J.D. Drew might need to start walking around Boston in disguise.
If his hostile reception at Fenway is any indication, anyway. The Sox right fielder has been a huge disappointment in the first season of his five-year, $70 million contract, and in the process has become the team's designated whipping boy. Drew's struggles at the plate have been the main culprit -- he hasn't hit a homer in two months. But in the first inning of Friday's day game, Drew misjudged a Vladimir Guerrero liner, then dropped it after he tried to circle back for a one-handed catch. Judging from the fans' reaction, you would've thought he destroyed every copy of "Sweet Caroline" on the planet.
The biggest surprise of the Gagne trade was that the Sox didn't also address their gaping void in right field. The team might have hoped that Drew would turn it around, but his slump has lingered on, with Drew tending to his 17-month-old son, who recently needed surgery to treat development displacement of his hips. Jermaine Dye seemed like a great acquisition candidate, two months from free agency and thus likely to come at a discount from the White Sox. Chicago might have asked for a lot more than Boston was willing to offer for Dye. Still, how much more did the White Sox want compared to what the Red Sox gave up for Gagne? Given how little use they had for another reliever, it's a question worth asking, even if we might never know the answer. Credit management for not giving up, though. Newly acquired Bobby Kielty rapped out two hits and made a home run-saving catch in his Red Sox debut Sunday, and could become a solid platoon partner for Drew.
8. Bill Stoneman's conservative approach to trading could come back to haunt the Angels.
Like the 2002 team, these Angels trot out great front-line starting pitching, a lineup full of high-average hitters who can run and a shut-down bullpen, all traits that play well in the playoffs. But will the team have enough offense to go all the way? Their results so far this year would seem to say so: The Angels rank sixth in MLB in runs scored, fourth in the AL. Still, assuming that Juan Rivera could come back and become a big power threat in the middle of the order might be asking too much. The Angels might end up pulling another '02. But dipping into the prospect well for someone like Adam Dunn would have given the Halos one more weapon for their playoff push. They'll have to hope they don't end up regretting their stand-pat approach.
9. Welcome Back, Papi.
A sore shoulder caused David Ortiz to miss a few games earlier in the year and might have caused the mini-slumps that have held down his home run totals this season, including a 10-game slump leading into the Angels series. But the weekend's results had to be encouraging: 7-for-16, six runs scored, two homers, a double and eight RBIs. With Drew struggling all year, Youkilis coming back to earth, and Manny Ramirez and Jason Varitek not the same power threats they once were, the Red Sox desperately need Ortiz healthy and hitting. That is, unless Beckett and Dice-K plow through all comers in the playoffs themselves, which is entirely possible.
10. Circle your calendars.
Aug. 28-30: Red Sox at Yankees
Aug. 27-29: Angels at Mariners
Yes, both teams play seven games beforehand. But these could be two of the best series of the year and could go a long way toward deciding the East and the West.
Jonah Keri is a regular contributor to Page 2 and the editor and co-author of "Baseball Between the Numbers." You can contact him here.