Cubs vs. Diamondbacks

Thinking Fan's Approach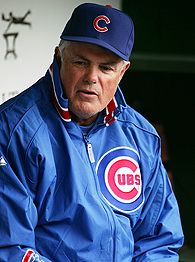 Jonathan Daniel/Getty Images
Lou Piniella is the bigger name with the fiery disposition, but his counterpart, Bob Melvin, might be the better strategist.
Much has been written about the Diamondbacks' secret to success this season. Arizona finished with the NL's best record at 90-72. Given that the team scored just 712 runs, while allowing 732, you might have expected the D-backs to finish with a far inferior record, even one below .500. The best mainstream take that I've seen on that divergence was
Dan Rosenheck's recent column in the New York Times
. In the article, Rosenheck argues that the D-backs' success stems from two main factors: good luck and intelligent bullpen usage. Manager Bob Melvin's ability to use his best relievers (closer Jose Valverde and set-up men Tony Pena and Brandon Lyon) in high-leverage situations and his worst relievers (Brandon Medders, Dustin Nippert and Edgar Gonzalez) in lower-leverage situations has enabled the team to win a lot of close games. Even if the D-backs hadn't gone from a sub-.500 season to the best record in the league, Melvin would still be a shoo-in for manager of the year on his bullpen managing alone.
Nonthinking Fan's Approach
"Wait, doesn't the Cubs' bullpen stink?"
They blew a lot of leads this season, but that was months ago. In fact, Chicago's bullpen is vastly improved from last year. Along with an excellent starting rotation, it combines to give the Cubs the fourth-best team ERA in baseball. Carlos Marmol has lit up the league in his first full season, with a 1.43 ERA and 96 strikeouts in 69 1/3 innings. Bob Howry and Michael Wuertz have provided solid support in the set-up role. Ryan Dempster has been just so-so. But you can compare this bullpen to the Tigers' 2006 version, in which Marmol plays the Joel Zumaya role of shutting teams down in the seventh and eighth, Howry and Wuertz are the Fernando Rodney and Jamie Walker of the group, and Dempster is Todd Jones -- not great, but good enough to get three outs before the other team scores two or three runs. Forget the image of windblown fly balls whooshing out of Wrigley. The 2007 Cubs are built on pitching.
Random Facts
The Cubs may be the most righty-centric hitting team in the playoffs. Their top four hitters (by OPS) with more than 400 plate appearances this season are Aramis Ramirez, Derrek Lee, Alfonso Soriano and Mark DeRosa -- all righties.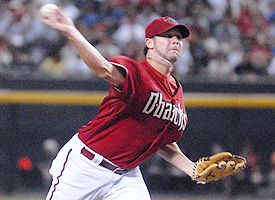 Mark J. Rebilas/US Presswire
Who's the best Diamondbacks hitter? Why, it's pitcher Micah Owings, of course.
The best Diamondbacks hitter this season, by a wide margin, has been their No. 4 starter, Micah Owings (.333 AVG/.349 OBP/.683 SLG, 4 HR, 15 RBI in 60 ABs).
What Page 2 Wants to Happen
Carlos Zambrano gets shelled, then throws a trademark hissy fit in the dugout. Meanwhile, Ted Lilly and Rich Hill quietly pitch well, continuing their season-long record of outperforming the Cubs' presumed ace. Kerry Wood pitches in at least one key spot. Brandon Webb sets a playoff record for most ground ball outs induced in a game. Owings comes off the bench for the Snakes and goes Ankiel, blasting a dramatic pinch-hit homer.
Series Prediction
Both teams rely on pitching to win games, meaning we could see some low-scoring baseball throughout the series. No disrespect intended toward Sweet Lou, but Melvin's excellent track record of staff management this season points to Arizona's having an edge in close games. The Cubs beat up on Arizona's lone lefty starter, Doug Davis, but go quietly against the D-backs' righties. Diamondbacks in 4.
Phillies vs. Rockies

Thinking Fan's Approach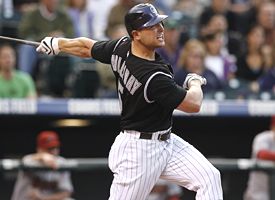 David Zalubowski/AP Photo
Maybe Matt Holliday and Co. aren't the Blake Street Bombers of yesteryear, but they can certainly knock the ball around the yard.
The Rockies' reputation as the Blake Street Bombers dates back to the days of Dante Bichette, Vinny Castilla, Larry Walker and Andres Galarraga's putting up Nintendo numbers in the '90s. Coors Field's park effects have mellowed a bit since then, though Matt Holliday, Brad Hawpe, Todd Helton, Garrett Atkins and Troy Tulowitzki still form one of the most fearsome fivesomes in the game. On the other hand, the Phillies' offense has been even better, with three MVP candidates in Chase Utley, Jimmy Rollins and Ryan Howard. Plus, Pat Burrell and Aaron Rowand are having career years, and there have been plenty of contributions from the supporting cast.
But the Rockies' biggest edge over the Phillies lies in their defense. Most advanced defensive metrics rate Tulowitzki as one of, if not the best defensive shortstops in the game. Since shortstop defense plays a bigger role in a team's run prevention than any other position (yes, even catcher), you can thus argue that Tulowitzki is the single most valuable defensive player in baseball. Add the contributions of the slick-fielding Helton and other defenders, and the Rockies rank eighth in MLB in defensive efficiency, a stat tracked by Baseball Prospectus that measures the percentage of balls in play that a defense turns into outs. The Phillies, by comparison, rate just 18th.
Nonthinking Fan's Approach
"Defense is great and everything, but who are these pitchers anyway? In these two ballparks, with these two offenses, isn't every game going to end with a 10-8 score anyway?"
Well actually, yes, that could happen. Even after stripping out park effects, these are two terrific offenses, ranking a notch below the Yankees but in line with any of the AL's other playoff teams. But the Phillies will trot out Cole Hamels as their No. 1 starter in the playoffs. A study run by Nate Silver and Dayn Perry in the book "Baseball Between the Numbers" showed that the three key ingredients to winning in the playoffs are:
1. Strike-throwing aces at the top of the rotation
2. A top-notch closer
3. An airtight defense
Despite Manny Corpas' success this season, it's premature to compare him to the K-Rods of the league at this point, so neither team projects to have a huge advantage in the 'pen. We've already covered the Rockies' superior defense. But Hamels showed enough after coming back off the DL to convince me that he's back to being a true ace. He struck out almost a batter per inning this season and ranked among the league ERA leaders, despite pitching at Coors Field Lite in the form of Citizens Bank Park. After that, you could argue that Kyle Kendrick, Jamie Moyer and Kyle Lohse are no great shakes. But you have to favor them over whichever pitchers the Rockies run out after Jeff Francis -- likely rookies Ubaldo Jimenez and Franklin Morales and journeyman Josh Fogg.
Random Facts
Thanks largely to some aggressive moves by Pat Gillick (I know, it's just as weird for me to write this as it is for you to read it), the Phillies may have the strongest bench of any of the eight playoff teams. Most notably, Jayson Werth posted an OBP above .400 while subbing for Shane Victorino, and Tadahito Iguchi hit over .300 while playing his usual steady defense with Chase Utley out. With all hands now on deck, the Phils suddenly have plenty of options for pinch hitting, pinch running (Michael Bourn is lightning fast) or even an occasional lefty-righty platoon.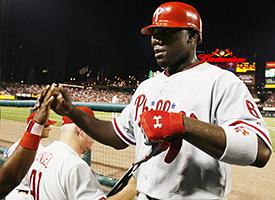 Dilip Vishwanat/US Presswire
Will Ryan Howard deliver in an expected late-inning matchup against Colorado reliever Brian Fuentes?
Look for at least one key eighth-inning moment in this series pitting Phillies lefty sluggers Utley and Howard against the Rockies' Brian Fuentes. Colorado's former closer, turned set-up man, was one of the stingiest relievers in the NL against lefty hitters this season, limiting them to a line of .207 AVG/.297 OBP/.296 SLG, with no homers in 54 at-bats.
What Page 2 Wants to Happen
Five games to match Monday night's epic 9-8 Rockies win over the Padres -- regardless of which team wins them. The Phillies and the Rockies both staged huge late-season comebacks to get into the postseason. Both teams boast a stable of likable, dynamic young players who are new to the big stage. The Rockies have never won a World Series, and Phillies fans have historically been among the most tortured in baseball. If you're not from Denver or Philly, it's almost impossible to root against either of these teams.
Series Prediction
You have to love both teams' offenses. The Rockies have a slight edge in the bullpen and with the leather. But Cole Hamels is a difference maker at the top of the Philly rotation, and there's enough uncertainty in the No. 2 through No. 4 spots on the Rockies' staff to make you wonder whether Corpas and Fuentes will get to pitch with many leads. The Rockies' incredible run has made me a fan for the past few weeks. But I think it ends here. Phillies in 3.
Jonah Keri is a regular contributor to Page 2 and the editor and co-author of "Baseball Between the Numbers." You can contact him here.