Do you live two time zones away from Denver? Is your name neither Murph nor Sully? Then odds are, you're like most Americans: a fan of a team other than the Rockies or Red Sox.
So who should you root for in the upcoming World Series, if you're a fan of one of the other 28 major league teams? Page 2 has the answer: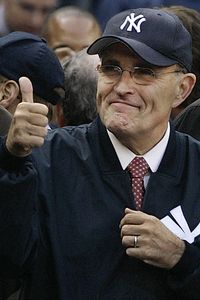 AP Photo/Kathy Willens
Rudy Giuliani, unlike most Yankees fans, says he is rooting for the Red Sox.
YANKEES (Rockies):
Do you even need to ask?
METS (Red Sox): The enemy of my enemy is my friend.
BREWERS (Red Sox): The rivalry that never ends -- Miller (Park) vs. Coors (Field).
MARINERS (Rockies): Jason Varitek and Derek Lowe for Heathcliff Slocumb. Ugh.
MARLINS (Rockies): Let's see ... a starting rotation of Josh Beckett, A.J. Burnett, Brad Penny and Dontrelle Willis. In the lineup? Miggy Cabrera, Derrek Lee, Ivan Rodriguez, Mike Lowell, Dan Uggla, Jeremy Hermida and Josh Willingham. Hmmm ... if the Marlins had the Red Sox's money, they'd be pretty good, too.
ROYALS (Red Sox):
It's a Chiefs-Broncos thing.
ORIOLES (Rockies): All that Kevin Millar-ALCS Game 7 crap was nauseating. He does still play for the Orioles, right?
PHILLIES (Red Sox): Matt Holliday possibly getting MVP love over Jimmy Rollins is bad; the Rocks sweeping the Phils was even worse.
A's (Rockies): Seeing the Greek God of Walks hoist the World Series trophy would be too painful for Billy Beane.
CUBS (Rockies): The Red Sox are no longer cursed kindred spirits.
PADRES (Red Sox): The Pads got Cla Meredith and Josh Bard for a catcher (Doug Mirabelli) whose sole reason for employment (Tim Wakefield) didn't even make Boston's World Series roster. Thanks, Theo!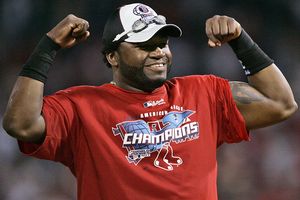 AP Photo/Charles Krupa
It can't be easy for Twins fans to watch Big Papi thrive in Boston.
TWINS (Rockies):
Uhhh ... maybe Minnesota should have held onto Big Papi after all?
INDIANS (Red Sox): If Ubaldo Jimenez and Josh Fogg shut down the Red Sox after C.C. Sabathia and Fausto Carmona couldn't do anything against them ... well, you want to keep Indians fans away from sharp objects.
DEVIL RAYS (Red Sox): How could we have trusted you, Vinny Castilla?
DIAMONDBACKS (Red Sox): You think Rockies fans can complain about being disrespected by East Coast media types who can't be bothered to watch their games? D-backs fans were using that schtick six years ago.
ASTROS (Rockies): They'll never forgive that weasel Jerry Sichting for getting Ralph Sampson tossed in Game 5 of the 1986 NBA Finals. Why couldn't he pick on someone his own size? You know, instead of someone 15 inches taller.
REDS (Rockies): Remember Carlton Fisk's homer in '75? Well, we still won, suckers!
DODGERS (Rockies): The Grady Little bad juju is palpable.
RANGERS (Red Sox): If the Rockies can go from being a crappy also-ran playing in a pitcher's house of horrors to World Series champs, where does that leave the still-crappy Rangers and their loopy ballpark?
PIRATES (Red Sox): Why did you spurn us, Josh Fogg? Come back, please! We can change! We can chaaaaannnngggge!!!
ANGELS (Rockies): Angels fans just hate the Red Sox on principle at this point.
BLUE JAYS (who cares): It's hockey season -- don't bother us until June. Oh, right, we're Maple Leafs fans. OK, make it April.
NATIONALS (Rockies): Manny totally stole that whole sloppy, long pants, braided hair look from Ronnie Belliard.
WHITE SOX (Rockies): What can you say? After so many years of the Hawk, White Sox fans are jealous that Boston's homer announcers don't make you want to put a bullet in your head every time you hear them speak.
GIANTS (Red Sox): Because they can't bear the thought of finishing last in the NL West for the next five years, even though it's probably inevitable.
BRAVES (Rockies): The 14 people who still remember the old Boston Braves versus Red Sox rivalry hold a lot of sway 'round these parts.
TIGERS (Red Sox): Kordell Stewart to Michael Westbrook. Nuff said.
CARDINALS (nobody): They're hoping for a new ice age to hit sometime this week, making them World Series champs forever.
Jonah Keri is a regular contributor to Page 2 and the editor and co-author of "Baseball Between the Numbers." You can contact him here.